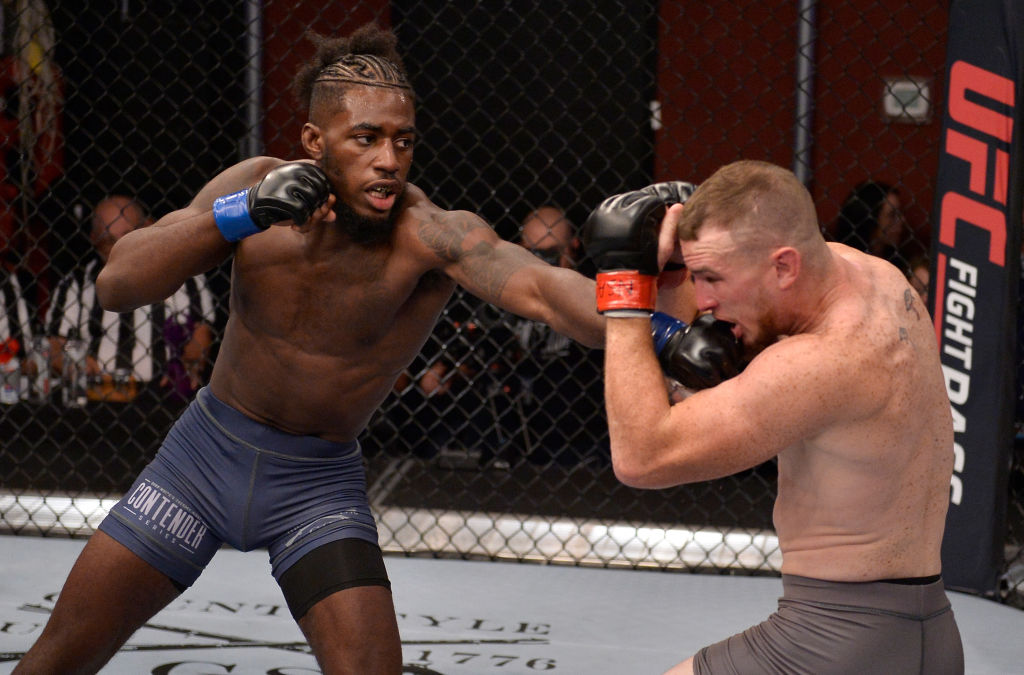 Ohio born and raised, Devonte Smith remembers his first training trip to Colorado earlier this year.
"When I first came out here to train, that altitude really got to me," he said. "I know somebody who ain't used to this type of air, it's gonna get to them."
Smith hopes that somebody is
Julian Erosa
, the man "King Kage" will be facing in his UFC debut in Denver this Saturday. It's a home game for Smith, who trains with the Factory X squad in Englewood, and while it was a short notice call, the 25-year-old lightweight prospect doesn't see it as such.
"I've already been training for a fight," he said. "I've been losing weight and stuff like that and I'm not far from weight at all. I feel healthy. They gave me a name, I looked him up, I know I could beat him – I will beat him – and I said yes. The opportunity presented itself."
And he took it. Not surprising in a year that saw him go from the regional scene to the big show in the space of two fights. The first one was a 90-second knockout of UFC vet in
Justin Edwards
that prompted him to test out the training scene in Colorado. Everything clicked with Factory X, and then he stamped his ticket to the UFC with a knockout of Joe Lowry on episode eight of Dana White's Tuesday Night Contender Series.
A return home to Cleveland followed, but soon enough he was back taking in that thin air of his adopted hometown.
"It took me a while to get adjusted at first, but when I came out here this time, I was still in shape, so it took about two weeks, just easing myself into it," he said. "But it wasn't just two weeks of training; it was two weeks of training plus extra work, going outside and running two to three miles to get my feet under me."


Now he's in his backyard, making his UFC debut, and doing so with high expectations on his shoulders to deliver on the promise his 8-1, eight finishes record shows. But Smith isn't flustered at all about being under the bright lights this weekend.

"It's really just another fight, just another day," he said. "I've been getting punched on and kicked at for two months now. The only difference is you're not my teammate, so I can let loose and we don't have shin guards on and the gloves are smaller. Other than that, it's really just another fight. I've been doing this since I was 18. It's a part of the job."

It's a job Smith doesn't plan on giving up anytime soon, and one preferable to the one he used to have.

"I was working and doing this hard-ass job as a truck driver, driving construction material around Ohio," he said. "I kept telling the bosses I'm gonna be a UFC fighter, and do this and do that, and they really didn't care too much."

That didn't stop Smith, and in 2018, the hard work paid off.

"I kept doing my own thing and kept pushing forward and beating some top-ranked guys," Smith said. "I beat Justin Edwards, got the opportunity to fight on the Contender Series, was being surrounded by veterans and cool people, was in Vegas for the first time in my life, and now I'm actually going to be fighting in Denver on the UFC anniversary. So it was a life-changing year. It reminded me to keep pushing forward, no matter what anybody says."

As for what may be his final fight of 2018?

"I'm not thinking too hard into it," he said. "It is what it is, and it's fighting. We're just fighting. And I'm here to do what I gotta do, and that's win."