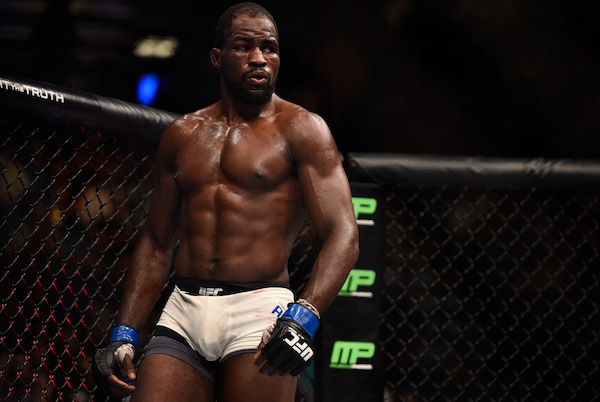 Emerging victorious on any season of
The Ultimate Fighter
automatically puts an athlete in the spotlight and increases expectations as they embark on their career inside the UFC Octagon. That focus is intensified when the winner competes in a weight class where up-and-coming talents have historically been in short supply.
Corey Anderson won the light heavyweight competition on Season 19 of The Ultimate Fighter, grinding out wins over Kelly Anundson,
Josh Clark
and
Patrick Walsh
in order to earn a place in the finals, where he scored a first-round technical knockout victory over
Matt Van Buren
. The triumph put the former collegiate wrestler on the radar in the 205-pound ranks, but after getting stopped in the third round of a bout he was winning against veteran
Gian Villante
in his second post-TUF appearance, many observers questioned where Anderson fit in the light heavyweight division going forward.
It didn't matter that the bout with Villante was Anderson's seventh professional fight and that he entered the sport with nothing more than his wrestling background and a will to learn. First impressions are hard to shake and even though he had dominated his first six opponents and ran through TUF, the Illinois native who moved to New Jersey to train alongside Frank Edgar and the crew that coached him to victory inside the TUF house was pegged as a middle-of-the-pack fighter.
This weekend, Anderson has the opportunity to cement himself as a legitimate contender in the light heavyweight division when he squares off with
Ilir Latifi
on the main card of UFC 232 at The Forum in Inglewood, California on Saturday night.
While other fighters have arrived in the division and made an immediate impact, the 29-year-old Anderson has taken the slow and steady approach to working his way up the rankings. Although the path towards the top of the division has included a few speed bumps, the 29-year-old has shown a tremendous ability to stay on course and make adjustments along the way.
Fighting in the light heavyweight ranks is different than competing lower on the scale, where divisions are deep and raw upstarts with potential are often afforded the opportunity to learn, grow and make mistakes long before they are thrust into battle against ranked competitors.
Former lightweight champion
Rafael Dos Anjos
began his UFC tenure with consecutive losses and a .500 record over his first eight starts. It wasn't until five years later, at the age of 29, that he began to emerge as a contender and a few more years after that until he captured championship gold.
Reigning welterweight kingpin
Tyron Woodley
had a tremendous start to his career, rattling off 10 consecutive victories before suffering his first loss. But that initial setback kicked off a 3-3 stretch that left people wondering if "The Chosen One" was destined to reside in the lower half of the Top 10 for the duration of his career.
He's undefeated in seven fights since and turned in his most impressive performance since winning the title last time out against
Darren Till
at UFC 228 in September.
But because two or three consecutive victories can carry you into the Top 10 in the 205-pound weight class, up-and-comers are often forced to learn on the fly, and the natural ebb and flow of their career produces far greater swings in terms of where they stand in the divisional hierarchy and court of public opinion.
In his eighth fight, Anderson was facing Jan Blachowicz, who had more than three times as many fights and a lengthy title reign in Poland's KSW promotion under his belt. In his eleventh appearance, he went toe-to-toe with former champion Maurico "Shogun" Rua, dropping a contested decision to the Brazilian legend in his hometown of Curitiba.
Rather than enjoying a slow build and a chance to move up the ladder incrementally, Anderson was thrust into the thick of the chase while still in the early stages of his development and it's one of the reasons he remains somewhat unheralded heading into Saturday's showdown with Latifi at The Forum.
Fight fans and observers are both prisoners of the moment and held captive by their initial impressions about an athlete — on one hand enthralled by the most recent impressive showing, but also stuck clinging to ideas they've held about certain athletes even though there may be evidence that contradicts their position.
Anderson is victim of both.
Although he's already earned a pair of victories in 2018, including a dominant effort against
Glover Teixeira
on short notice in Hamburg, Germany this summer, middleweight transplants
Anthony Smith
and
Thiago Santos
and rising star
Dominick Reyes
have garnered the most attention amongst the up-and-coming set thanks to a string of impressive finishes and quality wins over established competition.
At the same time, Anderson's rough 18-month stretch that saw him go 1-3 with losses to Rua,
Jimi Manuwa
and
Ovince Saint Preux
seem to carry a great deal of weight with some people, while his lopsided UFC 191 victory over Blachowicz is somehow swept aside, even though the Polish standout has regrouped and risen to No. 4 in the rankings.
He's seemingly stuck being viewed as a grinder who has struggled against elite competition, even though he had little trouble against the fourth-ranked Polish veteran three years ago and just recently dispatched the most experienced fighter in the division with relative ease.
Not that it bothers the man
Frankie Edgar
nicknamed "Overtime" for his tireless work ethic and drive in the gym.
The humble member of the Iron Army seems content to inhabit the underdog role in the light heavyweight division, focusing exclusively on continuing to sharpen his tools and expand his situational knowledge every time he steps on the mats. Rather than taking to social media to lobby for more respect and voice his displeasure with his place in the rankings, Anderson simply turns up at the gym and continues to improve.
And in his most recent efforts, those improvements have been evident.
His win over
Patrick Cummins
showed that his striking is continuing to develop, as he opened up Cummins and hurt him early, en route to a clear-cut victory. Against Teixeira, Anderson showed further advancements with his striking, planting an uppercut on the former title challenger's chin early in the first before turning to his wrestling and dominating the seasoned Brazilian on the canvas on the way to a clean sweep of the scorecards.
With a pair of successful starts this year already behind him and another five months working with Mark Henry,
Ricardo Almeida
and the rest of the Iron Army crew in the books, this weekend's clash with Latifi in Los Angeles represents another opportunity for Anderson to show that he's starting to put all the pieces together and establish himself as a factor in the light heavyweight title chase heading into 2019.