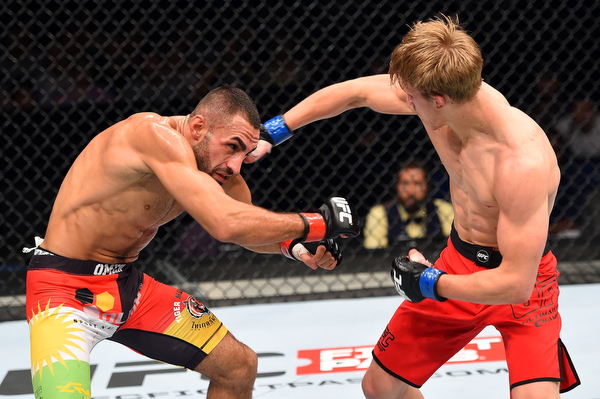 In March of 2014, a reported 14,604 people filed into the O2 Arena in London to watch UFC Fight Night: Gustafsson vs. Manuwa. One of those patrons was Arnold Allen.
At the time, the UFC featherweight was a 20-year-old prospect with a 6-0 record, getting a first-hand look at the biggest stage in the sport and an up close view of where he wanted his career to take him. Saturday night, the now 22-year-old Brit will return to the venue, not as a spectator, but as a combatant, stepping into the Octagon for his sophomore appearance when he takes on veteran Yaotzin Meza as part of the preliminary card at UFC Fight Night: Silva vs. Bisping.
"The first UFC I ever went to see, I went to see Luke Barnatt when he fought at the 02 Arena and after that, I was like, 'I'm definitely going to fight here one day,' so it's definitely going to be kicking something off my list," Allen, who sports a 10-1 record heading into this weekend's fixture against the Arizona-based Meza, explained. "I planned it, I thought about it and now it's happening, so it means a lot to me."
Fighting on home soil in the UFC is a secondary or tertiary goal of most fighters; getting the call to the Octagon is Priority No. 1 and winning enough fights to stick around long-term fills the silver medal position. But for Allen, Saturday's contest feels like a fighting combo platter, as the emerging talent didn't get to really take in the full UFC experience the first time around.

The biggest fight card in the history of UFC FIGHT PASS is Feb. 27. Don't miss it - join now!
Allen's UFC debut came against Alan Omer last June in Berlin, Germany. He was called and accepted the opportunity to fill in for his injured countryman Mike Wilkinson on June 14. The fight was on June 20.
In those next handful of days, the young featherweight had to scurry about completing medicals and getting all his information to the UFC, not to mention make his way to Germany, drop a couple pounds and then step into the cage against Omer, a raw talent coming off a split decision loss in his debut with a full camp invested into getting into the win column in Berlin.
The 144 hours between getting the call every fighter waits for and stepping into the Octagon were a blur for Allen and he's looking forward to savoring the experience more this time around.
"It was like I got the call and the next minute I was in the cage fighting," Allen recalled. "It was all pretty quick, so I didn't really get to take the moment in.
"This fight feels like my real debut – my true debut – where I get to show what I'm actually about, what I've got. I didn't perform to my best, but now I'm going to be fully prepared with a full camp behind me. I'm looking forward to it."
Allen picked up a third-round submission win in the short notice debut he's not all that satisfied with, which tells you a little about the standards the talented 145-pound prospect holds himself to as he prepares to make his second voyage into the Octagon.
In advance of this weekend's return to action, Allen made the trip across the Atlantic to train at Montreal's Tristar Gym, joining the likes of Joseph Duffy and fellow UFC Fight Night: Silva vs. Bisping combatant Tom Breese as members of the gym's growing international contingent.
"My manager has Tom Breese and Joe Duffy over here, so I spoke to those guys and came over," Allen said of his relocation to the frigid French-Canadian fight factory. "I was looking for another team to go train with, so it was a good connection to come over.
"Joe and Tom are cool guys, so that really helped settle me in. I don't usually speak to anyone at first – I don't want to make myself look like an idiot – but they were real helpful. Duffy would give me a load of advice because I was struggling a bit when I first got here and he was telling me that he was going through the same stuff.
"It's not hard," he said of packing up for a four-month stint in La Belle Province. "It was always my plan to do this, to move to a top gym and having a cool bunch of guys around me makes it easy. Training is hard – I have great partners every round and every round is difficult; there are no easy rounds, but that's why I'm here."
MORE ON FIGHT NIGHT LONDON: Join UFC FIGHT PASS | Reasons to watch Fight Night London | Fight Night London Embedded: Episode 1, Episode 2, Episode 3 | UFC Battle Lines: Part 1, Part 2, Part 3, Part 4 | UFC Breakdown: Fight Night London | How to watch Silva vs. Bisping | Read: Comeback? Anderson Silva never really left | Bisping finally gets career-long wish: Silva fight | Say it again - Silva's greatest soundbites, Bisping's greatest soundbytes | Super Spider - Silva's defining moments | Silva, Bisping trade barbs with fight nearing | Watch: Silva vs. Bisping - Joe Rogan preview | Rankings Report - London preview | Open Workout Highlights | Bisping - Warrior Code | Pundits weigh in on Silva-Bisping | Bisping - Fighting and Family | Big Nog on Silva's Best Fights | Big Nog on Silva's heart | Under the radar fights | Breese turns from UFC student to fighter
And those hard rounds put in on the third floor at 5275 Rue Ferrier are why he expects his second appearance in the Octagon and his homecoming fight to be his best performance to date.

"Most of my fights, I've been the "away" guy, so I feel like that's more of a problem to deal with," he offered. "Having people cheer me on for once will mean more power, more energy for me. Like I said, it's part of the plan, so I wouldn't be too surprised or overwhelmed by it; I'm going to embrace it."