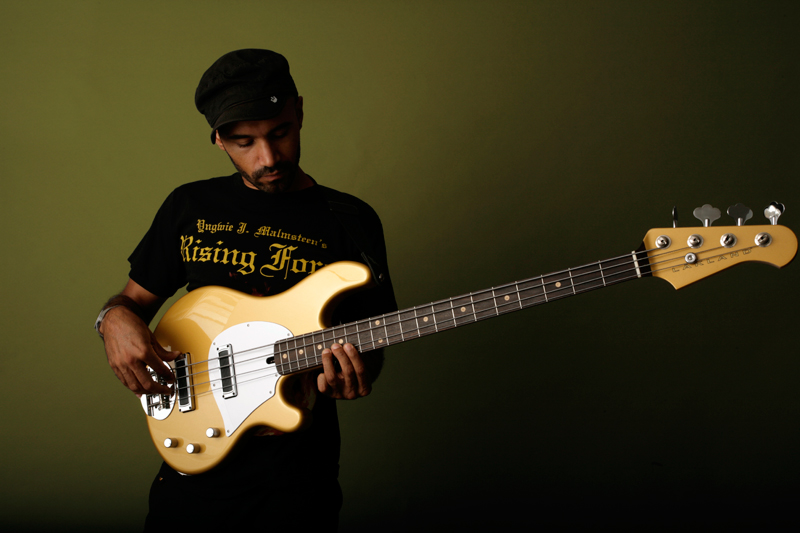 Ben Kenney has spent his entire life playing music.
Over the past two decades, the New Jersey native has forged a versatile arsenal of skills that has taken him from his early days in Race Car, to an acclaimed stretch with Philadelphia's musical institution The Roots, to behind the bass guitar for the multi-platinum modern rock staple Incubus. Kenney's musical talents have taken him around the world and back ten times over, and while chords, beats, and harmonies are his first love, he's always held a special place for mixed martial arts.
From watching early UFC tapes with his older brother at their home in New Jersey, to sitting cageside to witness the chaos inside the Octagon firsthand; Kenney is a certified member of the passionate UFC fan base.
We recently caught up to the musical maestro to pick his brain on the five fights he holds higher than any others, and he proved his die-hard status by rocking a very respectable list of scraps. Per his request, the following fights should not be listed in any particular order, because he appreciated them all equally.

Miguel Torres vs. Takeya Mizugaki WEC 40 April 5, 2009
-
Watch on UFC Fight Pass
"When I think about fights I saw that really just changed the way I see things, a wide variety of fights come up. Actually, a lot of them took place in the WEC, and one of those was watching Miguel Torres and Takeya Mizugaki go at it. That was one of the raddest fights because it was two of the scrawniest dudes scrapping like something out of a video game. It was like a fight scene out of a movie because neither of them would go and they were beating the brakes off each other. I remember watching it and thinking, 'Holy s**t this is the coolest sport in the world.'"
Cub Swanson vs. Mackens Semerzier WEC 52 November 11, 2010
-
Watch on UFC Fight Pass
"I've always been down with Cub. I've always felt like he fights kind of how I imagine Bruce Lee would fight if he had ever gotten inside the Octagon. He could definitely claim Kung Fu as his style. I remember his fight with Semerzier, and I think it was in the third round where it just got unreal. The stuff they were pulling off, the shots they were landing, and the heat they were taking was unbelievable. Their techniques were on point, and both guys were in heaven beating the hell out of each other. At the end of the fight they were yelling at each other in excitement and it was one of the craziest things I've ever seen. Those dudes became my heroes that night."
Jon Jones vs. Stephan Bonnar UFC 94 January 31, 2009
-
Watch on UFC Fight Pass
"When I saw Jon Jones fight Stephan Bonnar it blew my mind. I became an instant fan and knew this dude was it. I went around telling everybody how special this guy was going to be because I could just see by the way he worked inside that cage that it was something we had never seen before. So much in fact, I made it mission to meet him. I wanted to meet this kid because he had come into this established sport and was absolutely playing by his own rules. I became a diehard Jones supporter right then. I had never seen anything like that before. What he lacked in technique and cardio in that fight, he made up for in sheer creativity. He wasn't throwing things he drilled a thousand times over and over; he was putting the art in martial arts on display. He had so much spontaneity that it was fascinating to watch. After that fight, I called my manager and told him to get on finding a way for me to meet this guy. I wanted to see what he was like because his skills were just on some different level."
Benson Henderson vs. Donald Cerrone WEC 43 October 10, 2009 (or any fight Henderson or Cerrone have been in…..ever.)
-
Watch on UFC Fight Pass
"I can't make a top list without mentioning any fight where Benson Henderson or Donald Cerrone have been involved in. They fall into that category of guys who seemingly have unlimited ability and go at it full speed, and their first fight was awesome. That fight showed the potential of Henderson, and showed just how brutal Cowboy can be. How many times did Cerrone try to submit Henderson in that fight? It was something ridiculous, but apparently Henderson has Super Mario's Star Power when you try to submit him. The music comes on and you just can't do it. Those guillotines were tight and he was getting out of all of them. It showed that Henderson is obviously made out of different material than the rest of us and Cowboy is just the gnarliest dude. I had heard about Cowboy from people for a long time before I ever met him, but I was around the gym at Jacksons for a bit and finally had the chance to meet him. Cowboy is without a doubt the realest dude I've ever met in my life."
Sam Stout vs. Spencer Fisher UFC 58 March 4, 2006
-
Watch on UFC Fight Pass
"I don't know if this is a fight that pops up on everybody's list, but the first fight between Sam Stout and Spencer Fisher is an absolute must see. That fight was awesome and I remember it vividly. I had never seen Sam Stout before, and I was with my brother watching fights. We had watched many a fight together and part of what we do is just sit there and pass judgment on everyone (laughs). Sitting back with a few beers from the comfort of the couch watching people throw everything they have at one another. I'm sitting there with my brother and they show Stout on the Tale of the Tape and I thought Stout looked like one of those pretty boy bodybuilder dudes that somehow ends up in a cage for five minutes then gets a taste and realizes he doesn't want to do it anymore. Man…I could not have been more wrong because they just started going at it. That fight was a war. It was an all-out war and those guys were getting after it. That fight was such a surprise because I didn't expect it to be anything like it was. That is what makes MMA great. You never know what is going to happen when two fighters get into that cage and that fight is a classic example."