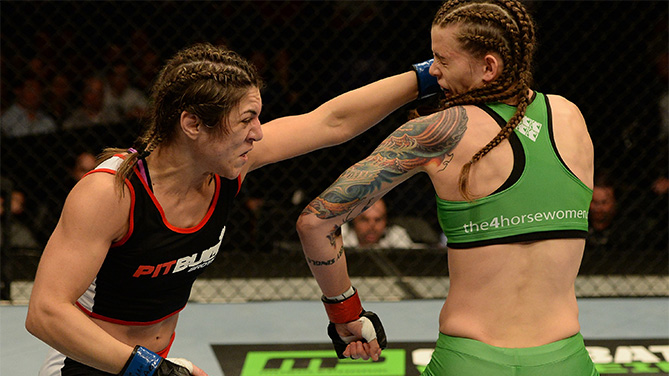 Bethe Correia is a woman on a mission. In fact, one could attach any number of descriptors to her (lioness, warrior, pitbull) and they all would support the notion that the undefeated Brazilian powerhouse has come to the UFC with something to prove. While some fighters are fine taking time to ease their ways into the situation, Correia isn't pulling punches.

She's gunning for the top of the mountain in women's MMA phenom Ronda Rousey, and she has zero issues with dismantling "Rowdy's" crew piece by piece until she gets her shot at the champion.

The infamous "Four Horsewomen" collective, which consists of the women's bantamweight champion, The Ultimate Fighter alum Jessamyn Duke, gritty veteran Shayna Baszler and highly touted Rousey protégé Marina Shafir, have become a staple on the WMMA scene and Correia has taken aim at the group. "Pitbull" steamrolled Duke in a lopsided unanimous decision at UFC 172 back in May - and immediately following her victory - threw up the "Four Horsewomen" hand signal minus one digit.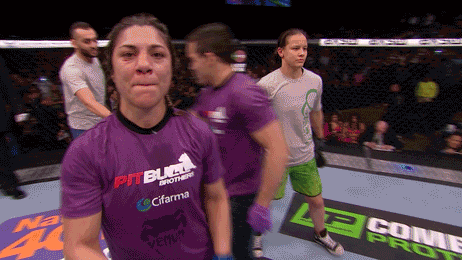 Next, she'll be looking to clip another element from the posse when she squares off with Baszler this Saturday night at UFC 177, and she's determined to send another strong message to the champion. Correia wants Rousey to know she's coming for that strap and plans to make another example out of one of Rousey's stablemates in Baszler.

"My focus is to be the champion," Correia said. "I didn't come here for joking. I had a quality performance against Jessamyn. That fight made me more confident for the next fight and I can bring out the lion inside of me.

"I did the gesture because Ronda and her friends think they are the best and I want to fight them because I know I can beat them all. I beat the darling of the group in Jessamyn. Now, I'll fight with Shayna and I'll prove I'm the best in the world with God's will. Only God can stop me in this world…nothing more."

While her victory over Duke and the gesture that followed showed signs that a grudge may have been forming between the scrappy Brazilian and Rousey's crew, that beef became certified when the bout with Baszler became official. "The Queen of Spades" is a pioneer in the WMMA game and as gritty as they come inside the Octagon - and with the friction between the two fighters already palpable - Baszler fired shots across the bow as she took to social media to pump trash talk in Correia's direction.

That said, Correia immediately fired back and used the jabs as motivation for her preparation. She came to the UFC to fight and she believes she's going to give the crafty veteran more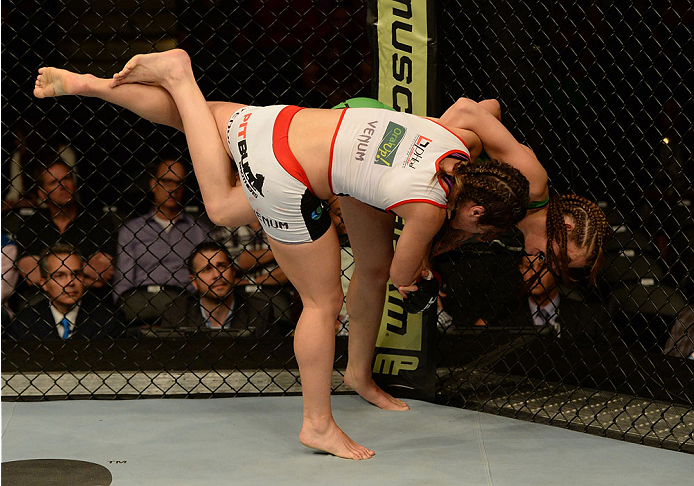 fight than she can handle at UFC 177.

"As it has been made clear in interviews and on social networks, I don't like her and she don't like me," Correia said. "I don't like her posture. She said she will get me for things I did and said and for what I did after I beat her friend. But she forgot that she was the one who started this little war on Twitter. I trust in myself. Soon we will meet and I'll give her a chance to try to get revenge (laughs.)

"I don't care what her style is or what she brings to the fight. I want this fight and I'm going to win. On the floor or in the stand-up; it doesn't matter. She has a lot of experience and this makes me very excited. It will be a great fight and I will win. I don't go to stop and I don't go to lose. Shayna can't stop my plans. I'm focused and determined that I'll stay unbeaten and be next in line for what is reserved for me…the title. It's an obsession. I'm not ashamed to speak this and I don't care what anybody says. This title is incorporated in my soul and I'm going for it."

Throughout her young career, Correia has been impressive every step of the way. With just north of three years in the experience department, she has shown to have proven power in the striking department and a solid ground game to compliment the work she does on her feet. That said, what is perhaps the most impressive element of Correia's game - and it has become somewhat of an early calling card for the 31-year-old Paraiba native - is her aggression.

She has a natural love for the ruckus and those tendencies are only amplified when training with her teammates at Pitbull Brothers MMA. Her confidence is growing with every rung she climbs on the ladder and she believes her skills are only going to grow stronger in the aftermath of defeating Baszler.

"Being unbeaten makes me more confident," Correia said. "Losing a fight doesn't make you a bad fighter. Some champions have already lost. For me, the most important element of my career is my base, my team, my coaches, my family, God and my will to win. This overcomes any difficulty, disbelief and uncertainty.

"Fans will not have to wait," she added in conclusion. "They will see a warrior shutting up the mouth of someone who talks a lot. I'll fight for Brazil and for everyone who helped me. They'll see devastating form and a woman hungry for victory that will trample on anyone who gets in the way of my dreams."