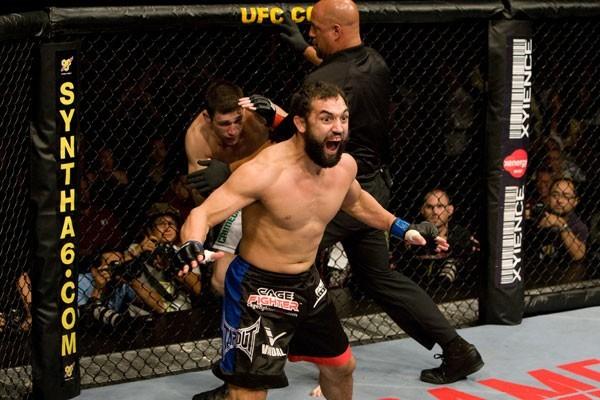 On Saturday, December 6, UFC welterweight champion Johny Hendricks defends his title for the first time against the man he won it against, Robbie Lawler. But before UFC 181 and the rematch of the leading contender for 2014 Fight of the Year, let's take a look at some of the other pivotal moments in the career of "Bigg Rigg."

UFC 171 - Robbie Lawler I
Result: Hendricks WUD5

WHAT WE SAID THEN: The disappointment of Johny Hendricks' November loss to Georges St-Pierre vanished in the space of two words at the American Airlines Center on March 15, 2014: "AND NEW…" And when Bruce Buffer said those words, declaring Hendricks the new UFC welterweight champion after a five round classic with Robbie Lawler, the 170-pound division had its new king, someone who many believed should have had that crown last year after his controversial split decision defeat to GSP, who later vacated the belt. But if you ask Hendricks, he will undoubtedly say that finally getting the belt was worth the wait, even if he had to walk through fire to get it.

BIGG RIGG SAID: "When I was wrestling in college, after I won the National title my sophomore year, I wrestled a guy that I don't even think was ranked. And he came out so strong and ready to wrestle. In my head, I was like 'why?' And Coach Smith drilled into your head 'hey, you're gonna get the best of the best out of everybody.' So for me, it (the Lawler rematch) is just another match. My title's on the line, that's the only difference. Every fight now is my NCAA tournament final."

UFC 167 – Georges St-Pierre
Result: St-Pierre WSD5

WHAT WE SAID THEN: The long-awaited championship showdown between welterweight champion Georges St-Pierre and number one contender Johny Hendricks in the main event of UFC 167 lived up to all expectations, with a fast-paced five rounder that saw both men showing off their skill and will in search of victory being the result. When it was over, the verdict was controversial, but Canada's GSP retained his welterweight title via split decision.

BIGG RIGG SAID: "You never really get over it. You just learn to live with it. But you can't just dwell on it; you've got to try to move forward and learn from it."
UFC 158 – Carlos Condit
Result: Hendricks WUD3 (watch it on UFC Fight Pass)
WHAT WE SAID THEN: On any other card, the UFC 158 co-main event between Johny Hendricks and Carlos Condit at Bell Centre would have been a main event. Regardless, the two welterweight contenders fought like headliners, with Hendricks squeezing out a close, but unanimous, decision win in an instant classic that cemented Hendricks' claim to the number one contender's spot in the division and also secured Condit's place as one of the most exciting fighters in the sport.
BIGG RIGG SAID: "It feels like you either become somebody or you're just another name, and that's the way I've always looked at it. For me to become what I want to become, I have to win this fight. It brings life out of me, energy out of me, and focus out of me, and the higher the stakes, the better I become. I don't know why, I just love the pressure. I want to be the person with the target on my back, I want to be the person with the belt. That means as soon as I win that belt, every fight is top of the line and they can't wait for you to lose. (Laughs) And I don't fold under the pressure; I embrace it and I try to overcome it."
UFC 141 – Jon Fitch
Result: Hendricks KO1 (watch it on UFC Fight Pass)
WHAT WE SAID THEN: Left hand. 12 seconds. Knocking out a top welterweight contender who had not been stopped since 2002. If that doesn't earn you a spot on the top knockouts of the year list, then nothing else will. And while we all knew Johny Hendricks had plenty of heat on his fastball, his finish of Jon Fitch at UFC 141 was a down the pipe delivery that Nolan Ryan would have been proud of.
BIGG RIGG SAID: "I think the good Lord blesses people with power, I really do. The more that I'm looking at it and the more that I study it I see these guys that can hit hard and they don't look like they should hit hard. Then you've got guys that look like they should knock the crap out of you, and they don't hit that hard at all. The technique can be exactly the same, and boom, you hit somebody and you either lay down the power or your body just can't do it. So the more that I'm striking and the more that I'm figuring out and the more that I'm sparring certain people, the more that I'm noticing that you either have the power or you don't. You can elevate your power by learning certain techniques, but if you don't have knockout power, it's gonna be hard to have knockout power ten years down the road."
UFC 101 – Amir Sadollah
Result: Hendricks TKO1 (watch it on UFC Fight Pass)
WHAT WE SAID THEN: The fans may not have liked it, believing Amir Sadollah got the short end of a quick hook, but Johny Hendricks certainly was impressive before the finish, as he halted the Ultimate Fighter season seven winner in just 29 seconds.
"It's not my call," said Hendricks, now 6-0. "I come out to do one thing and that's win."
Both fighters came out fast, and soon, fast led to swinging, and in Hendricks' case, what followed was a left hand followed by a series of hard left uppercuts on the inside that dropped Sadollah. A follow-up attack brought in referee Dan Miragliotta to halt the bout, a decision that the Philly fans weren't too happy with.
BIGG RIGG SAID: "People don't understand that whenever I was at Xtreme Couture, I woke up at 9, 10 was the first session, and I would train from 10 to 1. Then some amateurs would come in from 1 to 2 and I would spar with them every other day. Then from 6 to 9 I'd work out again. That was my day every day because I knew that once everything started getting to go, I was gonna be sort of on the faster track. I didn't think I'd be in the UFC in five fights, but that's when I knew I only had a certain amount of time to do this, and I had to make the most of it that I could. Every moment I could, I spent in the gym."