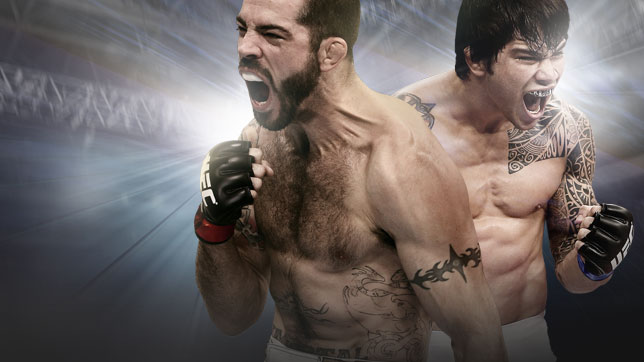 On Saturday, the Octagon is in Cincinnati for the welterweight meeting between
Matt Brown
and
Erick Silva
. But before UFC Fight Night begins, let's take a look at the card By The Numbers.
1890
Days since the Octagon made its last appearance in Ohio at
UFC 96
in Columbus, which was the first/only time headliner Matt "The Immortal" Brown fought in his home state for the UFC
2394
Days since the UFC was last in Cincinnati, Ohio at the U.S. Bank Arena at
UFC 77:
Hostile Territory, which was headlined by then UFC middleweight champion
Anderson Silva
defended his belt against former champ Rich "Ace" Franklin
< 60
Time in seconds it took for both main eventers Matt Brown and Erick Silva to win their last bout by KO
7
Ranking of Matt Brown among active UFC welterweights
6
Fight win streak inside the Octagon for "The Immortal", longest active streak in the 170-pound division
2
Bonuses in Brown's last two UFC appearances - Fight of the Night against
Jordan Mein
and Knockout of the Night against
Mike Pyle
11
Wins at welterweight in the UFC for Brown, 6th most in UFC welterweight history behind
Thiago Alves
' 12,
Jon Fitch
's 13,
Josh Koscheck
's 14, UFC Hall of Famer
Matt Hughes
' 16, and former UFC welterweight champion
Georges St-Pierre
's 19.
9
Wins by finish in the UFC for "The Immortal," 2nd most in 170-pound history behind Hughes' 10
8
KO wins by Brown inside the Octagon - 5 of his last 6 wins by KO, most in UFC welterweight history
7
Knockdowns in Brown's UFC career, 4th most at 170 pounds behind
Anthony Johnson
's 8,
Jake Ellenberger
's 8, St-Pierre's 8, and Alves' 12.
56.7
Percentage of Brown's significant striking accuracy, highest rate in UFC welterweight history
18
Submission attempts by "The Immortal," tied for 3rd most attempts in UFC welterweight history behind St-Pierre's 23 and
Chris Lytle
's 31
14
Ranking of Erick "Indio" Silva among active UFC welterweights
100
Percentage of Silva's UFC wins by first round finish - KO of
Luis Ramos
, rear naked choke of
Charlie Brenneman
, inverted triangle armbar of
Jason High
, and, most recently, TKO of
Takenori Sato
52
Seconds for "Indio" to score a TKO stoppage over Sato at UFC Fight Night: Machida vs. Mousasi
100
Percentage of Silva's 18 significant strikes attempted that landed against Sato, which broke an esoteric record previously held by Anderson Silva with his 13 for 13 significant strikes landed against James "Sandman" Irvin
0
Significant strikes landed by
Carlo Prater
, Jason High, and/or Sato against Erick Silva, only fighter in UFC history to have 3 fights with 0 strikes absorbed
4
Fight Night bonuses for Silva - 2x Submission of the Night, 1x Fight of the Night, and 1x Performance of the Night
4:24
Average fight time for Silva, quickest on the active UFC roster
12
Ranking of
Costas Philippou
among active UFC middleweights
14
Years that Costas was a boxer before switching to pro MMA
86.8
Percentage of Philippou's significant strikes to his opponent's head, the largest percentage in UFC middleweight history (min. 5 fights and 300 att)
71.6
Percentage of Philippou's sig. strikes from distance, 7th highest among active 185 pounders fighters (min. 5 fights and 350 att.)
50
Percentage of Philippou's Wins by KO in his pro MMA career
3
Knockdowns by Costas against
Jared Hamman
, tied for the 2nd most ever in a UFC middleweight bout
8
KO wins for Lorenz "The Monsoon" Larkin
92
Percentage of "The Monsoon's" total strikes that have been attempted that are significant strikes in his 3 UFC appearances
85
Percentage of Larkin's 113 significant strikes attempted were thrown at
Brad Tavares
' head at UFC Fight Night: Rockhold vs. Philippou
80
Percentage of Larkin's takedown defense accuracy stuffing 16 of 20 takedowns in the UFC
145
Pound division, which Erik "New Breed" Koch previously competed at and compiled a 5-3 record in the UFC and WEC
1
Win for Koch in his UFC lightweight debut at UFC 170 with a first round TKO finish of
Rafaello Oliveira
2
Knockout of the Night bonuses for "New Breed" in UFC/WEC
66
Percentage of Koch's finishing rate in UFC/WEC
7
Submission wins for "New Breed" in his pro MMA career
15
The Ultimate Fighter
season Daron "The Detroit Superstar" Cruickshank was a cast member on
7
Fighters in UFC history own at least 2 head kick wins including Cruickshank - KO of
Henry Martinez
at UFC on FOX: Henderson vs. Diaz and, most recently, TKO of
Mike Rio
at UFC on FOX: Henderson vs. Thomson
8
KO wins in "The Detroit Superstar's" pro MMA career
100
Percentage of Cruickshank's 142 total strikes attempted were at distance in his decision win over
Yves Edwards
at UFC on FOX: Johnson vs. Moraga
77
Takedown defense percentage for the former NCAA Division III wrestler Cruickshank