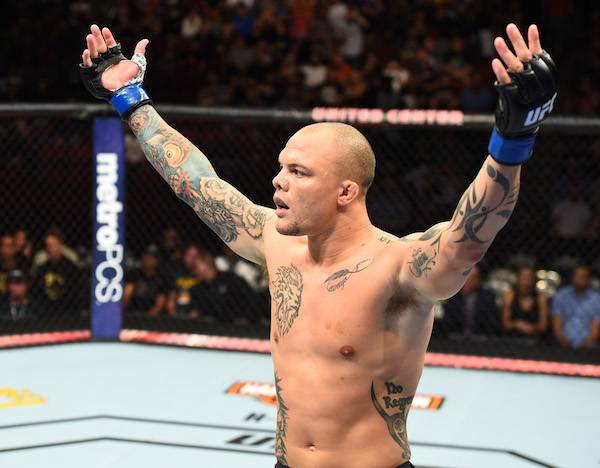 "The real hero here is my wife and my two kids and I want to make sure people know that," said Marc Montoya, head coach at Factory X, the Englewood, Colorado-based gym that has experienced a breakout campaign in 2018. "They're the rock stars in this because without their support, none of this happens.
"I've been on the road for 40 weeks; well, they've been without me for that time and I really appreciate them. I want to make sure everyone knows that."
While some may hear that and consider it overly sentimental or a saccharine statement from a coach looking to deflect praise, the reality is that acknowledging the impact his wife and family have had on the team's success this year is an example of the philosophy and culture that permeates the squad and serves as the foundation for everything the team has accomplished inside the cage in the last 12 months.
Montoya's biggest concern when he started building the gym wasn't about how to attract big names to the facility or finding a prime piece of real estate in the Denver suburbs to house the facility; it was about building the right culture within the squad.
"I know some places call themselves a team, but it's just a bunch of individuals under one roof," said Montoya, who competed in both individual and team sports before shifting his focus to coaching. "When I stopped playing and fighting, one of the things I missed the most were the practices and the locker room and the times we went to lunch; the camaraderie that we had.
"A lot places, people come in for camps, they do their camp and they're gone; you don't see them again until their next camp. I really didn't want that," he continued. "These kids come back when they get done fighting and they get back on the mats; they help the people that helped them.
"Even my people that come in from out of town and don't live in Denver full-time — they come back once a month to train, even if it's just for a week. They stay, we play around, try out new stuff and they give back, helping people get ready for fights.
"That's a real team."
And that team has enjoyed tremendous success in 2018.
Leading the way has been Anthony Smith, who started the year with a second-round stoppage loss against
Thiago Santos
before moving up to light heavyweight and rattling off three straight finishes to end the year positioned at No. 3 in the rankings.
Fellow veterans
James Krause
and
Zak Cummings
have benefitted from taking a similar path as Smith, leaving strenuous weight cuts behind in order to fight up a division and find greater success, while a trio of Contender Series alums all established themselves as newcomers to watch next year by registering impressive victories in their promotional debuts.
That mix of young and old, novices and veterans, homegrown talents and transplants is a crucial piece of the success of Factory X as well, as the two factions work harmoniously in the gym while trying to prove their dominance at the same time.
"That dynamic is great because, as we say, 'Iron sharpens iron' and that's true," began Montoya, "but the learning process comes down to the vets having to be open-minded enough to learn from a five-fight pro just like the five-fight pro has to be open to learning from the 40-fight vet.
"There is such a wealth of knowledge that these vets have and these young kids have and they need to listen to each other. They don't have to do everything that they say, but at the end of the day, if someone on your team is speaking to you, it's because they want to help you. If you choose to overlook that, you've missed a huge part of your growth and that can be detrimental to your career."
As with everything, Montoya doesn't just preach the philosophy and enforce its doctrine; he's in the gym, leading by example, every single day.
"If someone wants to teach me something, I'm willing to learn," he said. "I have to say and do everything and it has to lead from the front. If I'm doing it, there are no arguments there.
"Leading from the front is key, not just from my end, but the vets, the young pros and then the amateurs following them. They're all in line and they've all got to talk the talk and walk the walk."
In many ways, this year has been a testament to the culture Montoya has established at Factory X and the trust he has earned from his charges.
While the team experienced some disappointing results early in the 2018 campaign, Montoya never wavered. He told them to trust what they had built and continue doing the same things, believing that the results would eventually catch up with the effort and when they did, he refused to let anyone think about how it might go wrong.
"The beginning of the year started a little rough and when you look back at it, it's okay," recalled Montoya. "That's what I told them when we were in that rough little patch — 'It's okay. We're going to be fine. You've just got to trust the vision and keep doing what you're doing and it will work out' and they did that.
"You know that saying, 'Waiting for the other shoe to drop' — that 'things are going so well, something bad has got to happen' mentality? I said early on this year that that's not the mentality we're going to have.
"The expression I used with my team is 'We're not waiting for the shoe to drop; we're getting ready to go buy new Jordans,'" he said with a laugh. "We're not waiting for something bad to happen; we're just going to keep improving. That has been the sentiment this year — something bad isn't around the corner; we're just going to continue to grow and be great and they've bought into that."
And the results have followed.
Over the last eight weeks, seven different members of the Factory X team have ventured into the Octagon and collected victories, starting with Smith and
Court McGee
picking up wins in Moncton, New Brunswick and capped by Zak Cummings earning a hard-fought split decision victory over
Trevor Smith
this past weekend.
In between, the team experienced a tremendous night at home in Denver, with the fighters —
Maycee Barber
,
Devonte Smith
and
Mark de la Rosa
— making the walk to the cage on the UFC's 25th Anniversary show at the Pepsi Center and coming away with impressive wins.
"That was a special night," Montoya said of the hometown fight card in mid-November. "I was in the workout room and I had Maycee, Devonte, Mark de la Rosa, Youssuef Zalal, who is fighting in the LFA and will be in the UFC soon, and I had
Chris Gutierrez
, who is now in the UFC, in the workout room in Denver when we were training and I was looking around the room thinking I'm proud to have the future of the UFC standing right in front of me and I get the ability to train these kids and they believe in what we're doing.
"I was like, 'Hell yeah, man — we're bringing the heat when it comes to the new crop in the UFC' so that night was super-special. We went out there and made a statement like we knew we could.
"Those kids all performed and it was a blast," he added. "To see that we have a lot of the future coming up in the UFC gives me a huge smile."
While Montoya and various members of the Factory X team have frequently been seen posing for post-fight selfies inside the Octagon over the last several months, the reality of the fight game is that there are very few opportunities to really sit back and enjoy those triumphs as a team.
But following a hectic year filled with weekends on the road and the constant motion that comes with being at the helm of a growing, successful fight team, Montoya is really looking forward to doing just that this weekend.
"One of the toughest parts for me is that you want to celebrate the victories, but you can't really," he began. "If you fight on Saturday night, we get done at all hours of the morning and after the fights, there's not much time to do any of that. The next morning, you catch a plane, you get home Sunday sometime and then I've got to rock and roll on Monday and it starts over for me.
"So to celebrate all those wins for me, selfishly, I haven't had that opportunity. Of course I have been happy about it, but what I'm looking forward to is my team and the gym having a Christmas party this Saturday.
"I told everyone yesterday that it's rare to get half a month to celebrate what we've done and I'm looking forward to doing that with them this weekend.
"In 2019, no one gives a s*** about what we did in 2018 — it all restarts," he added. "So for half-a-month, let's celebrate what we've done."
Even though we live in a "What have you done for me lately?" society, Montoya is wrong about people not caring about the team's breakout 2018 campaign once the calendar flips over to 2019.
And with Smith firmly established as a contender in the light heavyweight division, numerous veterans coming off impressive performances, and an impressive crop of emerging talents across various divisions making moves, it's not like Factory X is going to simply fade into the background next year like some flash-in-the-pan, one-hit wonder.
That's not what teams with a great culture do.