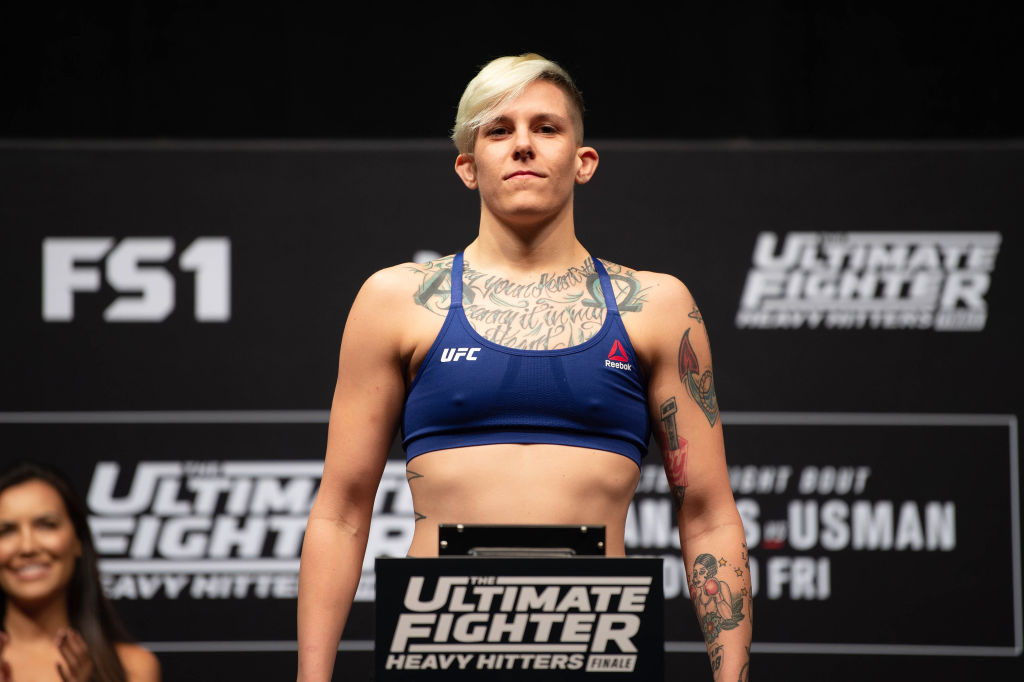 Mixed martial arts was just a hobby for Macy Chiasson. But when her final days as a college student at the University of New Orleans were spent thinking about the sport and not about using her degree in Biological Sciences, she knew she was hooked.
"I remember sitting in class when I was getting closer to graduating from college and all I could think about was training and being in the gym," she said. "I didn't want to look back and regret anything. I can always go back and get this job and I'll always have this degree. But will I always be able to fight?"
No. But she can become the fifth woman to win The Ultimate Fighter if she defeats Team Gastelum squadmate and friend Pannie Kianzad Friday night in Las Vegas.
It's been quite the ride for the Louisiana native, who entered the TUF house with just two professional fights under her belt.
"It was more about speeding up the process and getting experience because I'm so early in my pro career," the 27-year-old said. "I just turned pro last year and a lot of these girls I was gonna fight in the future or in the house, and they all had a ton of experience, so I look at it as a way to get more experience and kinda get my name out there and try to move up a little bit faster."
She moved fast all right, defeating UFC vet Larissa Pacheco and Invicta FC vet Leah Letson in succession to earn her spot in the final.
"I surprised myself," Chiasson admits. "My coaches and my friends and family always told me that I'm really gonna go somewhere with this, but it (being on TUF) was more of a self-serving type of thing. It definitely boosted my confidence."
Chiasson also made a name for herself in a short time on the show, not just for her fighting skill, but for her intensity.
"That's just me and the way I've always been," she said. "I'm super competitive, and especially in sports, I've always been a very serious person. But fighting has been so much different for me. I've never stuck to anything in sports like I have with fighting. When I'm in training, it's something inside and I can't help it. I just feel so alive when I do it and I just love it so much."
So it sounds like TUF was a life-altering experience for Chiasson. And it was. That doesn't mean it was all roses for her.
"The things that I went through in there, it was not fun at all," she said. "The weight cuts, being secluded and not being able to do anything or go anywhere. To be able to go through it again and build up my mental strength, I think I would do it again just to build that because I definitely came out of the house so much stronger mentally than before. But it was not fun and I don't know if I could do it again."
Well, she doesn't have to, because Friday's match will Kianzad will be the first of what most believe will be many trips to the Octagon. And while she gives up the experience edge to her opponent, her size and talent make it a much more level playing field. As for her now trademark intensity, expect to see that as well, even though the two are friends.
"It's a sport, we're both competitive and we're both in it for the same reasons," said Chiasson. "She (Kianzad) was one of my really good friends in the house and one of my main training partners besides Bea (Malecki), and we just have the utmost respect for each other. I think MMA is really losing that aspect of it and that respect, and I really wish it would come back. You don't have to hate someone that you're going to fight. It's understood that you're in a sport. The sport is to punch someone and beat someone up, and I'm ready to do all that and I'm sure she is too, but at the end of the day, she's my friend and I respect her. We'll wish each other well, but once we get in that cage, it changes. The whole mindset and mentality changes. It's okay to have respect for someone but also want to destroy them. The sport is really losing that and I wish we could bring it back."
It almost brings to mind boxing's 1991 welterweight title fight between Simon Brown and Maurice Blocker, a clash between friends that turned into one of the most memorable wars seen in the ring. I remind Chiasson of this bout.
"It's because you know each other so well," she said. "And we trained with each other and we know our strengths and our weaknesses, and we know what it's gonna take to break through those barriers. We told each other we were going to fight in the finals and it's going to be the best fight ever. That's a mutual understanding and that's a respect thing as well."