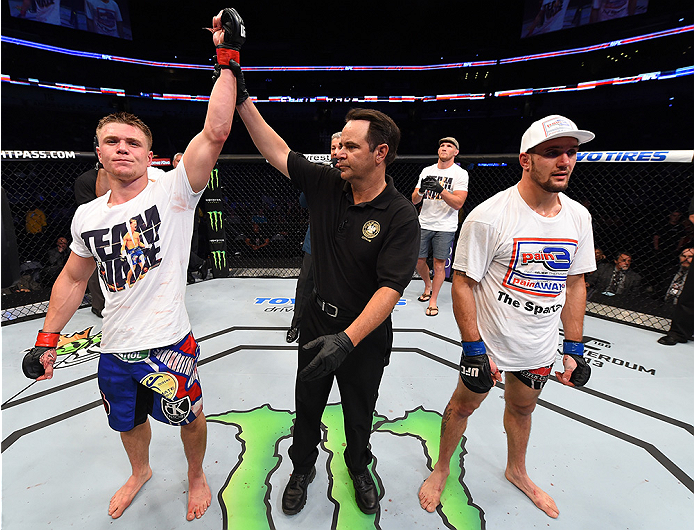 Standing out in the UFC lightweight division is a difficult task for any fighter, as the 155-pound weight class is the deepest, most talented collection in the sport today.
Seemingly every event someone new delivers a standout performance that puts them in the spotlight and earns them some attention, but only for a moment because one or two weeks later, without fail, another hungry lightweight will stride into the Octagon and put forth a memorable effort. Just like that, last week's breakout fighter becomes this week's forgotten man, left to re-establish himself next time out, whenever that may be.
The challenge is doubly difficult for fighters when they're unable to step into the cage – injuries relegating them to the sidelines, forced to watch as their momentum slips away, their name fades further into the shadows and fighter after fighter takes another step forward in the division.
"This isn't the heavyweight division where there are 45 guys and if you're winning, you're pretty much one of the most relevant guys no matter what," Long Island-based lightweight Chris Wade says. "With this division, there has to be consistency, excitement – just a constant pounding of a particular athlete into the fans' heads to advance.
"So sitting on the sidelines for six months as an up-and-comer and a prospect just destroys whatever momentum you had going. You have to find ways to improve so that when you go out, you can become fresh in their minds again and keep them wanting to use you."
Wade speaks from experience.
After collecting decision wins over Zhang Lipeng and Christos Giagos to kick off 2015 and push his record to 10-1, the 28-year-old was forced out of a battle of emerging talents against Olivier Aubin-Mercier in August and hasn't been able to get back into the cage since.
Despite a three-fight winning streak in the Octagon and a five-fight run of recent success overall, the suffocating wrestler has been shuffled to the back of the list of talented upstarts to watch in the 155-pound ranks, and now he's champing at the bit to get back in the cage and re-introduce himself to the UFC and its fans.
"No competitor wants to waste their prime time just in the gym doing workouts; you want to be out there earning, winning, gaining more notoriety and excelling in your sport," says Wade, who trains alongside Dennis Bermudez and Ryan LaFlare in Farmingdale, New York. "I couldn't be more excited to be back on this card in Boston. It was a crazy, crazy time up there last year with Conor on it and I expect it to be just as good with Cruz and Dillashaw topping it off this year."
Part of the struggle for recognition comes from the unique nature of the sport and how the fans consume it.
Unlike team sports, where the supportive masses are generally happy as long as their team is putting up wins and remaining competitive on a yearly basis, getting your hand raised inside the Octagon alone isn't enough to curry favor with the notoriously fickle MMA audience.
Fighters need to win, sure, but how they win matters as well, as stoppages and back-and-forth battles resonate far more in the constant wave of action.
"Clearly, getting your hand raised is most important because you string losses together and you're going to find yourself without a contract," begins Wade, who returns to action on Sunday against late replacement Mehdi Baghdad, who competed on Season 22 of The Ultimate Fighter. "But you have to learn to open up and let go to a point where you're not going to overextend yourself and do something foolish, but you are going to be able to still showcase yourself and be the best you that you can be in there.
"At times, unfortunately, I've either fought down to an opponent's level or I've short-changed myself and tightened up the reins a little bit to ensure a victory, rather than take chances and incur a loss and a step backward. You've got to find that middle ground where you can still be aggressive, do some cool things and hopefully get some finishes, but not necessarily leave yourself exposed and go to sleep yourself."
The former NJCAA National finalist adds that finding that level of comfort and the confidence to recognize those opportunities only comes with more time inside the UFC cage and under the bright lights.
While drilling and hitting the techniques in the gym on the regular is great, it's trusting you can do it live and making it happen in the fraction of a second you have during a bout that can be the difference between grinding out a one-sided decision that fans quickly forget and finishing with a nasty mounted guillotine choke that makes you stand out.
And ultimately, the only way to log cage time and garner that experience is to stay healthy and fight as often as possible, which is exactly what Wade hopes to do in 2016.
"The blueprint is to go in there and dominate; to have (the bosses) be content with the performance, be healthy and continue to push to fight," he says of his ideal plans for the year ahead. "I want to be in there as much as possible in 2016. I want to fight a ton of times.
"Time doesn't wait for anybody, so sitting around does nothing but make you older, slower, more banged up. No one is paying me and Bermudez or me and LaFlare to clobber each other in our cage here in Farmingdale; they're paying us to get in there against other people and test ourselves. God-willing, I dominate on Sunday, look good and just push to go again in a couple months."