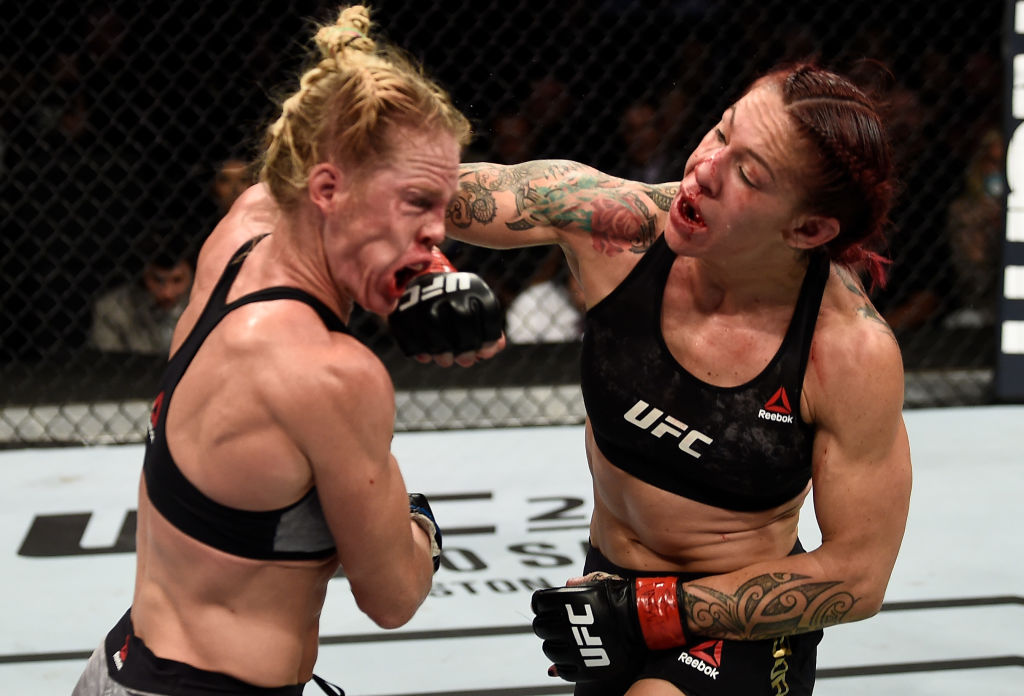 Perhaps the greatest fighter in women's MMA history, UFC women's featherweight champion Cris "Cyborg" Justino defends her title against bantamweight titleholder
Amanda Nunes
in the co-main event of UFC 232 in Las Vegas on December 29. For proof why Cyborg is on the short list of the best ever, check out her defining moments.
Gina Carano
Strikeforce:
Carano vs Cyborg – August 15, 2009 (
Watch on UFC FIGHT PASS
)
A pro since 2005, Cris Cyborg lost her debut but then went on a tear that has never let up. A graduate of the revered Chute Boxe Academy, Cyborg first burst on the world scene with her second-round stoppage of
Shayna Baszler
, and after two more wins, she was matched up with the most well-known female MMA fighter in the world, Gina Carano. This was the SuperFight that put women's MMA on the map for the first time, and Cyborg crushed it, stopping Carano late in the first round.
Marloes Coenen II
Invicta FC 6 – July 13, 2013 (
Watch on UFC FIGHT PASS
)
With the Strikeforce women's featherweight title around her waist, Cyborg continued to dominate, defeating Marloes Coenen and Jan Finney in 2010. Three years later, she would meet Coenen – one of the sport's pioneers – for a second time, now for the Invicta FC crown at 145 pounds. Again, it was all Cyborg, who stopped Coenen in the fourth round. At that point, Coenen had only been stopped by strikes three times in a career that began in 2000. Cyborg held two of those wins.
Charmaine Tweet
Invicta FC 11 – February 27, 2015 (
Watch on UFC FIGHT PASS
)
Following the win over Coenen, Cyborg took a break to visit the world of Muay Thai, and when she returned in 2015, Charmaine Tweet was ready and waiting for her. Unfortunately for Tweet, Cyborg didn't skip a beat in her return to MMA, as she successfully defended her Invicta FC crown with a 46-second TKO victory.
Leslie Smith
UFC 198 – May 14, 2016 (
Watch on UFC FIGHT PASS
)
Two more knockout wins followed in Invicta before the UFC came calling in 2016. And despite the UFC not having a featherweight division, a special 140-pound catchweight bout was set for Cyborg to make her debut in her hometown of Curitiba against Leslie Smith. And even though Smith was one of the most durable and gritty fighters in the world, Cyborg was still too much, as she took just 81 seconds to earn her first Octagon victory.
Tonya Evinger
UFC 214 – July 29, 2017 (
Watch on UFC FIGHT PASS
)
Cyborg's win over Smith was followed by another catchweight victory, this one over
Lina Lansberg
in September 2016, but soon, the UFC brought in the featherweight division, and the Brazilian bomber would have a place to call home. The first 145-pound queen,
Germaine de Randamie
, was stripped of her crown, setting the stage for a battle for the vacant title between Cyborg and Tonya Evinger. Evinger was tough, as always, but the night of July 29 would belong to Cyborg, as she stopped Evinger in the third round and became the UFC women's featherweight champion.
Holly Holm
UFC 219 – December 30, 2017 (
Watch on UFC FIGHT PASS
)
Like Cyborg's bout with Carano, this was supposed to be the SuperFight that pushed the Brazilian to the limit, as she faced former bantamweight champion Holly Holm. And while the UFC 219 main event was competitive, there was little doubt when it was over that Cyborg had earned the unanimous decision victory, despite the 48-47 scores turned in by two of the three judges. Best ever? Cyborg made a strong case for that recognition on that night in Vegas.
Yana Kunitskaya UFC 222 – March 3, 2018 (Watch on UFC FIGHT PASS)
Another former Invicta FC champion made her way to the Octagon to battle the 145-pound queen, but Yana Kunitskaya faced a fighter on a mission in their UFC 222 bout, with Cyborg wasting little time dispatching her foe. The time of the first-round TKO victory: 3:25.