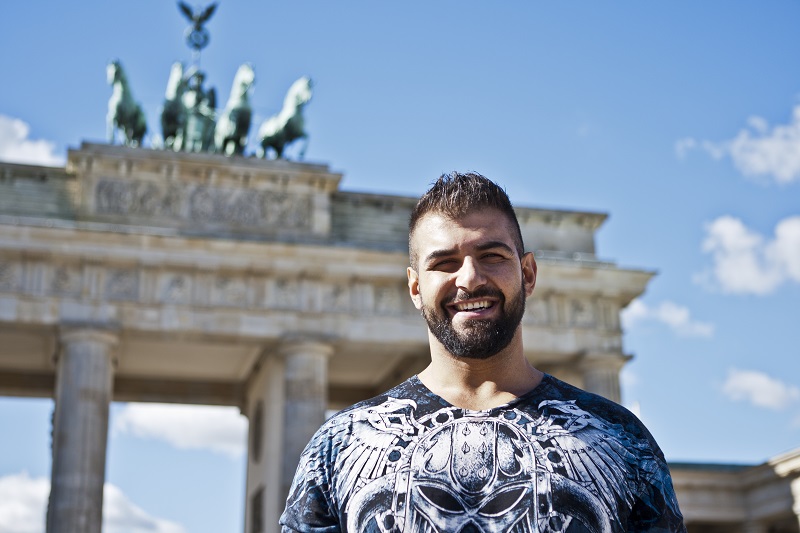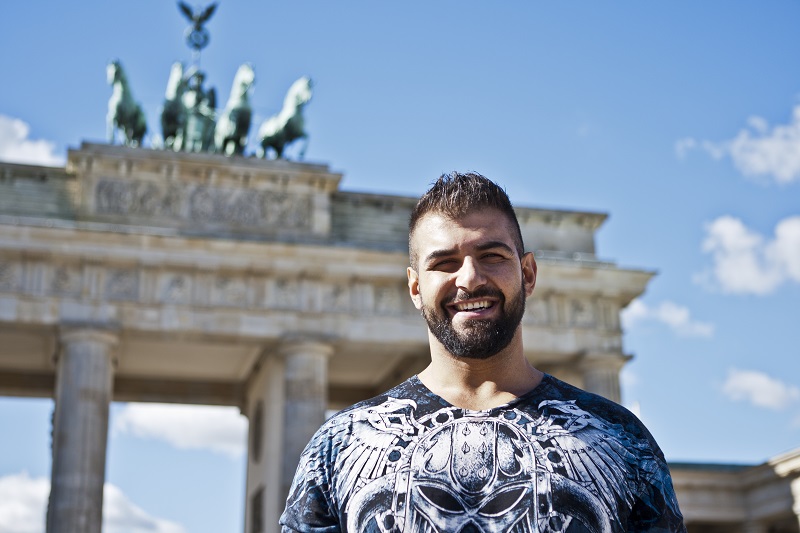 Chances are you would have guessed it without him mentioning it, but Jarjis Danho loves eating. That's not the only reason why the UFC's newest heavyweight prospect – who makes his Octagon debut on UFC FIGHT PASS on Feb. 27 - packs a whopping 290 pounds into a 6-foot-3 frame, but the love for food did save the former powerlifter's family's life in a way.
Danho's family runs two pizzerias in Paderborn, Germany after coming into the country as refugees more than 25 years ago.
Danho, now 32, was born in Al-Malikiyah, a small town in Syria. As Orthodox Christians, life was dangerous there, so after the Gulf War, his father decided they would leave home.
"He wanted to save us from all the things that were going on in Syria," Danho says. "The things that are happening there again now."
When he arrived in Germany is when Danho's conscious memory kicks in, and he doesn't remember a lot of good things from the first eight years. Multiple times a year, the family would be left waiting for an official decision on whether or not they'd be granted a few more months in the country.
"Three months, five months – it was just back and forth all the time, for years. I never really went to school because we were always on the move. Our neighbors were from Syria, too, and one night they just got deported."
Little Jarjis and his family refused to give in to the constant hassle, working out a deal with authorities that they'd be allowed in Germany under the condition that they'd take care of themselves and not depend on social welfare.
Fast forward a few years and Danho was standing behind the counter at "Pizza Toni" in Paderborn, Germany. "I love cooking," he says, "wholeheartedly."
RELATED CONTENT: Full London fight card | Matchup: Omielanczuk vs. Danho
***
The road hasn't been easy, but Danho made it a point to make the best of every situation he encountered. Working as a bouncer at age 14 might not sound like the ideal path for a kid looking for his place in society, but Danho – an impressive figure already – used it to catch up on the German classes he never had a chance to attend.
"Through my social life and all my colleagues, you get to know people, so you pick things up that way. It was learning by doing for me."
Another thing that the "Man Mountain" picked up – and still does – through learning by doing is the art of unarmed combat. While starting out in MMA is - for most people anyway - a humiliating experience at best, the first foray on to the mats might just naturally be a little more convenient for someone who modestly describes himself as "the big ox."
"I just steamrolled most guys," Danho laughs at the memories of his first training session. "I just tried it out for fun and they saw potential in me."
Danho decided to test out that potential in the ring soon after. Hindsight is known to be 20/20, but it obviously wasn't a good idea for the kid on the other side of the square to go in there with a man seemingly twice as broad.
Danho touched gloves and then demonstrated that size sometimes does matter – grabbing a hold of the poor guy, lifting him up and crashing him down on the canvas with a sound that echoed throughout the gym. The kid was tapping before Danho could land any more blows. His debut lasted a total of ten seconds.
***
Still, Danho realized he couldn't rely on strength alone.
"Technique is essential, power is a bonus. I'm a little stronger than most, so if you combine that with endurance and technique, then that's pretty monstrous."
Realizing that, Danho decided to train with some other big boys at Hammers Gym in Nuremberg. Driving 250 miles back and forth every week between Nuremberg and Paderborn, Danho decided to leave the pizza business behind late last year and set up shop for good with his new team.
For Danho, it's his big chance now after just two fights in two years. The whole time, his team searched for opponents in a total of 17 countries, but the answer was always the same.
"Nobody wanted to fight me", Danho laughs.
When Finland's Marcus Vanttinen took a fight with Danho early last year, the German-Syrian didn't steamroll his way to victory but proved that he carries his force late into a bout as Vanttinen finally succumbed to the clubbing power shots of the Man Mountain halfway through the third round. Surprisingly, Danho got another fight just three months later and punched his ticket to the UFC with another knockout over Stefan Traunmüller.
Now, he won't have such a hard time finding willing foes anymore.
"I want to fight everyone. Everyone wants to be champion but, to me, this is about improving. The UFC is the UFC – they have the best fighters in the world. For yourself, you can only win against people like that. Plus, I enjoy competing."
His first chance to do so will come against Poland's Daniel Omielanczuk on Feb. 27 in London. Danho realizes the tough task in front of him, yet he says he won't get caught up in the pressure and the nerves leading up to his debut on the big stage.
His recipe for success? After living as a refugee, a juvenile with little perspective and an entrepreneur, Danho simply refuses to look back on his accomplishments just yet.
"When I stop and look, I don't progress. So I'm always going forward, always progressing. Otherwise, I wouldn't have come so far in the first place."
But when he someday reaches granddad age, Danho won't have a choice but to look back. So what does he want to see there once it's all said and done?
"I actually do see myself running my own restaurant," he laughs. "Cooking."
A UFC belt hanging above the counter would certainly not harm business.
Danho vs. Omielanczuk will air live on UFC FIGHT PASS on Saturday, February 27. For more information, visit http://fightpass.ufc.tv/fp/london/
Photo by Control Master Management