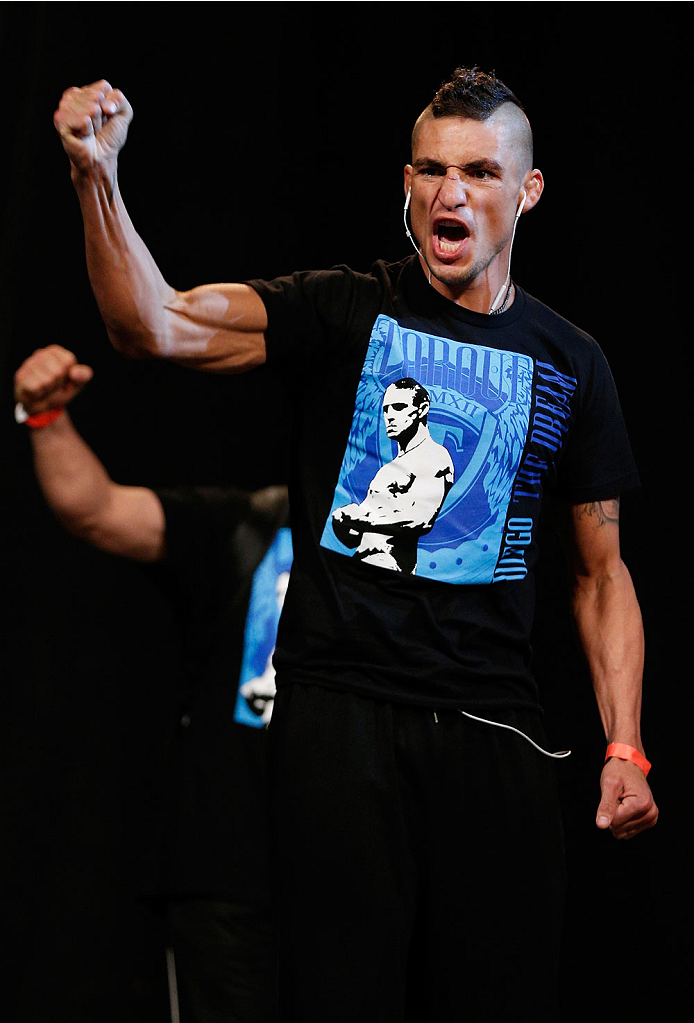 Diego Sanchez knows something about comebacks. He learned the art way back at Del Norte High School after losing nearly every wrestling match he had as a sophomore. His response was to go on and win a New Mexico State Championship.
"It was a real Cinderella story and the media caught on to it," he recalled. "I came out of nowhere."
Years later, the 32-year-old isn't coming out of nowhere anymore, but he could use some of that ol' high school magic in his
UFC Fight Night
co-main event against
Ross Pearson
on Saturday, if only because in the sport of mixed martial arts – especially at the UFC level – losing three of your last four bouts isn't a good thing.
Sanchez knows it too, and after back-to-back defeats to
Gilbert Melendez
and
Myles Jury
, the former
Ultimate
Fighter winner is counting on his skill, his experience, his determination, and the crowd from his hometown of Albuquerque to spur him on to victory.
"It's gonna be a great night, I'm ready, and all I've gotta say about Ross Pearson is that I take my hat off to the guy because he is stepping up," said Sanchez, who estimates that he will have over 100 family members alone cheering him on this weekend. "He's fighting me in my hometown and fighting me coming off two losses and that's a scary thing to do. Everybody knows any fighter coming off a loss, let alone two losses, is a dangerous, dangerous fighter in the UFC because you're fighting for your career and fighting for your livelihood. So he's coming and from what I hear, he's gonna fight me. He's not one to run from a fight, he's a come forward fighter, so am I, so we're gonna throw down."
Throwing down is seemingly on Sanchez' menu every time he steps into the Octagon, and that's made him a beloved figure in his hometown, especially since he helped put the city on the MMA map after turning pro in 2002.
"I got into it at the perfect time," he said. "As soon as King of the Cage rolled around and MMA started popping up here in Albuquerque, people just gravitated towards it because this is a fight city. There are a lot of fighters here and people out here have that toughness and there's a fighter's spirit here. Eventually it (MMA) caught on, and I was the first one to make it to the UFC, to the big stage. I was Greg Jackson's first fighter. I was able to put Albuquerque on the map at a time when not too many people knew what it was. It was just something they saw on Looney Tunes."
Sanchez laughs, but his relationship with the people of the ABQ goes deeper than with most fighters and their fans, which makes his first fight here since his May 2004 stoppage of Ray Elbe even more important to him and them.
"They have my back because I represent what they are," said Sanchez. "They're fighters, whether it's fighting for their jobs or their weekly paycheck or to not give up. It's not a big city, but there's a lot of heart here. And when people see me in my fights, I'm the type of fighter that might get hit, but I'm not gonna get knocked down. And if I do get knocked down, I'm gonna get right back up and in your face. I have that no quit mentality."
So what's Saturday night going to be like for "The Dream"?
"It's a homecoming," he said. "I'm a hundred percent healthy, I'm very prepared, and I'm not overtrained. This is the most exciting moment of my career, and I'm going to be a realist: this is probably going to be the last time I'm going to be able to fight in front of my family. This is the last time. Even if we do great and the UFC does come back to Albuquerque, with scheduling, the chances are very slim that I get the opportunity to fight again here. But this is has been my dream, and it's here."