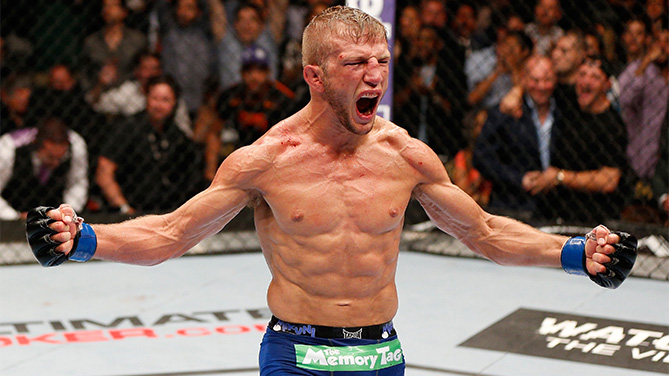 The first time, TJ Dillashaw fought the perfect fight.
He had the perfect game plan, the perfect execution, even the perfect preparation. Could he have done something better? Possibly, but there was no arguing with the result.
The question is, can he do it again?
RELATED CONTENT: Road To The Octagon: Dillashaw vs. Barao II | An Epic Rematch | UFC 190: Extended Preview
Fourteen months after winning the bantamweight title from Renan Barao in one of the biggest upsets in UFC history, Dillashaw is poised for a rematch. But beating Barao as he did the first time – with a dominating performance and a stunning fifth-round knockout – might be too much to expect. Or maybe not.
"It should be another easy night," Duane "Bang" Ludwig, Dillashaw's head coach, said.
We're about to find out.
Dillashaw (12-2) will defend his belt Saturday night when he faces Barao (35-2) at Fight Night Chicago at the United Center. The long-awaited scheduled five-rounder comes after two previous postponements, one when Barao failed to make weight and another when Dillashaw fractured a rib in training.
Certainly, Dillashaw established himself as a worthy champion in their first meeting, emphatically beating a fighter who had a 22-fight win streak, hadn't lost in nine years and was considered one of the UFC's best pound-for-pound fighters.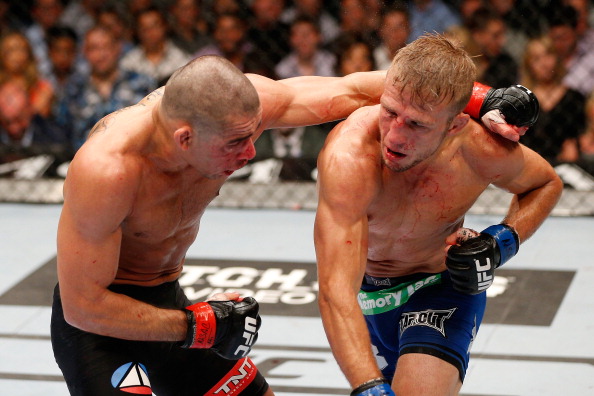 Dillashaw dropped Barao with a thundering right hand in the opening round and then overpowered him over the next four rounds with his movement, footwork, kicks and punches. His execution was flawless.
"There were no complaints," Dillashaw said. "The game plan worked out perfectly, and that usually doesn't happen. I thought my performance was great.
"It's tough to call it perfect because you've got to be your own biggest critic and take yourself apart a little bit. You've got to shoot for better."
MORE CONTENT: UFC 190: Rousey vs. Correia - Undefeated | Free Fight: Correia vs. Shayna Baszler | Free Fight: Rousey vs. Sara McMann
Dillashaw's training for Barao has kept him on the move between his hometown gym, Team Alpha Male in Sacramento, and Westminster, Colo., where Ludwig opened a gym late last year after parting ways with California-based fight team.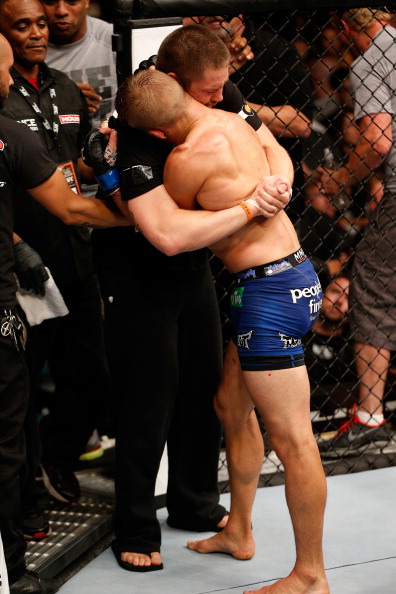 Dillashaw has been commuting between the two locales during his training, spending two weeks at high elevation with Ludwig, then returning home to work with his Alpha Male teammates, who include Urijah Faber, Chad Mendes and Joseph Benavides.
So far, the back-and-forth travel hasn't been an issue.
"What I had wasn't broken so I didn't want to fix it," Dillashaw said. "I wanted to continue to work with Duane. I think he's the best coach in the world, but I also have the best team in the world with Team Alpha Male. I know I need both of them."
Dillashaw, 29, has already had one successful title defense, knocking out unranked Joe Soto in August after Barao's weight concerns forced him to withdraw. Barao has also fought once, beating Mitch Gagnon in December with a third-round submission.
Ludwig, however, wasn't impressed with the Brazilian's most recent performance, noting a lack of improvement since losing his belt. At the same time, Dillashaw has worked on his timing and combinations.
"TJ has tightened up in all aspects," Ludwig said. "Barao is in trouble. He said in a couple of interviews that he's been working on being able to deal with someone that moves like TJ, but I saw zero of that in his last fight.
"I don't think they quite understand what it takes to improve in those areas, but we'll see what happens when the bell rings. What I'm expecting from Barao is pretty much the same thing because he hasn't really changed much in the last 10 years."
Dillashaw, meanwhile, said he might throw in a few wrinkles, just to give Barao a different look. But a makeover isn't likely.
"I don't have to be a totally different fighter," he said, "but I have to expect Barao to be different. I have to be more ready for what he's going to change than what I'm going to change. Obviously, I'm going to add more things to my game. I want to surprise him. I wouldn't mind using my wrestling pedigree and showing him that I'm a better grappler than he is and beat him in all aspects of MMA."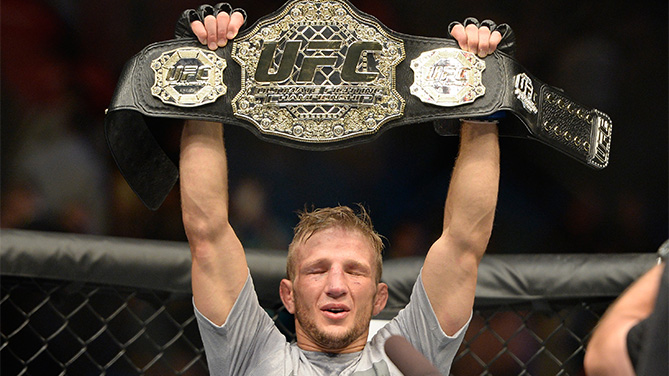 The Dillashaw-Ludwig team worked exceptionally well in the first Barao fight and could be the difference again. Between rounds, Ludwig offered reminders of what his fighter needed to do, and Dillashaw followed through diligently.

As a student, Ludwig said, Dillashaw earns all A's.

"He's an excellent student," Ludwig said. "He's a rare example, which is one of the reasons he's wearing the belt. He actually gets better. His cup is not full. He has the humility to learn and listen and ask questions, which makes him a champion. There's a lot of people that I've trained and have improved zero because they don't want to learn. They don't want to get better. But TJ does."

Dillashaw has reaped the financial rewards of his fighting career, but so far he hasn't really indulged himself. He got married three weeks after the fight, and he only recently bought himself a new car.

Otherwise, he's invested in himself, absorbing the expense of traveling between California and Colorado and bringing in sparring partners.

"I like to stay humble with my money and my lifestyle," he said. "I live the same way I always have."

Michael Martinez is a longtime sports journalist and former staff writer at The New York Times, the San Jose Mercury News and FOX Sports. Follow him on Twitter at @ByMMartinez