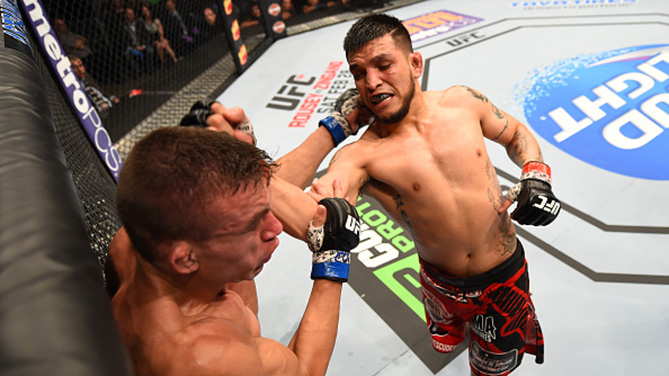 TUF 8 lightweight winner
Efrain Escudero
thinks UFC 188's heavyweight main event has all the makings of one of the greatest fights ever, but he's got a message for
Cain Velasquez
and
Fabricio Werdum
:
"Don't steal my bonus," he said. "I plan on getting the Performance of the Night bonus, and I know Dober does too, so just don't ruin it for us."
Escudero faces
Drew Dober
, whose biggest victory thus far in the UFC was a first round submission of the now-retired
Jamie Varner
, after Varner attempted a lateral drop and ended up falling on his own head.
"Varner knocked himself out in my opinion," Escudero said. "Not to take anything away from Drew though. He's a tough kid and I know he likes to fight, so this is going to be exciting. But I'm a gamer. If he tries to stand I'm going to take him down. If he tries to go to the ground I'm going to punch him in the face. And if he wants to play the submission game, I'm going to let him up. I'm the one who is going to dictate where this fight goes."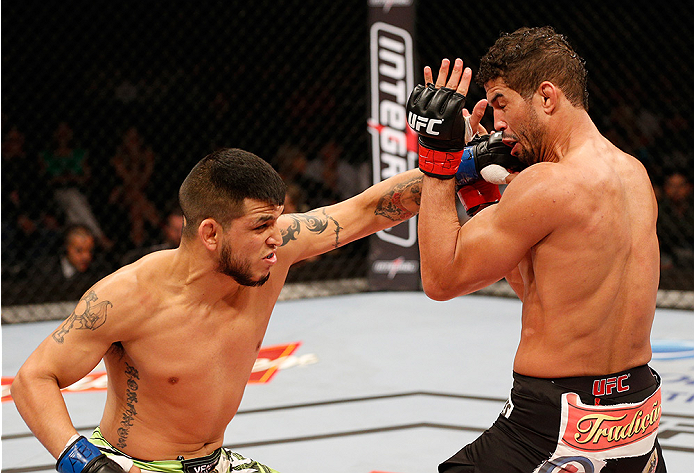 Escudero is coming off the TUF Latin America 2 season as a coach opposite his old high school wrestling teammate
Kelvin Gastelum
. He says the experience only motivated him even more for this fight.
"Being around those kids was great," he said. "I've gone back to my old mentality for this camp, where I test myself to break myself after every workout, and I've been doing that. I feel great. I am sparring with Joe "Diesel" Riggs at the MMA Lab and training jiu-jitsu with Augusto Taquinho, the Abu Dhabi champ. I've got top notch guys in the world around me so I am just getting better."
A native Mexican, the chance to fight at Mexico City Arena is something he relishes and appreciates probably more than any other fighter on the card.
"Back in 2010 me and Cain Velasquez were there doing media tours and it was surreal being out there. I went down there for UFC 180 and it was insane, and I can't imagine how crazy it will be for this one. I'm super-excited to fight there and put on a great show and rep the Mexicanos. We're fighters."
As for Dober, Escudero says anything can happen in a fight, and while he does respect all of his opponents, he feels like he's in a different league.
"Every fight matters," he said. "I really want another W so when my kids and grandkids look at my record fifty years later, they will see that W next to my name in the Drew Dober column. I think he's average everywhere the fight goes. There's nothing he does that really concerns me all too much."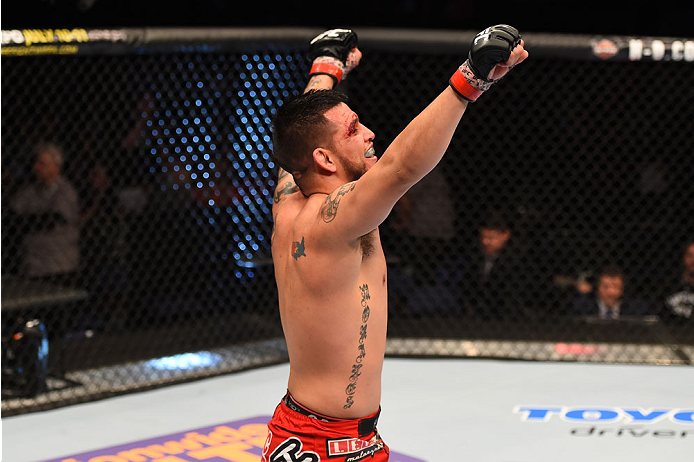 Like most fighters who have been battle tested, Efrain says he's starting to think about becoming a little bit more conservative with his body, but not quite yet.

"I know the time is coming where I'm going to have to slow down a bit and do a better diet, but this camp is all about breaking myself," he said. "And I'm working hard on applying everything I learn into my sparring, so I'm not just throwing kicks and punches. I'm fighting smarter. I seem to be improving every single day in the gym."

Efrain has a three-year-old daughter named Emaya, and he says she gives him extra motivation, and is perhaps the reason for his latest comeback at 29 years old.

"She's my everything," he said. "Dober is trying to take food out of her mouth, so that just gives me even more incentive to get in there and get the win. This is a very important fight for a lot of reasons, both professionally and personally, but the most important reason is my daughter. I'm trying to give her the type of life that I never had and Dober is trying to stop me from doing that. Guess what? I'm bringing it. I'm coming."