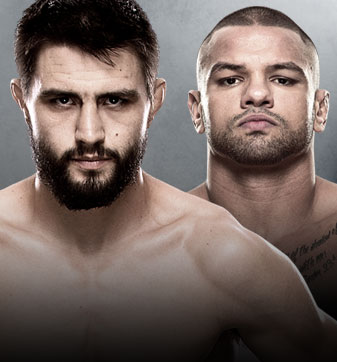 The UFC travels to Brazil this weekend with a welterweight showcase at the top of the bill, as former interim champion Carlos Condit returns from more than a year away from the sport due to injury to face heavy-handed former title challenger Thiago Alves in the main event.
Alves is one fight removed from a lengthy layoff himself, but in his return to the Octagon earlier this year he blasted through welterweight prospect Jordan Mein to land back on the welterweight radar.
Condit looks to rebuild into championship form after his knee buckled under him in his last fight against Tyron Woodley. It was an injury that put him into surgery and out of action for over a year. "The Natural Born Killer" has been itching to get back into action and this matchup is a stylistic dream come true for a fighter who loves to look for the knockout.
Also on the card, Charles Oliveira meets Nik Lentz in a rematch almost four years in the making after their last fight ended in no contest.
From top to bottom, UFC Fight Night from Goiania, Brazil features a ton of notable names, as well as quite a few outstanding prospects. In our fantasy preview today, we will break down some of those key fights to see who might come out on top and give you the edge before making your selections ahead of Saturday night's fight card.
SPLIT DECISION
These are the fights that are just too close to call, but a few details might mean the difference between winning and losing on Saturday night
CARLOS CONDIT (-250 FAVORITE) vs. THIAGO ALVES (+200 UNDERDOG)
The main event between Carlos Condit and Thiago Alves features two of the most prolific finishers in the history of MMA. Condit has a ridiculous 93.1-percent finishing rate by putting away 27 of 29 opponents in his wins. Condit is also well known for exciting fights and explosive knockouts, as he's earned Fight of the Night honors five times during his UFC career, with two more bonuses for Knockout of the Night.
Another scary thing about Condit that favors him in a five round fight is that he actually produces more offense as each round moves forward. Condit averages 2.72 strikes per minute in round one and that goes up to 3.65 in round two and up again in round three to 4.62 strikes landed per minute. Condit is a machine that never slows down, and while he has plenty of ability to end a fight with one punch or one kick, he can also batter an opponent over the course of 25 minutes to get a win as well.
Alves is no slouch in the striking department either, as he possesses some of the most lethal knockout power at 170 pounds. Alves has the second most knockouts in UFC welterweight history with eight and also has the most knockdowns of any welterweight (11). He can soften an opponent up with his vicious leg kicks as well, a tactic which has torn down other fighters over the years as he systematically dismantles fighters from the bottom up.
So who has the edge in this bout between two of the most dangerous strikers at 170 pounds?
Well, truth be told, this really is a toss up, but if there's a slight edge it favors Condit because of his ability to land strikes and get away before taking too much damage. His output increasing round after round in a 25-minute fight helps him accumulate offense over time, and while he has to be care of Alves' power no matter where the fight goes, Condit never slows down and will actually get stronger as the clock ticks away. Of course there's still the question about Condit's knee after having surgery, but in the modern age of medicine, athletes can routinely return with an even more stable and powerful joint than what they had before.
Alves won't make this easy and he won't back down from Condit, but getting peppered with punches and kicks constantly over five rounds will eventually wear on him and should earn The Natural Born Killer a hard fought decision victory.
Prediction: Carlos Condit by unanimous decision
CHARLES OLIVEIRA (-270 FAVORITE) vs. NIK LENTZ (+230 UNDERDOG)
This rematch has been years in the making, and if it's anything like the first fight, look out for a frenetic pace and a serious back and forth battle between these two featherweights.
Oliveira has long been considered one of the best prospects in the UFC, but he's failed to live up to expectations whenever he's faced the elite fighters at both lightweight and featherweight. Lately, however, Oliveira seems to have found the right combination of skill and confidence as he's won three fights in a row and looked extremely impressive along the way. Oliveira has a nasty Muay Thai style on the feet and maybe some of the best submission work of any fighter in the world right now, especially at 145 pounds.
Lentz, on the other hand, is a grinder and old school wrestler. He will try to push Oliveira against the cage and grind him into the mat with as much force as his body can muster. Lentz is a powerfully strong fighter at 145 pounds and rarely has he ever been out muscled in any contest. To win this fight, Lentz is going to have to trap Oliveira and keep him subdued with a wrestling-heavy attack while likely fending off submissions from the top.
Oliveira was ultra aggressive the last time he faced Lentz and he may do the same thing in this fight. Oliveira is a quick starter, although that quick burst of energy has cost him before, especially considering how hard it is for him to make the 145-pound limit for featherweight. Oliveira has missed weight on several occasions in the past, so that's a key thing to watch on Friday ahead of the Saturday fight card. If Oliveira struggles to make weight, all bets are off because he may not have the conditioning to get past round two if his lungs are burning for oxygen.
Assuming Oliveira has his weight in check, he's a great pick for a fighter to tackle the top 10 in 2015. Oliveira has shown off some of the most incredible ground work we've seen out any fighter in the UFC in recent months and if he can hurt Lentz on the feet, there's no doubt's he's got the jiu-jitsu to put him away on the ground. The longer the fight goes the more it favors Lentz, but Oliveira probably has a bad taste in his mouth after his last win was taken away due to an illegal strike and he's gunning for revenge.
Prediction: Charles Oliveira by submission, round 2
JUSSIER FORMIGA vs. WILSON REIS
Two of the top flyweights in the world will square off this weekend as Jussier Formiga takes on Wilson Reis in a battle of Brazilians on their home turf and this might be the toughest fight to pick all weekend.
Formiga has climbed back into the title race with two straight wins over Scott Jorgensen and Zach Makovsky in consecutive fights following a 1-2 start to his UFC career. The former top-ranked flyweight is still a dangerous fighter to face for anyone hoping to tackle the best in the world at 125 pounds and he's going to be a tough test for Reis on Saturday.
The same can be said when looking at this matchup from the other way around considering how good Reis has looked since coming to the UFC. His only loss thus far came in a razor close decision to bantamweight contender Iuri Alcantara, and since dropping down to flyweight, Reis has gone 2-0. Reis is an ultra aggressive ground fighter with good wrestling and tremendous submissions. He averages over five takedowns per 15 minutes in the cage, and if Formiga can't fend off his attempts, this could be a long night for the No. 4 ranked fighter in the division.
Formiga's best counter is to stuff the takedown and fire off shots on the feet, where he should have a slight advantage. Neither fighter is well-known for knockout power or outstanding boxing, but Formiga does have a higher output per round than his opponent. Formiga has also faced a tougher road to conquer the top 10 in the division, and given the momentum he has following his last win over Makovsky, he should be ready to face Reis this weekend. He just needs to stop the wrestling from Reis and keep his striking crisp and on point and he should eke out a decision.
Prediction: Jussier Formiga by split decision
KNOCKOUT PICKS
These are the matchups that definitely favor one fighter over the other, but remember that this is mixed martial arts and anything can - and usually does - happen.
NORMAN PARKE (-230 FAVORITE OVER FRANCISCO TRINALDO)
Former Ultimate Fighter winner Norman Parke looks to get back on track this weekend after a tough split decision loss in his last fight as he takes on Brazilian Francisco Trinaldo.
Parke will walk into his fight on Saturday with the crowd against him, but the odds to win are definitely on his side. The man from Northern Ireland possesses fast hands with good power coming from both sides, as well as tremendous takedown defense, which is ultimately what should win him the fight against Trinaldo
Trinaldo will definitely prefer to get this fight to the ground, and while he's had good accuracy throughout his run with getting opponents to the mat (42-percent accuracy currently), he's going up against a much quicker fighter this time in Parke, who exudes confidence with his excellent takedown defense. Parke has stuffed over 87-percent of the takedowns attempted against him and that should be the biggest difference maker for him in this fight as well.
Look for Parke to stop Trinaldo's takedowns while peppering him on the feet with two and three punch combinations. As long as Parke can stop Trinaldo from taking this fight to the mat repeatedly, he should control the pace on the feet and walk out with a victory.
Prediction: Norman Parke by unanimous decision
RONY JASON over DAMON JACKSON
Former Ultimate Fighter Brazil winner Rony Jason gets back in action this weekend against tough American Damon Jackson, who is searching for his first UFC win. Jackson is actually a solid prospect, but he's getting thrown into the lion's den facing Jason in his backyard of Brazil in only his second fight inside the Octagon.
Jason has had some ups and downs in recent fights, including a split decision loss to Robbie Peralta in his last bout, but he remains a very dangerous fighter, especially coming off a defeat. The only fight where Jason truly got overwhelmed was in his bout against Jeremy Stephens in 2013, but otherwise he's remained a tough matchup for everyone else he's faced.
Jackson is a good submission fighter with great durability and heart, but he's stepping into a very tough situation facing Jason in Brazil. After all the travel to get there, Jackson is also going to have to deal with a raucous crowd and a Brazilian fighter who will feed from their energy. In the end, all of that spells disaster for Jackson against a knockout striker like Jason.
Prediction: Rony Jason by knockout, round one
MIRSAD BEKTIC over LUCAS MARTINS
When it comes to prospects to watch in 2015, there may not be a better name on the list than American Top Team fighter Mirsad Bektic.
Bektic will take a step up in competition this weekend facing 15-2 fighter Lucas Martins, but the Bosnian fighter should be ready to prove that he's going to be a force one day at 145 pounds.
Bektic is a relentless fighter who loves to put pressure on his opponents both on the feet and on the ground. He hits takedowns with over 57-percent accuracy while landing his strikes with just under 42-percent accuracy. His tenacity is tough to deal with and his wrestling is absolutely top notch.
Unfortunately, Martins just dealt with another wrestler in Darren Elkins in a fight he lost after a fairly uninspired performance. While Elkins has good takedowns, he prefers to grind an opponent down, whereas Bektic will put Martins on the mat and beat him up until he either can't take anymore or it just breaks his will round after round until the fight is over.
Chances are the latter will happen in this fight, so look for Bektic to gain control early by putting Martins on the defensive, and from there it could likely be a very one-sided decision.
Prediction: Mirsad Bektic by unanimous decision
UPSET SPECIAL
K.J. NOONS (+110 UNDERDOG TO ALEX OLIVEIRA)
There's a good chance by the time this fight happens on Saturday that former Elite XC champion KJ Noons will no longer be the underdog, but that's where he sits currently to second-time UFC fighter Alex Oliveira.
Noons is a devastating boxer with power in both hands and a lot of size for the lightweight division. He's facing a fighter in Oliveira who also likes to strike, which plays directly into Noons' knockout-heavy style.
Noons lands 3.82 strikes per minute, almost double the output of Oliveira, and he has solid defense with good head movement and footwork. He struggled at times to deal with the speed of his last opponent Daron Cruickshank, but it's hard to believe Oliveira will have that same level of output in this match.
Look for Noons to time Oliveira's punches throughout round one and then he'll start to unleash his combinations while hunting for the knockout. Oliveira won't go away easy, but Noons has the kind of power that can alter a game plan in a hurry and that's what he'll likely do on Saturday. Noons just needs to find the right opening for his punches and Oliveira will wake up staring at the lights.
Prediction: KJ Noons by knockout, round 2