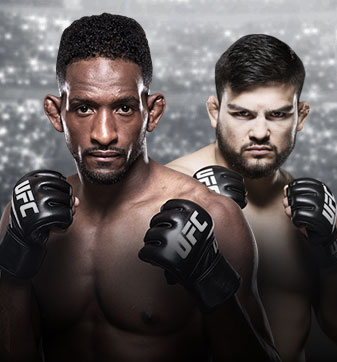 The UFC returns to Mexico this weekend for its first ever show in Monterrey, with a welterweight main event as well as the finals of the latest season of The Ultimate Fighter: Latin America.
Kelvin Gastelum will fight in Mexico for the second straight time as he looks to cap off his season coaching the reality show with a victory over Neil Magny in an intriguing main event fight. Gastelum is moving back down to welterweight after a brief stop by the middleweight division, and he's got a tough test ahead with Magny looking to capitalize on his last victory over Erick Silva.
Also on the card, Ricardo Lamas looks to bounce back after a recent loss to Chad Mendes when he faces Diego Sanchez, who makes his debut at 145 pounds after starting out his UFC career as a middleweight.
In today's fantasy preview, we're going to examine some of the key matchups taking place in Mexico, including the main event, as well as the fighters joining the promotion via this season of The Ultimate Fighter: Latin America, as we look ahead to UFC Fight Night: Magny vs. Gastelum.
SPLIT DECISION
These are the fights that are just too close to call, but a few minor differences between favorite and underdog could lead one fighter to victory and the other to defeat.
Kelvin Gastelum (-270 favorite) vs. Neil Magny (+230 underdog)
Kelvin Gastelum returns to 170 pounds this weekend while facing a new opponent after Matt Brown suffered a torn ligament in his ankle that forced him out of the main event. Luckily, Brown's teammate Neil Magny was more than happy to take his place in the fight.
Gastelum looked better than ever in his last trip to the Octagon, where he dismantled Nate Marquardt inside two rounds, but that was with the former Ultimate Fighter winner moving up to 185 pounds following a disastrous weight cut earlier this year that ended with a loss on his record to Tyron Woodley. Gastelum worked with a nutritionist for this camp to make sure his weight cut went as smoothly as possible, but until he steps on the scale on Friday, it's impossible to rule out weight being an issue.
As for Magny, short notice is never the ideal situation for a fighter, but he's always shown tremendous conditioning in his bouts, and considering that he was working alongside Brown as he got ready for the same matchup, there's little doubt that he's ready for this one. Magny is extremely well-rounded, but his striking has gone to another level recently, with nearly four strikes landed per minute at 47-percent accuracy.
Magny's best weapon in this fight could be his ability to tire Gastelum out as the fight moves forward. Five rounds is going to be tough on both fighters, but considering Gastelum's woes with weight cutting, he may struggle to push the pace if the fight goes deep into the third round and beyond. On the flipside, Gastelum is ferocious early, and while he's certainly become a solid boxer lately, his best weapons remain his wrestling and ground game. Magny struggled in a ground battle with Demian Maia, and while no one is going to confuse his jiu-jitsu game with Gastelum's, it's still an area he can expose.
Prediction: Kelvin Gastelum by submission, Round 2
Erick Montano vs. Enrique Marin
The welterweight final of The Ultimate Fighter: Latin America 2 pits two competitors from Kelvin Gastelum's team against each other as Spanish fighter Enrique Marin takes on Erick Montano, who is the younger brother of current UFC welterweight Augusto "Dodger" Montano. Both fighters bring a lot to the table in this matchup, so it's not an easy choice to make, especially considering how they trained together for six weeks and learned a lot ahead of this bout.
Montano is a solid prospect with well-rounded skills, but he's very strong on the ground, which is where he's won the majority of his fights. Montano isn't afraid to stand and trade, but he is much more comfortable on the mat, where he's good at control and setting up submissions.
Marin is probably the better overall fighter heading into this one, as he has a good technical kickboxing game backed up by a solid ground attack. Marin's biggest problem during the show was his own self-doubt, which manifests in the minutes leading up to the fight, where his nerves occasionally get the best of him. Considering the stage he's fighting on this weekend, Marin needs to get his head on straight if he's going to win the final bout against Montano.
Based purely on skills and past performances, Marin should be able to get the win here, but it won't be an easy road by any means. He's got an edge in both the striking and the ground, but if Montano can find an opening and put him in trouble early, that could affect every other facet of his game.
Prediction: Enrique Marin by split decision
Gabriel Benitez vs. Andre Fili
Following two wins in a row to start his UFC career, Gabriel Benitez will look to make it three in a row this weekend, as he faces Team Alpha Male fighter Andre Fili, who has bounced back and forth between wins and losses over his last few fights.
Benitez has looked strong thus far, with a guillotine choke win in his debut fight before picking up a victory over tough as nails featherweight Clay Collard back in June. Benitez is also a local fighter from Mexico, so he will certainly enjoy having the crowd on his side as he looks to get another win this weekend.
Fili has been a little tougher to figure out, because for every flash of brilliance he's shown in the Octagon, there have been just as many thoughtless errors. Fili has been very impressive in two wins, and he had some great moments against Max Holloway before getting finished in round three, but then in his last fight he fell into a bad position against Godofredo Pepey before getting submitted by triangle choke.
On paper, Fili seems like a good pick here thanks to a mix of his striking, where he'll enjoy a reach advantage in this fight, as well as his ground game, where he's averaging over three takedowns per fight. Still, Fili has to stay strong from the start of this fight until the finish or he could find himself in another bad position like he's done in his two previous losses in the UFC.
Prediction: Andre Fili by unanimous decision
KNOCKOUT PICKS
These are the fights that appear to be a little more one-sided, but remember that this is MMA, where anything can - and usually does - happen.
Henry Cejudo (-470 favorite) vs. Jussier Formiga (+375 underdog)
With a win on Saturday, Henry Cejudo is likely next in line to face Demetrious Johnson for the flyweight title, and there's no reason to believe he won't get there, even while facing a higher ranked opponent with a lot more experience.
Jussier Formiga was once ranked as the best 125-pound fighter in the world, but his jiu-jitsu heavy style plays directly into Cejudo's ability to stuff the takedown and then launch his own offensive onslaught on the feet. Cejudo is a world-class wrestler with an Olympic gold medal, so if he wants to keep this fight standing, that's exactly where this bout will take place.
Cejudo hits hard and throws a variety of strikes, but mostly focuses on his boxing without many kicks, which once again takes away an opening for Formiga to grab on to a leg and desperately try to get this one to the ground. Formiga has struggled during his UFC career against good wrestlers with better than average striking, and Cejudo brings both those weapons to this dance. Look for Cejudo to shut down Formiga from trying to take this one to the mat and then put on a boxing clinic on the feet.
Prediction: Henry Cejudo by unanimous decision
Ricardo Lamas (-650 favorite) vs. Diego Sanchez (+475 underdog)
Diego Sanchez drops down to featherweight, which now stands as his fourth division since debuting in the UFC a decade ago. Sanchez has suffered more than his fair share of ups and downs lately, but he believes this new weight class will give him the best chance at a career rejuvenation. Unfortunately, he drew the short straw by facing someone like Ricardo Lamas in his 145-pound debut, especially after the drubbing "The Bully" took at the hands of Chad Mendes earlier this year.
Lamas remains one of the best featherweights in the world, with a dangerous mix of boxing and a deadly ground game. Lamas is a tenacious wrestler and very disciplined in his attacks, which takes away one of Sanchez's biggest hopes to turn this into a brawl. Lamas has struggled at times against other wrestlers, and while Sanchez is more than proficient with his grappling, it's an area the former featherweight title contender should still be able to take advantage in.
One factor that bodes well for Sanchez is that Lamas doesn't have great defense, so he will leave himself open for counter strikes on the feet. Sanchez needs to try his best to draw Lamas into a firefight, and that's where he has a great chance to win. That said, if Lamas sticks to his guns and just applies a solid striking and grappling game without getting too wild, he should be able to earn a decision victory in this one.
Prediction: Ricardo Lamas by unanimous decision
Horacio Gutierrez vs. Enrique Barzola
The other side of The Ultimate Fighter: Latin America 2 finals sees two lightweights from Team Escudero facing off, with Horacio Gutierrez taking on Enrique Barzola.
Gutierrez might be the Yair Rodriguez of this season, because he has all the talent in the world to make it far in the UFC, but the first test is vanquishing his former teammate in the final this weekend. Gutierrez is a tall, lanky lightweight with power in his hands and incredible output that never seems to slow down much. Gutierrez can get a little wild at times, but he uses his footwork very well to jump in and out before too much danger can present itself in the form of a counter strike.
Barzola is a tough fighter, who knows Gutierrez well from their time together training under the same coaches this season, but that could actually be to his detriment as much as his benefit in this fight. As Barzola prepared for his semifinal bout against Cesar Arzamendia this season, he called on Gutierrez to help him prepare because his kickboxing left something to be desired. Ultimately, Barzola picked up a few tricks and ended up stopping Arzamendia with a nasty body shot on the ground, but a big part of his confidence going into the fight was thanks to Gutierrez mentoring him to get ready.
Obviously, a lot can change between the end of the show and now, but Gutierrez looks like the real deal, with all the potential in the world to become a real star in Latin America, and this is his first step.
Prediction: Horacio Gutierrez by knockout, Round 1
UPSET SPECIAL
Efrain Escudero (+120 underdog) vs. Leandro Silva (-140 underdog)
Efrain Escudero will look for his third win in a row when he takes on tough Brazilian lightweight Leandro Silva, and this could end up being a candidate for Fight of the Night considering the kind of battles both of these men are capable of putting on.
Escudero has certainly faced his ups and downs during his multiple stints with the UFC, but lately he's looked more relaxed than ever as he's picked up two big wins, including a nasty standing guillotine choke in his last fight. Escudero trains full-time at the MMA Lab in Arizona, where he's working with some of the best fighters and coaches in the sport, including former lightweight champion Benson Henderson.
Silva is going to give Escudero everything he can handle and more, which is probably why he's slightly favored going into the fight. Silva is a submission specialist averaging more than two takedowns per 15 minutes in the Octagon. He may struggle to get Escudero down, however, considering the former Ultimate Fighter winner comes from a wrestling background and works with a team steeped in good wrestling talent.
Look for Escudero to keep this fight standing and frustrate Silva whenever he does attempt to shoot in for a takedown. Escudero is great at putting pressure on his opponents with a non-stop pace that doesn't slow down much over three rounds, and if he keeps that going for all 15 minutes, it should equal a win to kick off the main card on Saturday night.
Prediction: Efrain Escudero by unanimous decision