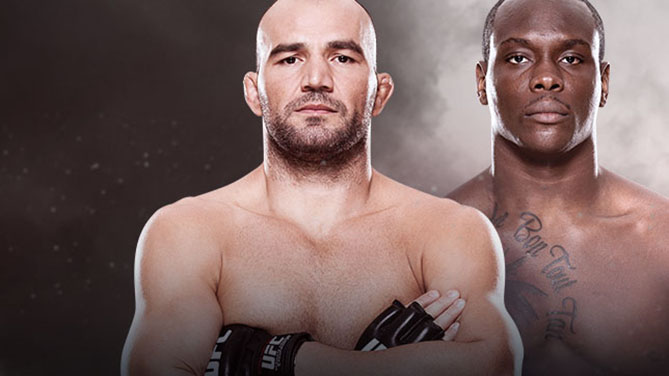 Following an incredible string of fight cards, the UFC will wrap up a non-stop five-week tour de force with one more show this weekend as Nashville hosts a top 10 main event, with former title challenger Glover Teixeira facing Tennessee's own Ovince Saint Preux.
Teixeira has faced the toughest stretch of his career lately, with two straight losses and a lot of time off due to injury. It's been almost 10 months since Teixeira last touched down in the Octagon and he'll look to bounce back with a win against one of the most promising prospects at 205 pounds.
Saint Preux has been an explosive addition to the light heavyweight division since coming over from Strikeforce in 2013. The former University of Tennessee football standout has gone 6-1 overall, including back-to-back knockout wins over Patrick Cummins and former light heavyweight champion Mauricio "Shogun" Rua.
Saint Preux will enter title conversations with a win over Teixeira while also fighting in front of his home state crowd this weekend.
Also on the card, Michael Johnson looks to take one more step towards his own spot atop the lightweight rankings when he faces upstart contender Beneil Dariush in the co-main event. Both fighters have looked ultra impressive of late, and a win on Saturday night could put one of them in a direct path for a title shot in 2016.
In today's fantasy preview, we're going to examine UFC Fight Night: Teixeira vs. Saint Preux to see who has the biggest advantage in some of the key fights, which matchups look like a sure thing and if there's an upset brewing on the 13-fight card.
SPLIT DECISION
These are the fights that are just too close to call, but a few minor differences between favorite and underdog could lead one fighter to victory and the other to defeat.
Glover Teixeira (-120 favorite) vs. Ovince Saint Preux (+100 underdog)
The odds are just about as close as you could get in this main event matchup between Glover Teixeira and Ovince Saint Preux and the fight might play out the same way, with both men having a great chance to walk out victorious on Saturday night.
Teixeira is in a bit of a slump coming into the fight after dropping his last pair of bouts to former champion Jon Jones and Phil Davis, but the veteran Brazilian knows how to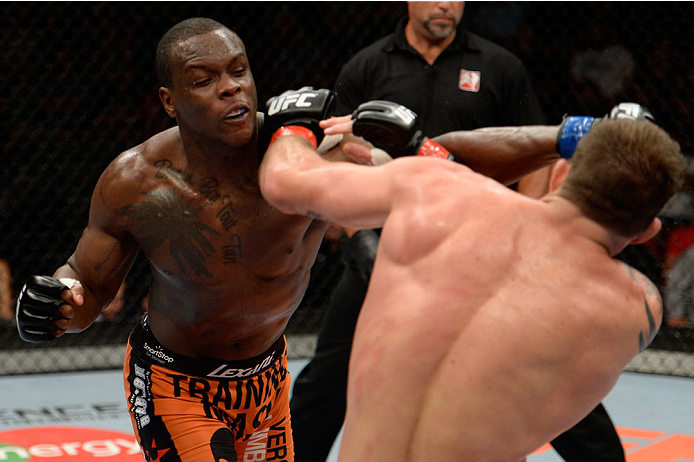 bounce back and this is a much more favorable matchup this weekend. Teixeira is best known as a brawler with heavy punches and a relentless style in the Octagon. He lands over four significant strikes per minute and mixes in over two takedowns per 15 minutes in the cage. He will definitely want to mix things up against a fighter as dangerous as Saint Preux.
Saint Preux has incredible knockout power in both hands, and while he doesn't match Teixeira's overall output, he has the ability to stop the fight with one shot, whether it comes from his hands or his kicks. Saint Preux's one loss in the UFC came to top five fighter Ryan Bader in a matchup where he just couldn't deal with the former All-American's wrestling skills over the course of five rounds. While Teixeira is definitely a threat to drag this one to the mat, he's not nearly as accomplished as Bader, and it could open Saint Preux up to take more chances to finish this fight.
Neither fighter has great defense while standing, and this is where the bout gets really interesting. Teixeira is a slugger who likes to stand in the pocket and wing punches with many of his opponents. Doing that with Saint Preux could be deadly unless he puts together the perfect combination to stop the fight. Saint Preux is long and rangy, and if he avoids Teixeira standing inside and unloading big shots, he could pick his punches from the outside and land at will. If Saint Preux stays composed and doesn't allow Teixeira to bully him around the cage, the Tennessee native has a great opportunity to put the former title contender away within the distance.
Prediction: Ovince Saint Preux by TKO, Round 3
Michael Johnson (-155 favorite) vs. Beneil Dariush (+135 underdog)
This lightweight co-main event could end up stealing the show, as Michael Johnson looks for his fifth straight win while taking on one of the best up and coming prospects in the division in Beneil Dariush.
Dariush is fresh off a one-sided performance over Jim Miller, who has been a stalwart of the lightweight top 10 for the better part of five years. Dariush was best known as a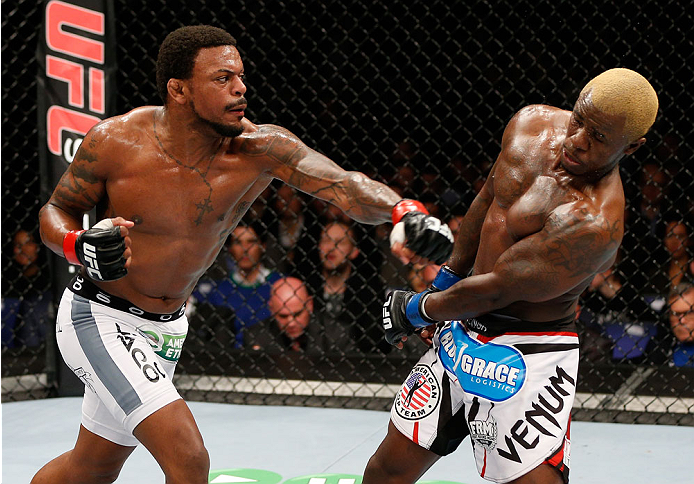 submission grappler when he came to the UFC, but during his four-fight win streak, he's shown off a ton of new skills, including a ferocious striking game.
Dariush lands with good power and accuracy, with over 47-percent of his strikes hitting the target, and his ground game is just as potent, as he takes opponents to the mat with 53-percent accuracy. The key to this fight for Dariush might be getting Johnson to the ground, because he's a bear on top and he could also get a submission victory from there as well.
It won't be easy because Johnson has developed into one of the best fighters in the division while tirelessly working on his striking game, which has now become his most dangerous weapon. Johnson is a pressure fighter who steps into the pocket and never backs down during a fight. He had Edson Barboza backing up so much during his last fight that the deadly Brazilian couldn't land much of anything because Johnson was constantly in his face. Johnson did the same thing in his bout with Joe Lauzon and he could explore the same option against Dariush.
Dariush has been able to control the pace in his fights and pick where the majority of the bout takes place. If he can't get Johnson backing up enough to create space for a big shot or a good opening for a takedown, he could suffer the same fate as the former Ultimate Fighter runner up's last few opponents. Johnson is a serious candidate to threaten for the UFC lightweight title in 2016 and this could be one more step towards that ultimate goal.
Prediction: Michael Johnson by unanimous decision
Sara McMann (-240 favorite) vs. Amanda Nunes (+200 underdog)
This matchup in the women's bantamweight division might seem a little lopsided when looking at the odds, but the fact of the matter is that Sara McMann and Amanda Nunes might be the closest fight on this entire card.
McMann is a powerhouse wrestler and former Olympic silver medalist. Rarely has she disguised her game plan when going into a fight and her takedowns are virtually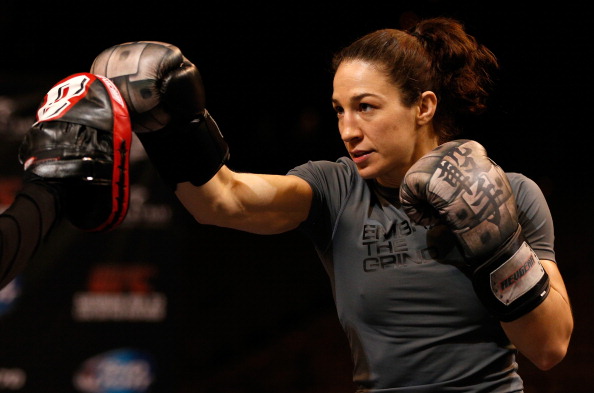 unstoppable when she dedicates herself to getting the fight to the ground. She averages over five takedowns per fight with over 73-percent accuracy - the UFC average hovers around 45-percent.
Nunes will look to counter McMann's wrestling with a deadly arsenal on the feet, where she lands just under four strikes per minute with over 48-percent accuracy. Nunes is a big fighter for the bantamweight division as well and no slouch when it comes to her own ability to wrestle. Nunes is most dangerous early, so if she can stun McMann at any point during round one, this fight could be over in a hurry.
McMann's takedowns are so effective that it's still hard to pick against her in this matchup because her wrestling is the ultimate equalizer. If she puts Nunes down early, that could set the tone for the next 15 minutes. Nunes has also struggled to keep her conditioning going strong as the fight wears on because she's such a killer early that she tends to fade late. McMann might be fighting from behind to get the win in rounds two and three, but her wrestling is still the strongest aspect between these two competitors and it should get the job done. Don't sleep on Nunes for one second if she comes out of the gates quick because she could put McMann's lights out before the clock even reaches the end of the first round.
Prediction: Sara McMann by split decision
KNOCKOUT PICKS
These are the fights that appear to be a little more one-sided, but remember that this is MMA, where anything can - and usually does - happen.
Jared Rosholt (-230 favorite) over Tim Johnson (+190 underdog)
First of all, preface everything in this selection with the fact that this is a heavyweight matchup and nothing is guaranteed when two men weighing close to 265 pounds each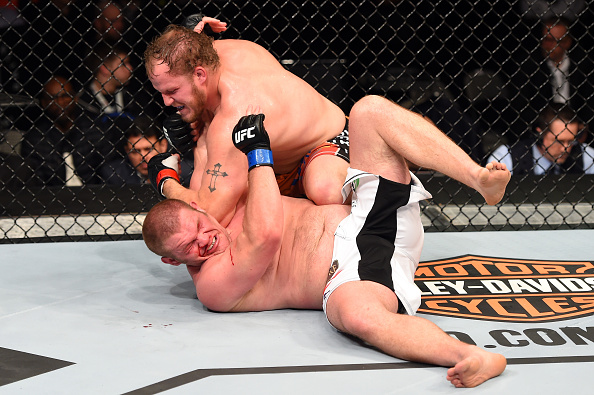 are swinging sledgehammers at each other in the Octagon.
That said, Jared Rosholt is still a tough matchup for anyone in this division when you combine his developing boxing skills with a top notch wrestling game. Rosholt actually averages less takedowns in the UFC than his opponent, Timothy Johnson, but his ability to put this fight on the ground isn't even close. Rosholt can suck the life out of a fighter after taking them to the mat and grinding on them for 15 straight minutes. Rosholt has worked hard on improving his hands and it showed in his last bout, but chances are he's not going to test that theory against a fighter with heavy hands like Johnson this weekend.
Johnson won't go away easy, especially with his ability to create a lot of volume in the early going of this fight. Johnson is very active on his feet and on the ground, but having a fighter as big as Rosholt on top of him for a round or two might kill his ability to explode for a takedown of his own or the kind of aggressive striking that he'll need to get the finish.
Prediction: Jared Rosholt by unanimous decision
Ray Borg (-450 favorite) over Geane Herrera (+360 underdog)
Newcomer Geane Herrera might end up being a solid prospect at 125 pounds, but he's stepping into a lion's den against Ray Borg this weekend.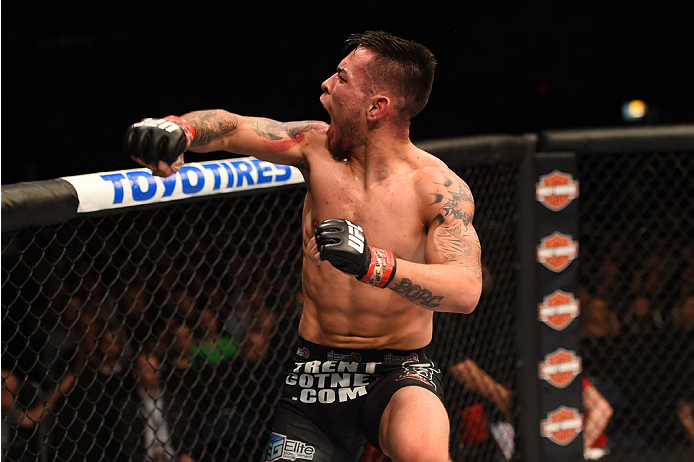 Herrera is a well-versed fighter with a good submission game and nasty striking on the feet. He's very athletic and powerful whether he's on the ground or on the feet, but his biggest detriment is what Borg does better than most fighters at 125 pounds.
Borg is a powerful wrestler with devastating power and control on the ground. He averages over five takedowns per fight with over 73-percent accuracy. Borg has to know going into this matchup that he's already ahead of most competitors in the flyweight division when it comes to wrestling and grappling, but against a first-time UFC fighter like Herrera, who has shown less than stellar takedown defense in the past, this is his easiest path to victory. Borg is also very aggressive on the ground, and at some point that could open up the perfect spot for him to sink in a submission or end the fight with strikes.
Prediction: Ray Borg by submission, Round 2
Scott Holtzman (-750 favorite) over Anthony Christodoulou (+525 underdog)
It's probably an odd sight to see a UFC newcomer like Holtzman come in as that much of a favorite over another fighter, but that's what he'll enjoy in his bout against Anthony Christodoulou, and chances are the numbers are warranted.
Holtzman isn't the best prospect joining the UFC roster, but he's a solid veteran with good experience and a top team behind him working with the MMA Lab in Arizona alongside former lightweight champion Benson Henderson and a cast of top coaches and fighters. Holtzman is a very aggressive striker who likes to overwhelm his opponents with a barrage of punches from the inside and he usually doesn't stop until the person he's hitting falls over in a heap. While Holtzman is best known for his knockout finishes, he's also gone five rounds in a recent title fight, so he's more than prepared to go for 15 minutes if that's what it takes to win in his debut.
Christodoulou looked painfully overmatched in his first fight in the UFC and things may not go much better for him this time around. Christodoulou has a solid record, but he's faded and fallen to virtually every known fighter he's faced during his career. His long win streaks have been mounted against less than stellar competition, and considering the performance he turned in during his debut against Mairbek Taisumov, Christodoulou has to know that he may be on his last legs already just two fights into his UFC career.
Given Holtzman's tendencies to press forward and unleash fast, lethal combinations, Christodoulou will probably leave Nashville with another TKO loss on his record.
Prediction: Scott Holtzman by TKO, Round 2
UPSET SPECIAL
Sam Alvey (+250 underdog) over Derek Brunson (-300 favorite)
The upset special this week is very hard to pick because this middleweight bout between Sam Alvey and Derek Brunson could be another potential Fight of the Night.
Alvey is coming into the fight off three straight first-round knockouts, where he's developed some of the best one-punch power in the entire middleweight division. Alvey is a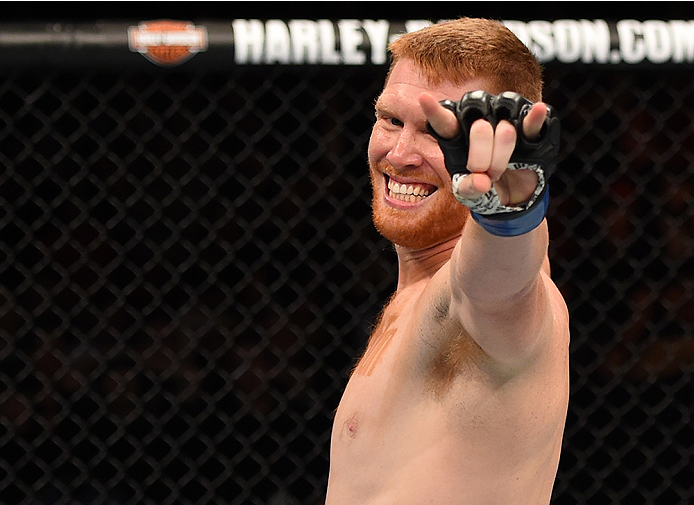 veteran fighter who has more in his arsenal than just hard punches, but he's started to show the kind of confidence in his hands that may have prevented him from finishing some earlier fights in his career.
Now make no mistake - Derek Brunson is the real deal.
Brunson is a top-level wrestler who put Olympic silver medalist Yoel Romero down several times during their fight and if not for a huge comeback victory from the top five-ranked middleweight, that fight would have likely ended the other way around. Brunson is 4-1 in the UFC and could be serious competition against the top 15 fighters at 185 pounds, but there are times where he gets a little overconfident with his striking and that could bite him in this fight.
Alvey trains with a top-notch team out of Temecula, Calif. alongside Dan Henderson so he's no stranger to wrestling either. Alvey can't afford to get into a grappling match with Brunson or he's probably going to lose a lopsided decision. Alvey just has to find a way to bait Brunson into a stand-up fight and then all he needs is to launch one perfectly timed punch and the bout could be over. Stopping Brunson's takedowns or drawing him into a big exchange early could be the key to Alvey leaving this middleweight matchup with another knockout.
Prediction: Sam Alvey by knockout, Round 3