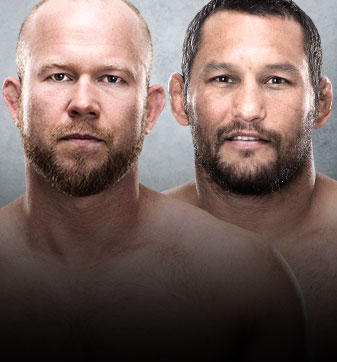 The UFC returns to New Orleans this weekend with a card featuring several top 15 matchups as well as a main event pitting always dangerous middleweight Tim Boetsch against one of the greatest MMA fighters of all-time, Dan Henderson.
Both Boetsch and Henderson have faced a tough road lately, but it's not a lack of effort that put either one on the losing end of some very hard fights. It wasn't long ago that Boetsch was knocking on the door of the top five of the division and he still has the ability to go with anyone at 185 pounds, but he has to prove that this weekend when facing a true icon of the sport.
As for Henderson, at 44 years of age his championship years might seem behind him, but this longtime veteran still has plenty of pop left in his punch and he'll look to unleash that this weekend in the main event.
Also on the card, Ben Rothwell and Matt Mitrione throw down in a fight between top 15 heavyweights as they both look to build on recent wins while Dustin Poirier goes home to Louisiana in search of his second win since moving to the lightweight division.
In today's fantasy preview, we're going to examine some of those key fights taking place in New Orleans, where the odds are closer than ever so getting the winners and losers correct will go a long way towards domination on this Saturday night's card.
SPLIT DECISION
These are the fights on the card that are just too close to call, but a few minor differences could separate the winners from the losers in these matchups.
TIM BOETSCH (-190 FAVORITE) vs. DAN HENDERSON (+150 UNDERDOG)
The middleweight main event pits two men at a potential crossroads in their respective careers. For Tim Boetsch, this fight could give him a marquee name to add to his resume while trying to rebound from a recent streak where he's bounced back and forth between wins and losses over four trips to the Octagon. For Henderson, this main event might determine whether or not he keeps on fighting after going just 1-5 in his last six fights.
There's no denying Henderson's legacy when it's all said and done, but lately he's struggled while facing the upper echelon of fighters at both light heavyweight and middleweight. Granted, Henderson has been fighting nothing but the best of the best in both divisions and there's really no shame losing to names like Daniel Cormier, Vitor Belfort or Gegard Mousasi. Still, this fight will likely test Henderson to see if he's still a relevant threat in the 185-pound division or just a fighter who didn't know when to call it quits.
Boetsch will come at Henderson with a heavy-handed attack and a very good chin to boot. Boetsch packs a serious punch while landing his shots with more than 50-percent accuracy. Henderson, on the other hand, is well known for possibly the most dangerous right hand in the history of the sport while also possessing Olympic-level wrestling when he actually chooses to use it.
If there's a last gasp of air left in Henderson's lungs, he'll exert it to get a win this weekend because he has to know this is do or die for him. Henderson routinely laughs off questions about retirement because while his driver's license says he's 44 years old, he says he still feels as good as ever and when that stops is when he'll finally walk away from fighting. A third straight loss this Saturday could force Henderson to face a harsh reality that he's not ready to deal with just yet.
It's for that reason why Henderson remains the favorite to pull off the knockout in this matchup. Boetsch has struggled against strong wrestlers in the past such as Yushin Okami and Mark Munoz, and while Henderson rarely grapples much these days, he's still got the ability to pull off a takedown if the opening presents itself. Boetsch will certainly test Henderson's once granite chin to see just how many shots he can take, but the crafty veteran only needs a single shot in return to win this fight and erase any doubts that the old man still has some fight left in him.
Prediction: Dan Henderson by KO, Round 3
DUSTIN POIRIER (-190 FAVORITE) vs. YANCY MEDEIROS (+150 UNDERDOG)
Dustin Poirier's first fight back at 155 pounds went extremely well for him, but this weekend he'll face a very tough second test as Hawaiian Yancy Medeiros will give him everything he can handle and more.
Medeiros is slick everywhere the fight goes, but he's especially adept at pulling off submissions from out of nowhere. Both fighters are extremely active on the feet, landing nearly five significant strikes per minute, with similar defensive statistics while striking as well. Where Medeiros shines is in transitions, where he gets his opponents caught in a scramble and ends up pulling off one of his many submission maneuvers.
Unfortunately, this time he's facing off with a similarly dangerous fighter on the mat because Poirier has plenty of submissions to his credit as well, but the emotion of fighting at home should put him over the top in this fight. Poirier has been itching for the chance to go home to Louisiana to put on a show, and after the loss of Daniel Cormier leaving the card a few weeks back, he is now the shining star from the Sugar State.
As long as Poirier doesn't allow the excitement to result in an adrenaline dump in the first round, he should be able to control the pace of this fight with his long, rangy stand-up, and defend any takedown attempts Medeiros might throw at him. Poirier has no problem going for 15 minutes, and no longer cutting weight down to 145 pounds will probably help his endurance even more.
Medeiros will throw everything at Poirier, so don't discount the possibility that he lands a big shot or somehow finds a way to wrap up a submission, but chances are he's going to come out on the short end of a very emotional and very exciting three-round decision.
Prediction: Dustin Poirier by unanimous decision
ALEX CACERES (-130 FAVORITE) vs. FRANCISCO RIVERA (-110 UNDERDOG)
This bantamweight matchup between Alex Caceres and Francisco Rivera will likely determine which of these fighters remains a viable threat to the top 15 of the division and which one will be on the outside looking in when Saturday night is over.
Both fighters are coming off back-to-back losses, but they seem to be pointing in different directions after recent defeats. Rivera lost his fight to Urijah Faber after an accidental eye poke in a fight where he was doing very well against a former champion after a lackluster showing against Takeya Mizugaki. Meanwhile, Caceres lost to Faber as well two fights ago while showing a lot of potential before failing to show up for his last bout against Masanori Kanehara.
If those trends mean anything, look for Rivera to go head hunting against Caceres while fishing for a knockout and a potential Performance of the Night bonus. Rivera may not tackle the top five at bantamweight anytime soon, but don't ever forget he packs as much punch as anyone at 135 pounds. Rivera doesn't just swing hard, he puts together combinations very well and then caps them off with a knockout shot.
Caceres will definitely try to drag this fight to the mat unless he can somehow keep Rivera at bay with his long reach. If he gets into exchanges with Rivera during the early part of this fight, Caceres will be playing duck and cover for three rounds just trying to survive. If he shoots in and puts it in Rivera's head that he wants to submit him on the ground, that could dramatically shift the fight in Caceres' favor.
Still, given recent performances, Rivera has shown flashes of brilliance while going toe-to-toe with a few elite fighters in the division while Caceres has struggled to find his footing after winning four out of five fights before getting a shot at top 10 competition.
Prediction: Francisco Rivera by TKO, Round 2
DERRICK LEWIS (-125 FAVORITE) vs. SHAWN JORDAN (-115 UNDERDOG)
Expect dynamite when Derrick Lewis meets Shawn Jordan on Saturday night, as these two heavyweight bangers meet in the featured bout on the UFC Fight Night prelims.
Jordan is a former football player at LSU so he'll surely have the hometown crowd behind him, but he's taking on an equally powerful and maybe even scarier heavyweight in Lewis, who constantly looks like he's trying to punch a hole through his opponent's head. Jordan suffered a rough run where he lost two fights in a row, but he's turned that around with two consecutive victories over Jack May and Jared Cannonier.
Lewis suffered his only UFC loss to Matt Mitrione in September 2014, but returned with a devastating win over Ruan Potts in his last fight.
The truth of the matter is with these two heavyweight knockout artists throwing hands at each other, there's really no telling which one might land the perfect punch and finish the other. Jordan shows better striking on the feet, but Lewis is a mountain of a man who will look to take this fight to the ground where he's a monster to deal with on the mat. Lewis has some of the most vicious ground-and-pound the division has ever seen and if he finds a way to put Jordan down, chances are he's not getting up again.
While it's really a toss up, a slight edge goes to Lewis, who can land a knockout blow on the feet or on the ground and he'll test Jordan during every second of this fight. Looks for Lewis to bait Jordan to move forward before tossing him to the ground, where he will look to unleash a hellish amount of punishment to get the finish.
Prediction: Derrick Lewis by TKO, Round 1
KNOCKOUT PICKS
THIAGO TAVARES (-190 FAVORITE) vs. BRIAN ORTEGA (+150 UNDERDOG)
This main card bout isn't a complete lock, but it does seem to favor Thiago Tavares, who is a real veteran of the UFC with 25 fights on his record against a litany of top fighters over the years. Tavares has been dealing with an on and off schedule due to injuries, but he might still be a sleeper to tackle the top 15 in the division by the close of 2015 if he can stay healthy.
Ortega is certainly a top prospect with a ton of upside, but he's a submission specialist going into the Octagon with one of the most dangerous jiu-jitsu practitioners in the UFC, one who also has a ton of knockouts on his record. Tavares' offense should negate Ortega in the scrambles, and on the feet the Brazilian is deadly from both the outside and in the clinch. Ortega is definitely a name to watch in the future, but this might be a little too early for this kind of step up in competition, especially if Tavares is on his game.
Prediction: Thiago Tavares by submission, Round 3
JOE SOTO (-180 FAVORITE) vs. ANTHONY BIRCHAK (+140 UNDERDOG)
Joe Soto meets Anthony Birchak this weekend, nine months after their original bout was scheduled for UFC 177, but was called off when bantamweight champion TJ Dillashaw needed a last second opponent when Renan Barao fell out of the fight after his weight cut went horribly wrong. Soto stepped into the fight and put up a valiant performance before finally falling to the champion in the fifth and final round.
That's a tough introduction to the UFC for a first-time fighter, but Soto learned a lot that day and he'll look to unleash those lessons on Birchak this Saturday.
Soto was already a true veteran of the sport with a ton of experience against top notch competition over the years. His hard-hitting style, combined with a wrestling pedigree that he honed in Iowa where he used to be roommates with Jon Jones and welterweight prospect Colby Covington, make Soto a tough matchup for anyone at 135 pounds.
Birchak is an explosive, creative fighter with great upside, but he's going to have to deal with a complete fighter in Soto, who is hungry to prove that he'll get back to a title shot again one day in the future.
Prediction: Joe Soto by unanimous decision
UPSET SPECIAL
MATT MITRIONE (-190 FAVORITE) vs. BEN ROTHWELL (+150 UNDERDOG)
Much like the heavyweight fight between Lewis and Jordan, this heavyweight co-main event fight between Matt Mitrione and Ben Rothwell could really be considered a toss up as well, but the odds seem completely off in this matchup.
Rothwell is coming off a statement win over Alistair Overeem in his last fight and throughout his UFC career, he's faced a who's who list of top heavyweights and fared well against most of them. Mitrione certainly has a ton of potential, but he's fallen short against the best fighters in the division that he's faced, short of his last fight against former title challenger Gabriel Gonzaga.
Rothwell has looked in shape and better than ever in his last couple of fights and the fact that he's an underdog might make him even more determined to go out there and prove the world wrong once again. The last time he was doubted was in his fight against Overeem and it took Rothwell less than a round to put him away. Mitrione is definitely capable of ending this fight with one punch, and his output (3.86 strikes landed per minute) and defense (66-percent) are both better than Rothwell's, so he has his advantages.
Still, Rothwell looks like he's ready to make a surge towards the top five in the division and he might try to make an example out of Mitrione as to why he belongs there.
Prediction: Ben Rothwell by KO, Round 2