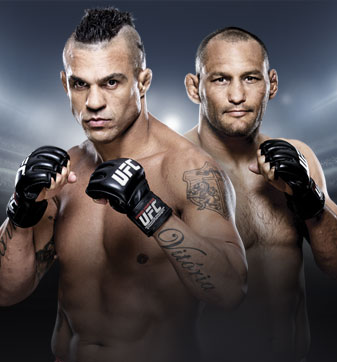 The UFC travels to Brazil this weekend for a star-studded card littered with legends, top 15 fighters and future contenders from the top to the bottom of this 13-bout card from Sao Paulo.
In the main event, Vitor Belfort and Dan Henderson look to put a stamp on an epic trilogy that stretches back to 2006 when they first met in PRIDE Fighting Championships. Most recently, Belfort earned a title shot with a first-round finish over Henderson, which got the American icon fired up for a third shot against his longtime rival. This will probably be the final time they meet in their Hall of Fame careers, so Belfort and Henderson will definitely try to make this one count.
Also on the card, Glover Teixeira looks to add another top 10 win to his record as he takes on former wrestling standout Patrick Cummins, who returns to action after an impressive win over Rafael "Feijao" Cavalcante in his last outing. Plus, bantamweight prospect Thomas Almeida will look to keep his undefeated record intact as he faces Anthony Birchak, and with a slew of top fights on this card, there's no shortage of action from the FIGHT PASS prelims all the way through to the main event.
In today's fantasy preview, we'll break down some of those key fights and see who is favored to win, who is a lock and if there are a few upsets just waiting to happen at UFC Fight Night: Belfort vs. Henderson.
SPLIT DECISION
These are the fights that are going to be tougher to pick, but making the correct selection could mean the difference between winning or losing in the overall fantasy competition.
Vitor Belfort (-350 favorite) vs. Dan Henderson (+290 underdog)
Vitor Belfort and Dan Henderson will face off for the third, and likely final, time when they meet this weekend at UFC Fight Night in Brazil and it's a pivotal turning point for both of their careers. For Belfort, it's a chance to bounce back from a loss to middleweight champion Chris Weidman in his last fight, while Henderson attempts to avenge the first knockout loss of his entire career when he fell to the Brazilian in 2013.
The key for Henderson to win this fight is to survive the first round, when Belfort is at his most dangerous. Over his last five wins, Belfort has finished his opponents in the first round on four of those occasions, with the fifth coming just 87 seconds into the second round before he put Michael Bisping away. Belfort has 17 career finishes in the first round so that is definitely when he's most lethal, and Henderson would be well advised to do everything in his power to avoid the Brazilian's powerful flurries that early in the fight.
That said - every minute the fight goes longer past the first round has to favor Henderson. He's gone five rounds multiple times throughout his career, and while no one is going to mistake the legendary American for having the best conditioning in the history of the sport, Henderson is no stranger to pushing the pace for 25 straight minutes. Henderson obviously has a deadly right hand that can serve as the ultimate equalizer, but his best weapon this time around might be his Olympic level wrestling.
Henderson is averaging less than two takedowns per 15 minutes in the Octagon, but he was able to subdue Belfort in their first meeting in 2006 with a steady diet of mat work that frustrated and confounded the heavy-handed Brazilian. If Henderson can avoid getting into monstrous exchanges with Belfort early, and maybe mix in a takedown or two to slow him down, he has a great chance to come away with a victory. Considering this is the exact fight Henderson requested after flattening Tim Boetsch in his last trip to the cage, there's no doubt he's going to bring everything and the kitchen sink to try and get a win in this one.
Prediction: Dan Henderson by unanimous decision
Glover Teixeira (-450 favorite) vs. Patrick Cummins (+350 underdog)
The odds make the co-main event between Glover Teixeira and Patrick Cummins seem rather lopsided, but there's a two-sided coin to the favorite and the underdog in this matchup.
Teixeira is clearly the more accomplished and well-rounded fighter of the two participants in this bout. Teixeira is extremely heavy handed while landing over four strikes per minute, but as he showed in his last fight against Ovince Saint Preux, he's more than capable of taking a fight to the ground and controlling his opponent there. Don't forget that Teixeira made short work of Saint Preux when they met in August, while Cummins got blitzed by the same opponent when he faced him earlier this year.
The biggest advantage Cummins has on his side is wrestling, and that could turn the tide in this fight in a hurry. Cummins has certainly watched what former NCAA champion Phil Davis did to Teixeira when they met in 2014, as the Brazilian couldn't get up off the mat for the better part of 15 minutes and really got handled by a top notch wrestler. Cummins may not be a National Champion, but he's a former All-American from Penn State - the same team that produced Davis. Cummins has to know that to win this fight he needs to put Teixeira down over and over again until he runs out of steam or the final horn sounds, whichever comes first.
It's still really hard to pick against Teixeira, however, considering the way he looked in his last fight. He's always one punch away from finishing the fight and his wrestling looked leaps and bounds better against Saint Preux than in his previous fights. Teixeira seemed faster, stronger and better after an extended rest to let his body heal, and if he comes to this fight in similar shape, this should be another win for the former light heavyweight title contender.
Prediction: Glover Teixeira by unanimous decision
Gilbert Burns vs. Rashid Magomedov
Submission specialist Gilbert Burns will looks to keep his undefeated record intact when he faces 3-0 UFC fighter Rashid Magomedov in a fight that could steal the show by the time this card is over.
Burns is as high level as it gets for Brazilian Jiu-Jitsu in the UFC, with a second degree black belt and six career submission wins, including two inside the Octagon. Burns will definitely try to get this fight to the ground because his stand-up hasn't exactly earned him rave reviews, as he's landing just under two significant strikes per minute with less than 35-percent accuracy. Burns' inability to get his fight against Alex Oliveira to the ground nearly produced his first loss until he came storming back in the third and final round to snatch an armbar late to get the win.
If Burns is that sloppy against Magomedov, he'll probably watch his undefeated record slip away in this fight.
Magomedov is a highly competent striker with over 50-percent accuracy on the feet while landing just a shade under five significant strikes per minute. Couple that with his incredible takedown defense, where he's shutting down his opponents nearly 92-percent of the time, and this is going to be an uphill battle for Burns to find a way to get this one to the ground. Don't count Burns out from doing it because as he showed in the fight with Oliveira, even when he's down, he's not out.
That said, Magomedov is technically proficient enough on the feet while also having a great background in combat Sambo from his home country in Russia to likely stifle whatever submission Burns attempts.
Prediction: Rashid Magomedov by unanimous decision
Fabio Maldonado vs. Corey Anderson
Look for a lot of strikes to get landed in the light heavyweight fight between Fabio Maldonado and Corey Anderson on Saturday night. Both men average well over five significant strikes per minute, with Maldonado landing at a ridiculous 59-percent accuracy rate while Anderson comes back with nearly 48-percent accuracy himself.
Maldonado is a notoriously tough fighter with a granite chin and a zombie-like attitude in the cage, where he'll take 10 punches and then fire back with 20 of his own. Chances are you'll never see Maldonado get a one punch finish, but he can certainly dole out the punishment over and over again, round after round, until his opponent just has nothing left to give.
Anderson has to be aware of that strategy going into this fight, which he accepted on short notice, so his conditioning could be an issue if he gets into the deeper parts of the second and third rounds. Anderson likely has more power in his hands and he'll enjoy a four-inch reach advantage, which is huge considering the way Maldonado likes to pump his jab throughout his fights. Anderson also has great wrestling, and as much as the Brazilian crowd may hate to see Maldonado hit the deck several times throughout the fight, that's one way the American knows he can overwhelm his opponent.
If Anderson fights smart with good footwork and hard punches while also mixing in some wrestling to keep Maldonado off balance, he should be able to get the job done. Don't blink, however, if Anderson gets drawn into a wild exchange and ends up trading punches with the Brazilian. That's a fight Maldonado will win almost every single time.
Prediction: Corey Anderson by split decision
KNOCKOUT PICKS
These are the fights that appear to be more one-sided, with an easier pick to make, but remember that this is MMA, and anything can happen at any time.
Thomas Almeida (-440 favorite) vs. Anthony Birchak (+350 underdog)
Thomas Almeida will enjoy some of the biggest odds in his favor for any fighter on the card, but despite his favorite status, he can't underestimate Anthony Birchak, who is one of the slickest and most explosive strikers at 135 pounds.
Birchak is more than capable of pulling off the upset here if Almeida gets a little wild with his strikes as he's done in the past with fights against veterans like Brad Pickett. Birchak might be one of the few fighters in the division with equal speed and range and the lethal hands and feet to match the Brazilian prodigy.
Still, Almeida is a star on the rise and could be a title contender in the next year with a few more big wins. Almeida is a devastating knockout artist with bricks in both hands and over 50-percent accuracy on the feet, which shows that he's not just throwing strikes without actually pinpointing where he wants to do damage on an opponent. Almeida is just as good as advertised, and knowing that he's facing another crafty striker in Birchak should have him prepared to go out and dominate on Saturday night.
Birchak certainly won't make it easy on him, but Almeida is preparing for the top five of the division and this should be another showcase for the young Brazilian superstar.
Prediction: Thomas Almeida by TKO, Round 2
Alex Oliveira (-220 favorite) vs. Piotr Hallmann (+165 underdog)
Alex Oliveira will look for his third straight win as he fights back home in Brazil against multi-time UFC veteran Piotr Hallmann, who is trying to stop the bleeding after a two-fight skid in his most recent fights.
Oliveira has shown to be an extremely versatile and dangerous fighter whether he's on the feet or on the ground. His only loss in the UFC came to Gilbert Burns in a fight he was dominating through two rounds before getting caught in a submission in the third. Outside of that, Oliveira made short work of KJ Noons before defeating Joe Merritt in his most recent fight. Oliveira is a solid striker and a tremendous grappler who mixes everything together, so it's hard to predict where he'll go next.
Hallmann has to know a win in this fight is paramount to his future because he's gone just 1-3 over his last four bouts, and another loss could determine if he remains with the UFC or not. Hallmann is a well-rounded fighter, but he'll likely struggle to deal with the size, speed and power that Oliveira will show him come Saturday night. With a five-inch reach advantage, Oliveira can pick his shots on the feet before looking for submissions on the ground, and either way he should find a route to victory before the final horn sounds.
Prediction: Alex Oliveira by submission, Round 3
UPSET SPECIAL
Johnny Case vs. Yan Cabral
It's tough to pick against Brazilians fighting at home because there's always something special about those moments, but Yan Cabral will get a very tough test this weekend as he takes on American fighter Johnny Case.
Case has looked outstanding in his first few fights in the UFC, thanks to a nasty combination of striking and wrestling that hasn't really been matched by his three opponents in the Octagon. Even when an eye poke could have derailed his last fight against Francisco Trevino, Case just switched up his strategy and depended on his wrestling to get him through the rounds until he cruised to a unanimous decision victory.
Obviously, Case has to be aware of Cabral's considerable Brazilian Jiu-Jitsu skills, which are some of the best in the lightweight division. Still, as long as Case can keep Cabral at range with his fast hands and quick feet, he could be looking at another bonus when this fight is over, which would duplicate his debut fight in the UFC.
Look for Case to come out explosively as he puts the pressure on Cabral until he either lands the knockout punch or scores with enough strikes to keep the judges from having any guesswork in the decision.
Prediction: Johnny Case by unanimous decision