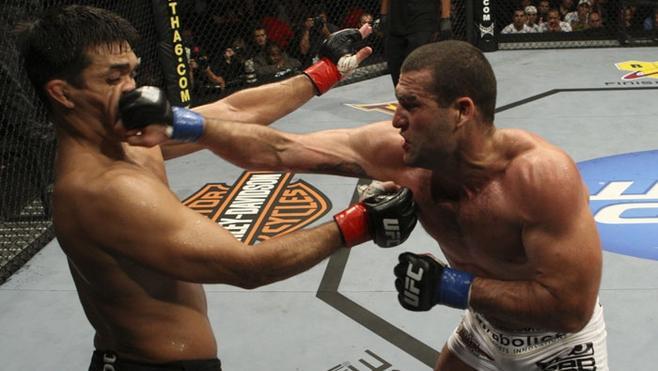 The UFC returns to Brazil this weekend with one of the greatest fighters ever produced by the country competing in the main event as Mauricio "Shogun" Rua takes on
Ovince Saint Preux
in a very interesting matchup at 205 pounds.
Rua was originally scheduled to face fellow striker
Jimi Manuwa
, but a broken foot sidelined the Englishman, and in his place steps the former University of Tennessee football player, who looks to pick up the biggest win of his career while headlining the
UFC Fight Night
card in Uberlandia.
Also on the card, the next title challenger in the flyweight division may be determined when
Ian McCall
takes on heavy-handed striker
John Lineker
.
In today's fantasy preview we're going to look at the main card for this weekend's show to see who has a chance of pulling off a spectacular finish and if there might be an upset or two brewing.
MAURICIO "SHOGUN" RUA VS. OVINCE SAINT PREUX
As far as last minute changes go, the one experienced by Shogun Rua might have happened at the worst possible time. Rua was coming into the fight after a devastating defeat to
Dan Henderson
in his last trip to the Octagon, but he was gearing up for a throwdown with fellow striker Jimi Manuwa. Now he's taking on Ovince Saint Preux, who is an accurate striker, but primarily known as a wrestler and ground technician.
The book on Shogun is well known at this point. He's a fearsome power puncher with blistering kicks and concrete knees that do maximum damage when they land. He's abandoned much of his Muay Thai attack since coming to the UFC, but he still has some of the most dangerous hands in the entire division. Rua has an incredible 88 percent finishing rate on the feet, so if he puts Saint Preux away, it's likely going to be with strikes.
Saint Preux is a much harder subject to figure out. He's looked outstanding in most of his recent fights, using a mix of striking and quickness to take opponents to the mat, where he either knocks them out or submits them with a growing arsenal of submissions. He lands his takedowns at just under 64 percent accuracy, and while he's not as well-known for his striking, he's incredibly accurate there too, where he lands just over 51 percent of his shots. The problem with Saint Preux is he's stumbled in the only two fights he's had against top 10 ranked opponents. He got outstruck by
Gegard Mousasi
in
Strikeforce
and just recently lost to
Ryan Bader
in his first big test in the UFC. Saint Preux has wrecked virtually everybody else he's faced, but he's once again taking on a top 10 opponent and legend in the sport with the ability to finish this fight with one punch.
If Saint Preux can stick to a game plan where he puts Rua down round after round and doesn't let the striker get comfortable on the feet, he's got a really good chance of winning this main event. He'll hold a slight height and reach advantage as well, and if Saint Preux can stay out of any big exchanges, he should be able to frustrate Rua with his range on the feet as well. It's not easy to pull the trigger on an upset pick like this one, but as far as this one goes, it's about as good as it's going to get.
Prediction: Ovince Saint Preux by unanimous decision
IAN MCCALL VS. JOHN LINEKER
The next contender to take on flyweight champion
Demetrious Johnson
will likely come from the fight between Ian McCall and John Lineker on Saturday night. These two fighters have some bad blood brewing between them as well, which should make this a Fight of the Night contender by the time the night is over.
Since stumbling out of the gates with a few tough fights to begin his UFC career, McCall has turned things around lately, winning his last two fights. He recently took out another contender when he beat
Brad Pickett
by unanimous decision and now stands on the precipice of potentially earning a third fight with Johnson (he's currently earned one loss and one tie with the champion).
McCall remains one of the most well-rounded fighters at 125 pounds. He lands nearly four strikes per minute on the feet and averages over two takedowns per 15 minutes. He's also nearly impossible to take down with his 88 percent defense. On the other side, Lineker is much better known as a striker with knockout power in his hands. He averages over six strikes per minute, which is an impressive rate for anybody in the UFC. He rarely uses much wrestling, but when he does he lands his takedowns at over 66 percent accuracy.
This fight really comes down to who controls the range, and who maintains conditioning for three rounds. Lineker is extremely dangerous in the early part of the fight, so McCall has to be wary of his hands in the first round. After that, McCall's conditioning should be able to take over, as Lineker is well-known for having an extremely hard cut to make 125 pounds.
McCall is well aware of what it's like to face power punchers such as Lineker. He just beat a similar fighter in Brad Pickett in his last fight. Watch for McCall to pick his shots early and then start mixing things up in rounds two and three to keep Lineker off balance. If he snags an early takedown, all the better. Lineker struggled against
Ali Bagautinov
when he employed a similar strategy, so McCall just needs to color inside the lines, don't get too far away from his game plan and he should get the win.
Prediction: Ian McCall by unanimous decision
WARLLEY ALVES VS. ALAN JOUBAN
Quite possibly the toughest fight to pick (and by extension maybe the most thrilling fight on the main card) is the welterweight showdown between former
Ultimate
Fighter Brazil winner Warlley Alves and second-time UFC fighter Alan Jouban.
Alves drops down to 170 pounds after competing at middleweight on the reality show and this kid has all the tools to one day be a top 10 fighter in the division. He's that good. Alves is a blistering mix of heavy strikes, solid wrestling and bone-crunching submissions. He's a highlight reel just waiting to happen. Now as good as all that sounds, Alves still knows the basics well enough to stay out of trouble if a big strike or submission doesn't go his way.
Jouban is going to be a very tough test for his first trip to the Octagon since winning TUF Brazil earlier this year. Jouban is an incredibly active striker - he lands 5.7 significant strikes per minute with 58 percent accuracy - and he's not afraid to get in the pocket with an opponent and throw down until one of them falls over.
Those tendencies might be his undoing against a fighter as skilled as Alves. The Brazilian is big, strong and hits like a mule. Don't be shocked if he hurts Jouban with something to the body and then finishes the fight on the ground. This fight could easily go two minutes or all 15 minutes, but it's not likely this one will ever be called boring.
Prediction: Warlley Alves by submission, Round 3
JULIANA LIMA VS. NINA ANSAROFF
With
The Ultimate Fighter
20 still six weeks away from the finale, the two strawweight fighters competing this weekend on the main card have a chance to shine in the spotlight before the division is filled to the brim with 16 more names and faces. Juliana Lima is still searching for her first win in the UFC after an uneven performance in her debut, while Nina Ansaroff comes to the promotion with a very good record and a ton of momentum.
Ansaroff is definitely going to be a name to watch in the division, given her experience and recent confidence following five wins in a row. All three of Ansaroff's losses came early in her career and there's no shame in losing to
Carla Esparza
or Barb Honchak, who are currently two of the defeats on her record. Since that time, Ansaroff has transformed into a finishing machine with five straight victories, none of them making it out of the second round.
Ansaroff is a tough kickboxer with good hands and fast feet. She loves to target the body, which eventually sets up head kicks and boxing where she can put an opponent away. Lima got rattled in her debut fight and if Ansaroff can put together the kinds of combinations she's been landing lately, expect the same thing to happen here. Ansaroff is a name to watch when the 115-pound women's champion is crowned, and this should be a great introduction for her on Saturday night.
Prediction: Nina Ansaroff by TKO, Round 2