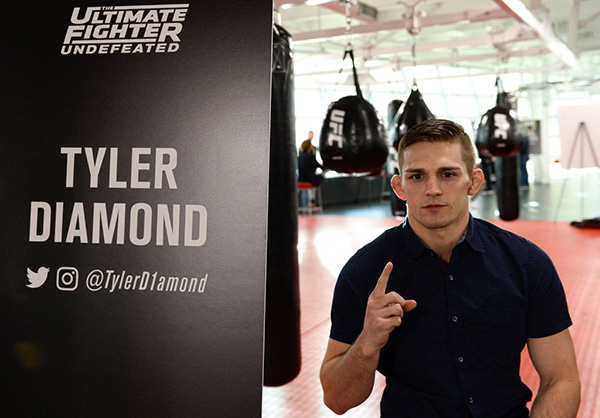 As the first overall pick of Daniel Cormier on The Ultimate Fighter: Undefeated, Tyler Diamond understandably had a target painted on his back from the first day of the competition. But the way the 27-year-old sees it, it was there a bit longer than that.
"I felt like the target was on my back after tryouts," said Diamond, who fights for the first time this season on Wednesday's episode, as he meets Team Miocic's Dulani Perry. "We were also there a little bit before the picks happened and I made sure to work out way harder than everyone else and I set a precedent that said, 'I'm coming to win this show.' And when I got picked first overall, I wasn't entirely surprised. I did feel like I was the number one seed in the tournament."
Whether Cormier's faith in the Californian is rewarded remains to be seen, but even before the show, there was a buzz about Diamond, a Team Alpha Male squad member who has put together a 9-0 record in a pro career that began in 2015. Given that record, his talent, and his team, you might assume that a UFC call was already on the way before TUF came up. Diamond assumed the same thing, and after his submission win over Emilio Chavez last November, he was hoping that his time had come.
"Mentally, I've been ready a long time," he said. "I wanted to be with the best guys in the world. After my fight where I got to 9-0, I was gonna take a little bit of time off because I'm like, 'Man, I'm probably at that point where I could possibly get signed at any time.' And then I got the memo for The Ultimate Fighter and how everyone was undefeated and I was like, 'This is a sign, I have to do it.'"
"I'm chasing something that I've worked hard for, all my life." Meet undefeated Tyler Diamond. pic.twitter.com/ALaCG2Ppiw

— The Ultimate Fighter (@UltimateFighter) June 4, 2018
Now he gets to control his own destiny, with his performances on TUF the sole determinant of whether he gets to the UFC or not. It's the beauty of the show, and it rescues Diamond and his fellow competitors from the Wild Wild West of the regional MMA scene, where there is no linear path to the Octagon.

"It was definitely frustrating seeing people who I felt weren't nearly as talented as I was getting signed or getting their opportunities," he said. "But I'm not gonna get mad at things I can't really control. I'm just gonna focus on everything I can control and I couldn't control that other people were getting signed and I wasn't getting my opportunity yet. I said, 'Hey, when I do get my opportunity, I'm gonna be more than ready.' Better to be overly prepared to get your shot than not be prepared enough and then get it. I was taking it as it came and just training as hard as I could until the opportunity came."

TUF is Diamond's opportunity, and he knew it from the start. So the inconvenience of being away from the outside world for six weeks was no issue.

RELATED:
"It wasn't hard for me at all," he said. "I knew my family was still gonna be right where they were. In my eyes, it was going away for six weeks for a life-changing moment. So I could put anything in my life on hold for six weeks for this opportunity."

If Diamond sounds like a young man on a mission and with his priorities in order, that would be accurate. Then again, that's usually the case for the graduates from Team Alpha Male.

"I feel being on the team prepares you for everything in life," Diamond said. "If you can get through a week of training with our team, you can probably conquer anything in life. Our training schedule and our room are very tough, very high-level, and if you can hang, you're gonna be fine in whatever fight you have or whatever situation you may come across. We're the best in the world and I've got some of the best training partners around me, so I wasn't worried about anything. I knew I just had to trust the training that I had put in in the years prior to this."

Now it's time to fight.

"They (the viewers) should expect me to give a hundred and ten percent of everything I have," he said. "I might not be the most skilled guy on the planet or the most crisp, but I will fight harder than anyone."