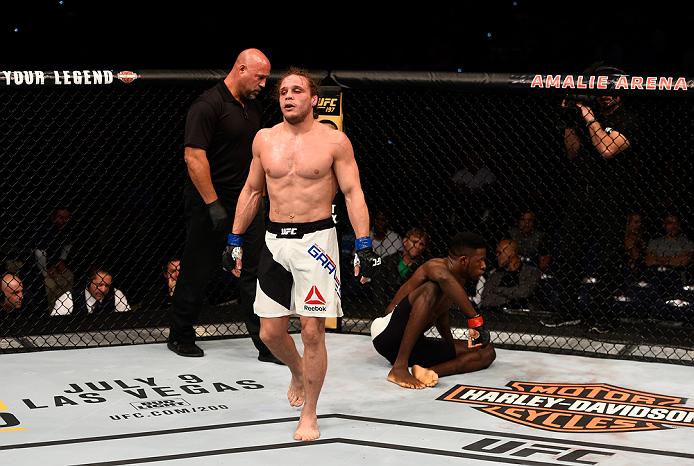 Michael Graves is a throwback.

In an age of Instagram celebrity and style over substance, the 25-year-old welterweight lives at the other end of the spectrum, surprising more than a few people when he lamented gaining entry into the UFC by being a part of Team American Top Team on Season 21 of The Ultimate Fighter.

It's not that Graves is ungrateful for the opportunity to get his foot in the door; it's just that he would have preferred to earn the call to the Octagon the old-fashioned way – by earning it through his performances.

"In a perfect world, if I were able to just jump in there, I would have preferred to do that," said Graves, who looks to add a third straight UFC victory – and seventh consecutive win overall – to his resume when he returns to action against Bojan Velickovic in UFC 201's UFC FIGHT PASSFeatured Prelim.

Part of what threw people off with Graves' comment about the long-running reality TV show isn't that it came on the heels of his appearance on the show, but that it comes in a time where it seems like an entire generation – his generation – are looking for whatever shortcuts they can find to garner fame, popularity and status.
RELATED CONTENT: Fighter bio | Matchup with Velickovic | FIGHT PASS Spotlight
While others are off building their brand and strengthening their social media presence, the unbeaten upstart from Toledo, Ohio would prefer to stay quiet and let his work in the cage speak for him.
But don't take that to mean that Graves is lacking in confidence.
"I'm not into the whole culture like everyone else seems to be," he says. "I'm not a big television guy. I don't think the Kardashians are cool – none of them – but that doesn't mean that I'm not confident.
"I am confident; I just don't think I have got to tell everyone that I'm confident or show everyone that I'm confident by acting like an a******. Don't get me wrong – I'm confident, but I'll keep it inside, keep it bottled up and let it go when I want to. I feel like everyone is trying to be the big man on campus and show off, but I don't care – I'm not trying to show off in front of people or talk s*** to no one.
"I have very strong belief in my skill set and I know that with hard work and continuing to do the things that I do, I know that I can compete with anyone in the division.
"Anyone. Right now. Today. Anyone."
Though Graves has a ways to go before testing himself against the elite of the 170-pound weight class, the early returns are encouraging and his continued work alongside the all-star cast of coaches and fighters collected at American Top Team makes him an intriguing fighter to watch in the stacked division.
After defeating Vicente Luque on the TUF 21 Finale, Graves rolled into Tampa and put a momentary halt to the hype surrounding "Looking for a Fight" signee Randy Brown, using his wrestling to ground the "Rude Boy" before finishing him with a rear naked choke midway through the second round.

Following the victory, he told Megan Olivi backstage that he hoped to fight more frequently going forward, eager to avoid the type of lengthy layoffs that produce ring rust and cause the gains he made in his previous camp to atrophy.

"Every time you get in there, it's a new experience, and so the more that I can get in there, the better," Graves explains. "Fighting every three months, I can't predict that I'll never get injured, but I want to fight more regularly just to acclimate myself more in there and feel more comfortable.

"This camp has gotten better," he says of his preparation in South Florida. "It's a process and a learning thing and each camp I figure out better ways to do things than I was before. I also have a lot of help. I did this camp at American Top Team and there are a lot of coaches here that have been helping me.

"The coaching staff has been great and has been giving me a lot of attention – Katel Kubis, Din Thomas and Conan (Silveira). They're guys that have been with me for a while and continue to help me. There are also a lot of teammates that push me on a regular basis."

Like many others that have migrated to the long-time elite fight camp over the years, Graves also believes that surrounding himself with such an experienced, seasoned group is crucial to his continued development and march up the welterweight ladder.

"Part of anything is that if you want to be the best, you've got to at least surround yourself with people that have been there, that know the road. There's more than one way to skin a cat, so I'm not saying that's what you have to do, but it helps; it helps to have guys that have been there before, that know the process and have been doing this for years. It makes it a lot easier."

As for Velickovic and the physical transaction set to take place Saturday night at Philips Arena, it's another area where Graves' outlook is kind of old school.

"It's a fight," he laughs. "He's going to go out there and try to punch me in the face or kick me or take me down. I know what he's going to try to do. He may like to kick a little bit more than he likes to punch or not be a big takedown guy – and those are the things I'll look at – but other than that, he's going to try to hit me and I'm going to try to hit him and that's it."