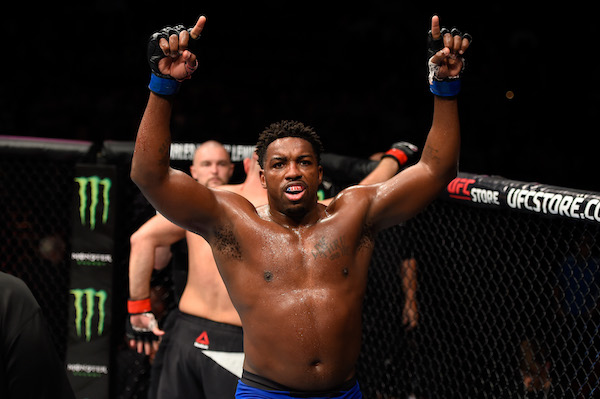 In combat sports, a draw is never satisfying. Well, unless you're Walt Harris watching two boxers he has worked with – Deontay Wilder and Tyson Fury – battle to a 12-round draw in their December 1st heavyweight title fight.
"Man, I was torn like you wouldn't believe," said Harris, who returns to the Octagon on December 29 for a UFC 232 bout against
Andrei Arlovski
. "It was crazy because I know both of them personally and you don't want to see anybody lose. For me, honestly, the draw was probably the best outcome in a sense because neither one of them lose, they both get paid and both come out looking good. They get to do it again and the chapter can close after that."
Working with Wilder for his bout against Luis Ortiz and Fury for the Wilder fight were highlights of a 2018 campaign that also included a TKO win over
Daniel Spitz
in June. Harris would have liked more fighting than sparring this year, but he is getting the big fight he wants in Arlovski.
"In 2018 I wasn't as active as I would have liked, but I believe God has a reason for why he does everything, so 2019 is my year and I'm on the biggest card of the year to end 2018," he said. "Everybody wants to be on this card and I've got the prime spot as being the main event of the prelims. Everything's clicking right now at the right time, and I feel like 2019 is gonna be the biggest year of my career."
And just so we're clear, he means the biggest year of his career in MMA, not boxing, though he wouldn't be adverse to stepping through the ropes one day.
"I love boxing, it's my favorite part of combat sports," Harris said. "If I have an opportunity one day where I become champion and I can call out some big heavyweight and do a SuperFight, that would be dope."
It's obvious from his career in the Octagon that Harris has the striking end of things down, and world-class boxers wouldn't be calling him for work if he didn't have the goods in the ring. But when the two-state Golden Gloves champion looked for the next athletic step in his life, he decided that MMA was the way to go.
"I started combat sports at 23 and when I started, I saw the landscape of boxing and how it worked and I didn't feel like I would be able to fit in at that age and be successful," he said. "I felt if I went into mixed martial arts, I would have a faster track to get to where I wanted to, so I used boxing as my background. I stuck with it and stayed in it and surrounded myself with people who knew the game."
It was a wise choice, as Harris is now in position to have a big 2019 campaign should he win his fifth UFC bout over a former heavyweight champion in Arlovski. And though he has thought about where he would be if he chose a different route, he has no regrets about the decision he did make.
"I always thought about what would have happened if I went that route," he said. "Some of these kids start at 12 years old and I didn't want to be a journeyman. I didn't want to be a guy they just called in to fight the superstud. I wanted to be the superstud, so I felt like MMA gave me that best chance to fight the big fights, learn something new and have fun doing it. I feel like MMA is a challenge every day and I feel like I'm growing every single day. That's the fun part and it keeps me engaged."
And worst case scenario, Harris has more than enough stories to share from his 35 years on Earth.
"I've been blessed beyond measure to meet the people I've met, do the stuff that I got to do," he said. "It's been an awesome ride so far. I'm looking forward to more for sure."
What kind of stuff? Whether college basketball at Jacksonville State University, sparring with heavyweight boxing champs or fighting in venues from Singapore and Sydney to Las Vegas and New York, Harris has had life experiences few can claim, and it's something he does want to pass on to his kids.
"I try to create memories for my children," he said. "Of course I give them things because I didn't have that when I was coming up and I try to overcompensate for the fact that I didn't have a dad growing up, so I do try to make sure they have whatever they need. But, at the same time, I try to teach them the values of hard work, and when we do get to go do things, I try to make sure they understand why we're getting to do it. It just doesn't happen. You have to work your way towards certain things and be dedicated to something to get what you want out of life."
Walt Harris has proved his dedication, pushing past a late start to become a fighter on the verge in the UFC's heavyweight division.
"I definitely see that," he said. "When I got the call to fight him, that was the first thought: this is your time. I feel like I'm one of the best heavyweights in the division. I've just had a set of circumstances that are different from everybody else's and I'm willing to take chances that I think a lot of heavyweights aren't. I don't turn down fights, and if the chance comes, I'm going. This is my chance to set myself up for the rest of my career and make my name known and have people say, 'Look out for this guy,' like they did when I first signed with the UFC. I feel like it's my time to re-do all the things that I've lost, all the ups and downs that I had in my career. December 29, you're gonna see an all-new me and you're gonna see a new me moving forward through the rest of my career."
Just don't bring Christmas and his old gig as a UPS driver.
"I would take a punch in the face all day over sitting in that cold steel truck," he laughs.