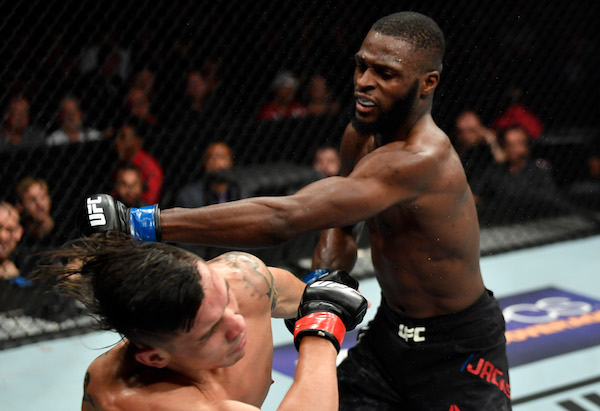 Montel Jackson doesn't let too many things get to him. So when his UFC 230 bout with
Brian Kelleher
was scrapped at the 11th hour when Kelleher fell ill, it wasn't a cause for panic.
"I don't put anything on a pedestal and I don't expect anything from people or certain situations," said Jackson, who will get to face the New Yorker in Las Vegas on December 29. "I said I'm gonna be excited when it happens or after it happens. I'm gonna live in that moment. I'm not gonna make it out to be something it's not or put too much in it. But if it does happen, when it happens, I'm gonna live in that moment and fully enjoy it."
What the 26-year-old bantamweight did want to do, though, was fight, and the sooner the better. Denver on November 10, Beijing on November 24, even his hometown of Milwaukee last weekend. Wherever and whenever it was, Jackson was ready.
"In the moment, I asked what the options were," he said. "I wanted to get right back to it. But the Denver card was already full and no one pulled out. Milwaukee card was pretty much full and nobody pulled out of that. I had no choice but to shake up the dice and see what falls."
Jackson rolled a seven and got Las Vegas and the biggest card of the year, a chance for the Dana White's Tuesday Night Contender Series graduate to even his UFC slate at 1-1 after he lost his short-notice Octagon debut to Ricky Simon in August. He took the Kelleher fight at Madison Square Garden in November on short notice as well, making this rescheduled bout one in which he actually got a full training camp. But to "Quik," those are just semantics, as he's always in the gym, even after being told to take a little time after his time in New York City.
"They told me to not come to the gym for a week (after UFC 230) to clear my head and mentally prepare myself for another camp," he said. "But I was still running and sneaking in the gym and hitting the bag early mornings when no one's there. So I was still getting my work in. It's all a part of the job."
Part of the job, but don't call it work. So when Jackson was in Fiserv Forum last Saturday to watch his coach and teammate
Zak Ottow
score a win over
Dwight Grant
, he wasn't there to scout or analyze the action. He was there as a fan.
"Being a fan was what drew me to the sport, so I'll always have that," Jackson said. "Once anything becomes work or you think of it as work, your heart is really not in it, and you're just in it to make money. Love is a powerful thing, and love drives a lot of people to do a lot of crazy things. So I will always love this sport. The moment I think of this as work, I'll stop and do something else."
But was he ready to be a UFC celebrity in his hometown?
"I'm no celebrity, I'm just Montel," he said. "I don't want to be a celebrity. I want people to treat me like a regular guy. When people start to think highly of you and treat you a certain way, you start to expect stuff from people and a certain type of treatment, and I don't like that stuff. Don't treat me different. Treat me as if I'm a regular Joe Blow, not because you think I've got something or you've got something to get from me. Treat me like a regular person."