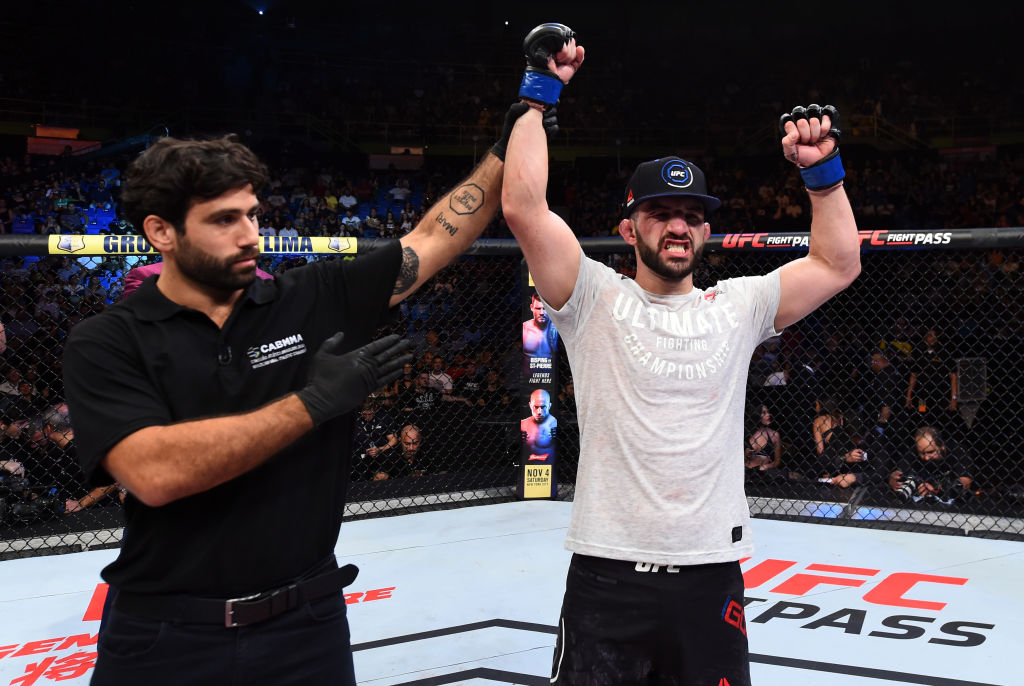 If you're looking for a fighter that has overcome adversity look no further than UFC lightweight
Jared Gordon
. The "Flash" has openly discussed his previous addiction to opioids and how focusing on MMA helped him go from homeless to fighting in the world's largest MMA promotion.
His perseverance and dedication has paid off in the form of nearly three years of sobriety and four walks to the Octagon since June 2017. This time it will be against Joaquim Silva, a 10-1 fighter who hasn't fought in nearly a year.
But to Gordon, it doesn't matter who the opponent is and how long it's been since they've fought. All that matters is what "The Flash" can control and that includes his preparation, his mentality, his focus and the intensity that he brings on Saturday night's fight in Milwaukee, Wisconsin.
We caught up with Gordon to discuss his recent move to Duke Roufus Sport in Milwaukee, what he thinks about Silva and much more.
UFC: What's it been like to relocate and train with the Roufus Sport team?
JG: It's been way different I just relocated here to Milwaukee actually from New York City. I'm training at Roufus Sport with Duke Roufus. The team we have there is obviously great, new location, everything is under one roof. In New York I was having to go gym-to-gym so everything is much more convenient. I couldn't ask for more.
UFC: Tell me about the guys you train with and how they have added to your game?
JG: In New York I was training with really good guys but not at this level, not guys that are my size or around my weight class. I'm surrounded by guys like Anthony Pettis, Sergio, Paul Felder, Belal Muhammed, Gerald Meerschaert you know and all these other guys, Jordan Griffin is on the card too. I'm surrounded by killers. The coaching level they're championship level. You have guys like Tyron Woodley and all these other champions and all these other people that come through the gym. I feel like I'm in the big leagues and I deserve to be here and I know I deserve to be here. It feels amazing.
UFC: Do you think being in this competitive of an environment has helped light a fighter under you?
JG: Paul Felder originally asked me to come out to help him for his fight with Al Iaquinta which didn't happen and when I got there, I spent a week here and I fell in love with it right away. I was coming off my first UFC loss, I just had an epiphany I was like 'this is where I need to be' and I came out here and that was it.
UFC: If I've never seen you fight before, what can I expect from a Jared Gordon fight?
JG: Fast paced non-stop action and I think now that I'm at Roufus Sport, maybe a little fancier maybe a little flash. I have to live by my nickname so expect that.
"It's nothing I've never seen before, I've sparred with guys that I know are better. But he's a tough guy. I expect a fight and I expect a war. It's going to be great." - @JFlashGordonMMA on the style of his #UFCMilwaukee opponent Joaquim Silva pic.twitter.com/wy9eMN1wRK

— UFC News (@UFCNews) December 13, 2018
UFC: Have you studied your opponent? If so what are some things he does well?
JG: I've definitely studied him. He's a tough guy and fought some really tough opposition. He's a good kickboxer he wants to keep it standing so far, that's what he's show in all his fights. He gets taken down then tries to get right back up. It's nothing I've never seen before, I've sparred with guys that I know are better. But he's a tough guy. I expect a fight and I expect a war. It's going to be great.
UFC: Where do you think you have the advantage over Silva?
JG: I think on the ground I have the advantage for sure. The grappling aspect and the ground and pound, that's my bread and butter. I think I'm a better stand-up fighter than he is also. Like I said especially now that I moved to Roufus Sport, they're primarily known as a striking gym. I've learned so much and I can't wait to showcase it.
UFC: What are the steps you need to take on Saturday to get your hand raised?
JG: I'm going to have to go out there and physically break his will. Just add the pressure, high pace, get him tired and do what I do best.
Make sure you watch Gordon take on Silva this Saturday live on the FS1 prelims at 5pm/2pm ETPT.
Gavin Porter is a digital producer and writer for UFC.com, follow him on Twitter at @PorterUFCNews.