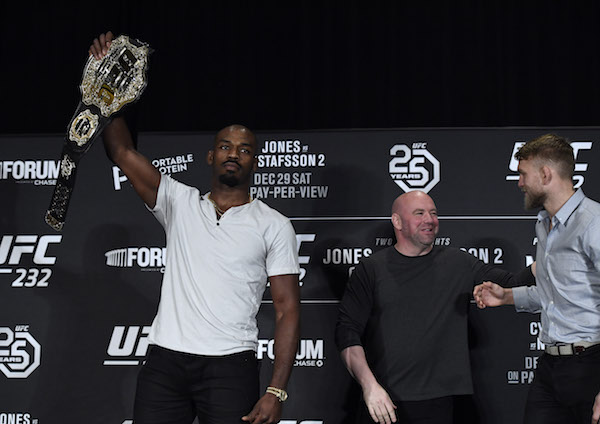 If the fighting resume of Jon Jones doesn't scare prospective opponents, his belief that he hasn't scratched the surface of his potential yet should.
"I have ten years in the game, I have a lot of experience, and I do feel like I'm just getting started," said Jones, who faces Alexander Gustafsson for the world light heavyweight title in the main event of UFC 232 on Saturday. "I still feel like I'm a baby in this sport. There's so much more I need to learn. I'm excited for my future. I feel like there's a lot more for me to bring to the table."
Without everything that has gone on outside the Octagon over the last several years, Jones might be talked about in the same reverent terms as other sporting icons whose performances on the field or court were as impeccable as his have been over the last decade. But there are layers to every human and every story, and whether it's failed drug tests, a hit and run accident or titles lost everywhere but on fight night, the narrative surrounding Jones has strayed from what goes on when the gloves are on and the mouthpiece in.
He hopes that chapter is over.
"It's a tough thing to go through," Jones said. "As an athlete, I feel like fans of sports can get through a lot of things. There's been lots of rock stars and athletes who have had substance issues, and that's been something I've struggled with over the years, but steroids is something no one excuses, and it was tough to have to go through that. But I feel better because of it, it made me stronger and it taught me to keep my head up throughout really terrible situations."
The latest situation saw Jones test positive for the banned substance Turinabol after a fight that should have been a crowning achievement for him, a July 2017 knockout of heated rival
Daniel Cormier
.
"After all the back and forth with Daniel Cormier, and for it all to end the way it did, with me knocking him out and getting the light heavyweight championship back, I couldn't ask for it to go any better," said Jones, who was subsequently stripped of the title and suspended, with the win turned to a no contest. But with that suspension in the rearview mirror and Jones cleared to compete again, he believes everything has worked itself out.
"Without the steroid situation, the Daniel Cormier fight would have just been a fairytale ending," he said. "And, for me, honestly, it's still a fairytale ending because I think in the minds of the fans, they know who is the more dominant fighter between us two, and here we are, a year later, fighting for another light heavyweight championship. So everything worked out great."
And in American life, everyone loves a good comeback story. Jones has his chance to write one on Saturday against the one fighter who came close to beating him. Jones doesn't dismiss what Gustafsson did in their first bout in 2013, but he also believes that "The Mauler" didn't get his best that night in Toronto.
"In the first fight, I came from an extremely arrogant place," said Jones. "I didn't think that I could possibly lose. I was a super young guy and I was beating all the legends of our sport. Honestly, on a religious level, I felt like God had blessed me to be a fighter and I felt like God didn't want me to lose. I really felt that. I thought it was impossible to lose because of some magical powers God gave me. And Gustafsson showed me that I'm very human. I was really starting to sip my own Kool-Aid."
It's hard to blame him. Jones was coming off a six-fight stretch in which he beat current or former world champions
Mauricio Rua
, Quinton Jackson,
Lyoto Machida
,
Rashad Evans
and
Vitor Belfort
, and outside of a tight armbar attempt by Belfort, no one came close to ending his run.
"Everything else was just like a waltz," said Jones, but Gustafsson dragged him into deep water and gave him all he could handle before a late surge rescued Jones' title.
"That changed me forever," said the New Yorker. "From that point forward, I started giving every fight more attention and realized that I was not invincible."
He also realized that when the going got tough, he wasn't going anywhere.
"No way in hell am I gonna lay down and let a grown man whip my ass," said Jones. "Not happening. You're gonna have to kill me, catch me with a flash knockout, but you're not beating me just on some heart s**t."
Since Gustafsson, Jones has barely lost a round in beating
Glover Teixeira
, Cormier and Saint Preux, but the outside the Octagon issues have dominated the headlines. At this point, though, all that matters is the UFC 232 main event, and Jones promises that it won't be a repeat of the first bout.
"This fight's gonna be a completely different situation," Jones said. "He (Gustafsson) will have my full, undivided attention and it will be a completely different story than the first."
So how will the Jon Jones story end? Jones isn't too concerned with the public narrative anymore.
"I kind of let go of always trying to please people and trying to be what everybody else wants me to be," he said. "I just focus on what I can control and that's being the best man I can be to the people that I know – my family, my close friends – and working hard, honoring them through my hard work."
And in the Octagon?
"I believe personally, in order to be a champion, you just gotta be the baddest motherf**ker around," Jones said. "That's really what it's about. It's not about having a suit and tie on and it's not about speaking the most articulate or having the cleanest, squeaky image. It's about being a bad mother**ker. That's really what it is. It's having the best work ethic. That's what being a champion is to me.
"There's a lot of people who want to be where I'm at in this sport and I'm excited to keep knocking them down. I'm 31, but the best is yet to come."