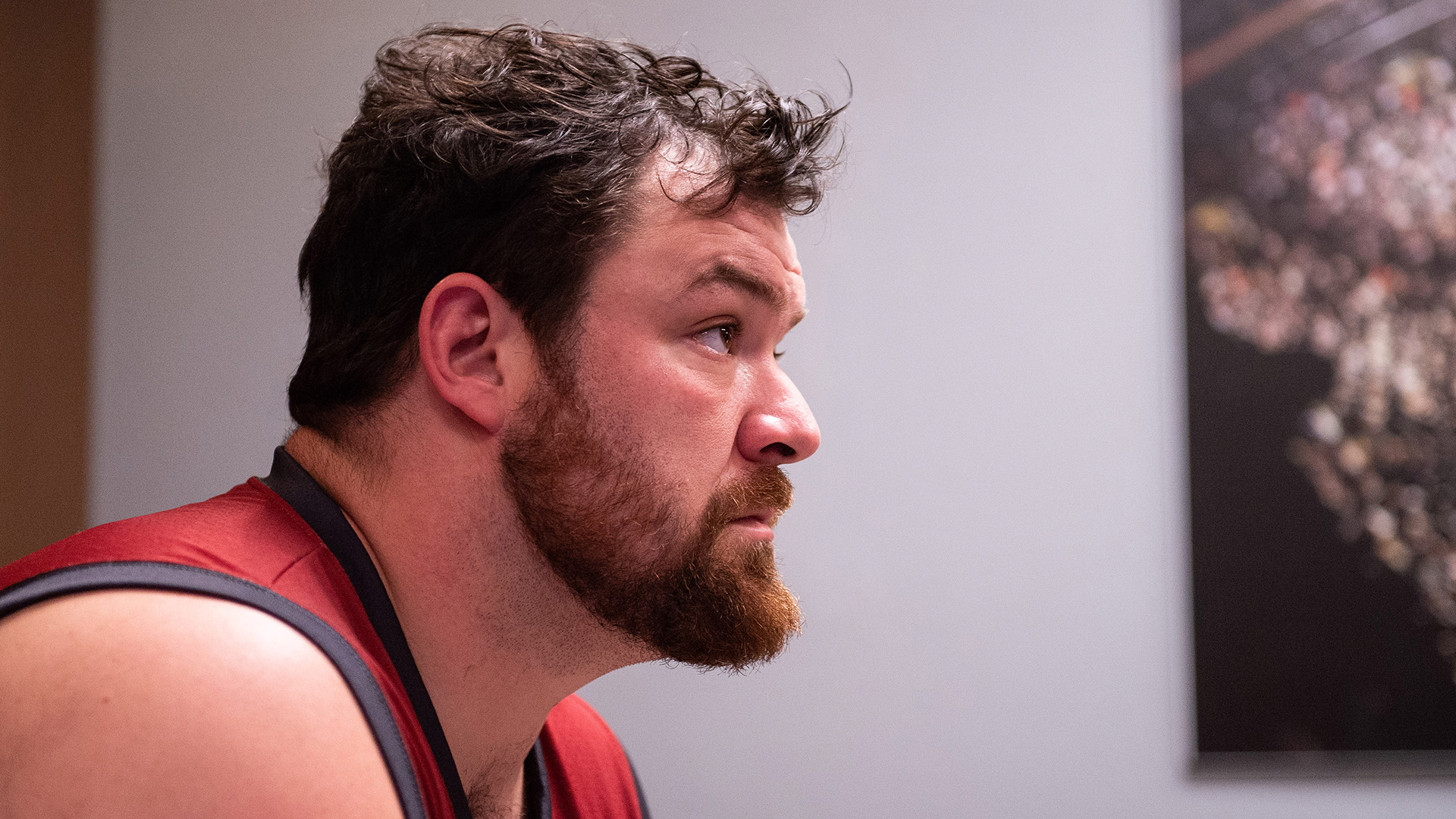 The biggest fight of Justin Frazier's MMA career is just hours away, but before he fights Juan Espino for The Ultimate Fighter 28 heavyweight title, we have to check in on the toughest fighter in the Frazier household, his son Brantley.
"He's excellent, he's just missing his daddy," said Frazier of his six-year-old, who has battled through a heart transplant and cancer with a tenacity that will humble anyone who hears his story. "I've been gone for about two and a half weeks this camp, but other than that, he's doing great. He's ready for me to go get the win and come home and take him to go see the Christmas lights."
Dad admits that with the necessity for a heart surgery and biopsy every year, Brantley will have to deal with this for the rest of his life, but there is no one more ready for battle than this young warrior.
"He is the fighter, I agree," said Frazier, who isn't too bad in a fight himself. Before The Ultimate Fighter, he won 10 of 12 bouts, with each victory coming by knockout or submission. And on the show, he added two more wins, even though those victories surprised some observers.
"I always know that people look at me as the underdog, but I always knew that I have the ability to be competitive with everyone," said the 29-year-old. "I've trained at other big gyms with other UFC fighters and done well against them and even felt like I've won some rounds, so I knew I had the ability, and I look at it as an advantage. If people are underestimating me and overlooking me, then they're just giving me an edge in the fight."
Frazier used that edge to the fullest, defeating highly-touted kickboxer Anderson da Silva and former Olympic wrestler Michel Batista to make it to the finals, and if you want to call him the underdog against Spain's Espino, you've been warned, and he doesn't care.
"I'm so used to it that it's not even an insult anymore," Frazier said. "Granted, I know that physically I'm not in the best shape. I used to be in good shape, but my situation with my son changed a lot of that. I didn't want to risk not being there with him every day, every second in the hospital, and I was able to make that work. I may have put on a hundred pounds, but I lost a lot of that weight just as well."
And if history has proven anything in combat sports, it's that a body chiseled out of marble never won a fight. But work ethic and a steel will have, and Frazier has both.
"That's the way I was raised and that's just the mentality I have," he said. "My dad broke his back for everything that he has and for me and my sisters to have the lifestyle that we did growing up. He never quit and he was one of those guys who didn't call into work when he was sick and he instilled that work ethic in us and I think that's what makes me the fighter that I am and it's why I'm willing to do what I'm willing to do for my family."
As for life after tonight's bout, the 29-year-old southpaw is already planning ahead.
"That started before I was even in the house," he laughs when asked about his future life in the UFC. "It was kind of a hit list. It's nothing personal, this is all business, but there are several guys I'd like to fight. I fought Derrick Lewis before and I've always wanted that one back. I don't think he's the same guy he was when I fought him. He was hungry then. Derrick ain't hungry no more. There's Jeff Hughes. I respect him, I like him; I think I can beat Jeff Hughes."
Frazier also mentions buddies Chase Sherman and Maurice Greene as future foes, noting that it's not about hating an opponent, but competing against a fellow fighter.
"I like fighters like (Donald) Cerrone and Matt Brown who just show up, they fight, they put on a show, and when it's all said and done, it's over with," Frazier said. "It's not a personal thing, it's a business matter. They're there to collect a check and put on a show for the fans. That's what matters."
Frazier wants to be in the same category.
"It might not be a wise career decision, but I'm not gonna be the guy that says no to a fight," he said. "And I don't care who it is. If I land my left hand, I can beat anybody."