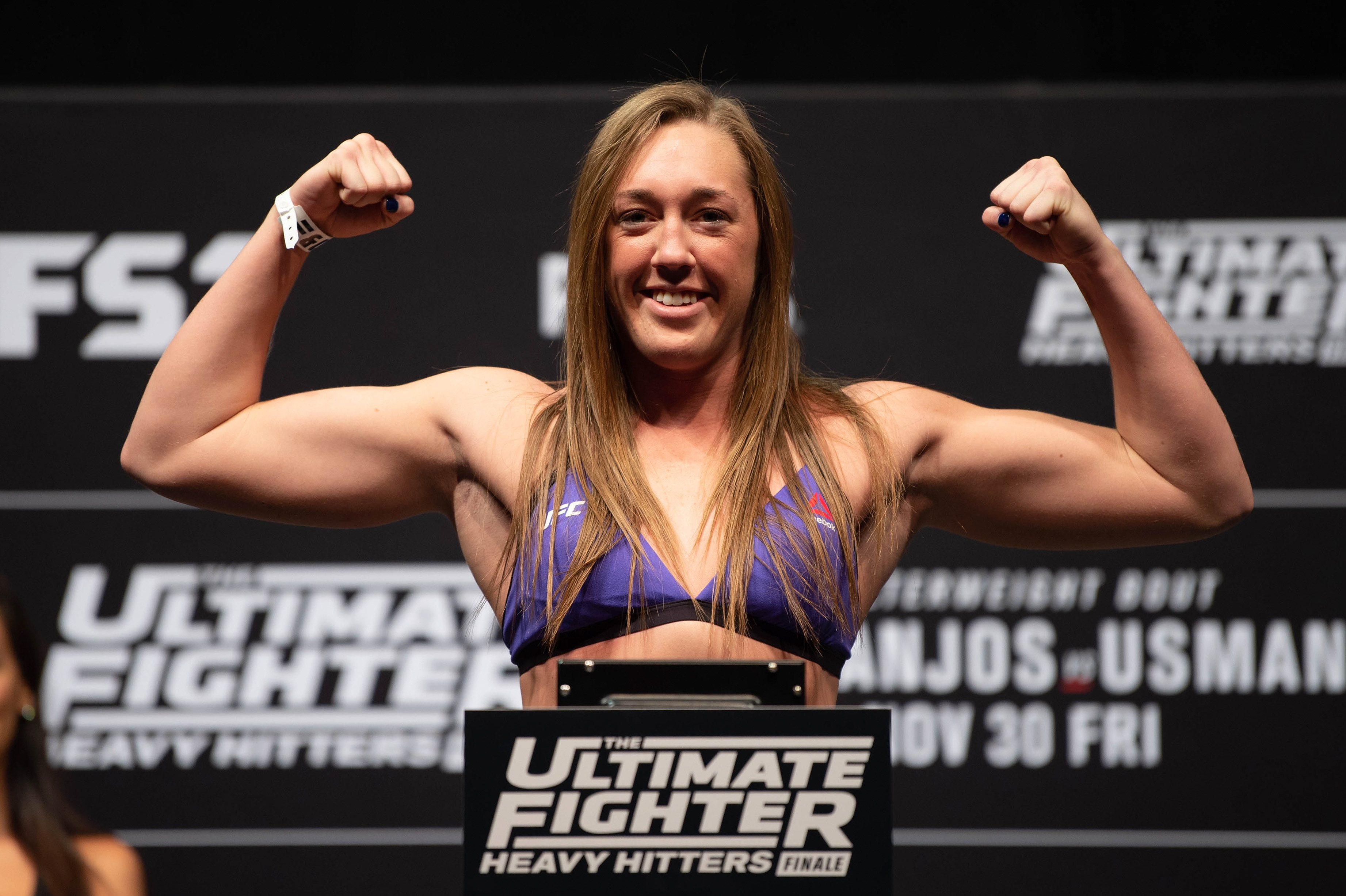 As a current member of the United States Air National Guard, Leah Letson has been through tougher situations than six weeks sequestered from the world as a member of The Ultimate Fighter 28 cast. That doesn't mean she would go through the process all over again.
"Probably not," she laughs. "It wasn't terrible and it wasn't the hardest thing I've ever done, but it wasn't easy. It was a great experience, though. It's kind of like basic training where you're glad that you did it but you wouldn't want to go through it again."
That's understandable, as Letson did actually get signed to the UFC before the show for a UFC 222 bout against Yana Kunitskaya in March before Kunitskaya was pulled from the bout to face featherweight champ Cris Cyborg. Without a fight on the table, Letson went into the TUF competition with her sights on winning the season crown, and while that didn't happen, earning a spot in the semifinals did garner her a spot on Friday's season finale card against Julija Stoliarenko.
"I've been thinking about this moment since we got home from the TUF house because I had a feeling I was gonna be called to the finale," said Letson, who did have some more pressing business to take care of when she arrived home in Milwaukee from Las Vegas after taping concluded.
"Filming the show I missed annual field training, so I made it up before I left," she said. "And as soon as I landed in Milwaukee after filming the show I had to drive up to my base."
That's the life of a soldier / fighter, but the 26-year-old wouldn't have it any other way.
"It's something that I've always wanted to do," said Letson, whose grandfathers also served in the military. "The idea of serving my country and giving back and trying to make a difference in the world is something I've always been passionate about since I was a kid, so the fact that now I'm an adult and can do that, I really enjoy it. And I look at it as a way to keep me grounded and keep me humble. It's kind of weird because when you're in the UFC and you're an MMA fighter, you have fans telling you how great you are all the time, and you want something that will keep you humble. And the fact that I have to go one weekend a month and still say 'Yes sir' and 'Yes maam,' it keeps you grounded and I like that."
And while she has already served in the Middle East, the Staff Sergeant is always one phone call away from being deployed, something which could throw a wrench into her quest for a world title. But again, it's no issue for Letson.
"If the military calls me, that's my number one priority," she said. "I signed up for that, but luckily that's never happened. I have drill weekends once a month and then two weeks a year, so I usually try to plan my fights around my drill schedule, but they've been pretty flexible so far. The Finale is on a drill weekend, but my supervisors are really cool about it and they're letting me get off that weekend and I'll make it up on another time. I've been able to balance both careers pretty well so far, so it's been very cool and I've been very fortunate to get supervisors and a commander that understand my civilian dreams."
So Letson is in Las Vegas and ready to go against her TUF 28 teammate Stoliarenko, an armbar specialist who also made it to the semifinals on the show. The way "Nidas" sees it, this fight is an opportunity to show more than she got to during her six weeks in the house, where being taken out of her MMA comfort zone wasn't the easiest adjustment.
"I didn't get the training that I'm used to and just being away from my coaches was probably the most difficult thing, especially when I was fighting," she said. "I'm used to hearing my coaches' voices and I'm very tuned into their voices specifically because we train together so much. And through no fault of their own, I didn't hear the Whittaker coaches as much in the cage as I hear my coaches because I'm not used to their voices. So it wasn't their fault; it was just something a little bit different. Plus, I always listen to music in the locker room to help me mentally prepare for my fights, and not having music was pretty challenging for me. I have pre-fight rituals and music is a huge part of that, and not having access to music or anything was a little difficult."
The music and the Pura Vida coaches are back for Friday night, and Letson is looking forward to reminding fans why the UFC wanted her on the roster in the first place after her 78-second knockout of Octagon vet Elizabeth Phillips in their 2017 Invicta FC bout. And in a women's featherweight division still in its relative infancy, a big win over Stoliarenko could put her on the fast track to big things in 2019, with a couple more victories possibly putting her in the title race by this time next year.
"To me, it's extremely exciting," said Letson. "I train so hard all the time. There are fighters that train just when they have a fight coming up and when they're in camp. Not me. I'm training a hundred percent all the time, so I'm ready. I've been preparing for a potential title shot since before I even got signed to the UFC. I've always had that mentality that I need to be ready at any time for anyone. And the fact that I'm in a small division, it could be this time next year that I'm preparing for Cyborg, and I will one hundred and ten percent be ready for it."
You can hear it in her voice that she means it. So suffice to say that this fight can't get here soon enough.
"I think about it every day, all the time," she laughs. "And I can't wait. It's gonna be super exciting. Obviously, I'm always nervous before a fight, but I am so ready for this fight. I can't wait to show off my skills and everything I've been working on."