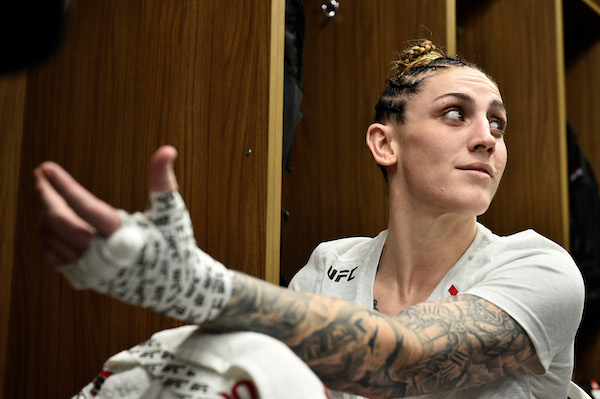 Nerves are always present for fighters. Some fighters will speak openly about how they downplay nerves, others welcome the nervous energy as a part of their prefight emotions, and some say their preparation is so thorough that they have no reason to be nervous.
Before Invicta 33 a couple of weeks ago, Megan Anderson was nervous.
Not for a fight, of course, as she is set to take on Cat Zingano at UFC 232, but because she was filling in as the in-cage reporter that night.
"I was weirdly more nervous for that than actually fighting," Anderson said. "It's so different, and I really wanted to do a good job for Shannon (Knapp) and the UFC FIGHT PASS, and the guys because I know Laura (Sanko) does an amazing job, and I tried to channel my inner-Laura Sanko because she does a phenomenal job. It's so much harder than people realize."
Anderson said the "little production things" like hearing the broadcast in her earpiece and when to step in and out of the camera's view surprised her the most, but she felt like she did a good job overall. Fighters finding their way in front of the camera isn't exactly a unique circumstance. Daniel Cormier, Dan Hardy, Dominick Cruz and Paul Felder are just a few who have lent their minds and voices to UFC broadcasts for quite a while, and Anderson feels comfortable doing that as well.
"I feel like I have an analytical mind when it comes to breaking down fighters," she said. "I feel like, particularly training with James (Krause), I feel like we both have a very good idea of how to see patterns and stuff like that with certain fighters and styles and stuff like that."
Although it was her first time in that situation, Anderson has been dipping her toe in analysis and life on camera for a while now. She and Sanko breakdown upcoming UFC cards on YouTube dubbed "The Aussie & Fancy" show, which features analysis, picks and plenty of banter between the two.
"It's so funny for me to go back and watch our first ones, to watch it now, because I feel like our chemistry, we can feed off each other so much better," Anderson said.
She added that doing the videos with Sanko allows her to build a wealth of knowledge to call back on as they continue to do the show, which benefits her skills as an analyst in the long-term picture.
In the short-term, however, Anderson is looking for her first UFC win. After winning the Invicta featherweight belt, she was slated to face Cris Cyborg at UFC 214. That fight never happened, and the Australian had to wait until UFC 225 to make her debut, a unanimous decision loss to former champion Holly Holm. Despite the loss, Anderson said she was still happy with the fight on the basis that she was just happy to get back into the Octagon.
"No one really wants to have 18 months off, so it was really good to get back into the swing of things," she said. "We want to keep the momentum going and keep fighting regularly and this time, get the win."
In her time training at Glory MMA near Kansas City, Anderson has cited the amount of growth she has experienced regularly. Considering she only started training in mixed martial arts less than six years ago, that progress has been impressive thus far. That said, the 18-month layoff and the last six months following her debut loss allowed Anderson and her team to break things down in ways they had not before.
"We've really kind of stepped outside of our comfort zone with this training camp, kind of put egos aside, all that kind of stuff," she said. "We really just grinded every single day, and there was no corners cut. There was no stone unturned, if you will, but really we just trained really hard, and we went back to basics."
One of the few true featherweights in the division and standing at 6-foot-1, Anderson's physical presence is one of the most notable things about her. As she has developed her skillset, her power and striking ability catches the eye as well. In her own words, Anderson says she is "always going to bring it." And on her development, Anderson says she wouldn't even recognize the person and fighter she was when she stepped into the cage against Holm.
With her being such a different person and fighter, looking back on her past fights might not provide a clear idea of what to expect from her at The Forum in Los Angeles. That's OK though; Anderson knows what she can do.
"I don't back away from a fight," she said. "I'm always going to bring it."
UFC: You made your debut earlier this year, and now you get to fight on this card at the end of the year after not nearly as long of a layoff. What was it like not having to wait so long to get back into a normal camp?
MA: It was really great to be able to get this fight. We were wanting to get a fight in before the end of the year just because I wasn't able to be active before my fight in June, so it was really good to be able to be active again, start fighting regularly. Everything really fell into place I guess with this card, which was great.
UFC: Cat Zingano is a UFC veteran coming up to 145. What do you see in her as an opponent and where might you have some advantages?
MA: She's very tough. Cat is a very tough and durable fighter. I think watching her fights, she has a lot of tenacity and her will to win is strong, and she always comes to fight. I think being the shorter fighter in this, obviously she's going to try and close that range, and being the taller fighter, I'm going to try to keep the range. I really feel like, standup-wise, she doesn't have the skills that I do, and a lot of her movement is very unorthodox and doesn't really make a lot of sense sometimes, and she kind of tends to fight very emotionally, and sometimes that doesn't always necessarily work to her benefit. That's where it's going to be an advantage to us because she does get emotional, and I have a really good ability to switch that s*** off.
UFC: You said in this camp that you "left no stone unturned," so what exactly does that mean?
MA: We covered everything. If you ask my coaches, the fighter that I am today is significantly different to the person that was walking into the cage six months ago, and I think having that 18-month layoff, we changed a lot. We developed a lot, but that's the beauty of fighting. You're able to see places you do well in, and what you don't do well in, and where you need to work on, and we really kind of took that approach and just knuckled down on the things we needed to work on.
UFC: Should everything go well for you on Saturday, what does that fight look like?
MA: The perfect scenario would be a big finish, but we're really ready for anything. I am physically, I'm the best I've ever been. Skill-wise, I'm the best I've ever been, so we're just really wanting to showcase our skills and what we're capable of and really just make a statement.
UFC: Going into 2019, what's your plans?
MA: I like to fight at least three times a year. That would be nice. It would be nice for them to sign some more featherweights, so it hasn't really been too much positive of them signing considering that the TUF winner is just booked to fight at bantamweight, so that's a little bit of an interesting situation. I just really hope that I guess I still have a job next year.
Zac Pacleb is a writer and reporter for UFC.com. You can follow him on Twitter @ZacPacleb