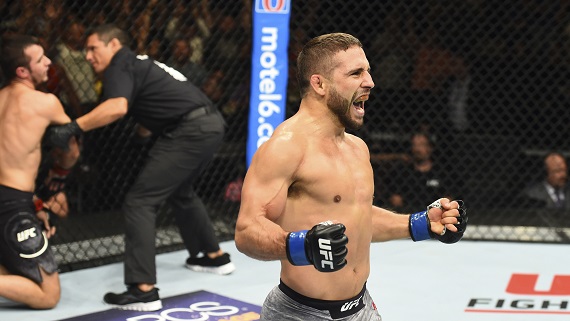 Like the rest of the MMA world, Chad Mendes was captivated by UFC 231 main event between
Max Holloway
and
Brian Ortega
, but not just because it was one of the best fights of 2018. For Mendes, he was watching potential opponents throw down in Toronto, and it only got him more amped up to deliver his own memorable performance against
Alexander Volkanovski
in Los Angeles on Saturday night.
"Watching that fight (Holloway-Ortega) is definitely something that's motivating for everybody in the division and me especially," he said. "I'm excited to get in there and I've got to get this win under my belt and hopefully be fighting somebody either right up there at the top or who knows, maybe it puts me back in line for a title shot."
It's a conversation Mendes wasn't involved in from June 2016 to June 2018, when he was sidelined due to a USADA suspension. But when the Californian returned in July, a Performance of the Night knockout of Myles Jury that took less than three minutes announced to the world that "Money" was still one of the best featherweights in the world. It was an answer to all those who had questions thanks to the two-year layoff. But Mendes had no doubts as soon as he started training camp.
"I think before I started my training camp, that's something I was thinking about a bit," he said. "But I honestly felt like taking that time off was so good for me. Just being able to mentally recharge, I was so excited to just jump back in camp and get in tip-top shape and be able to monitor improvements from being out of shape to fight-ready shape. Before, going from fight to fight to fight, you don't really notice big differences. But going from not fighting for two years to getting in fight shape, it was awesome for me to feel all those improvements and see my body changing.
"I felt like my head had rested, I felt like all the bumps and bruises that I had been pushing through over the last few years were able to heal up, I felt fresh and I just felt good getting in there and competing again," Mendes continued. "It was fun for me."
Even more fun was dispatching a world-class foe in the first round. So no, Mendes isn't one of those fighters who feel cheated by not getting a longer fight to display his skills.
"I would rather kill myself in an eight-to-ten week training camp and go through absolute hell to make every single fight end like that," laughed Mendes, who also saw his great night in Boise bolstered by fans who were genuinely happy to see him back and at his best.
"It's absolutely amazing," said the 33-year-old. "We kill ourselves daily in the gym to get out there to compete and perform and put on a good show – not only for the fans, but to prove that this is what we're meant to do. And when you get out there and you have a great performance and you have all those people there supporting you, going out in Boise was such an amazing experience for me. I had so many friends and family and a ton of fans there, and having that after being out for as long as I was, that's something that makes the pain and all the blood, sweat and tears worth it. It was awesome, I love it."
It can all make a contender and former world title challenger a little antsy for another crack at the crown. But Mendes believes his life hunting and fishing has taught him patience, and so it will be Volkanovski in Los Angeles, and then he'll think about everything else.
"The task at hand right now is Volkanovski," he said. "I know this is a valid test. This guy is tough and I've got to focus on that, stick to our game plan, and once we get the win there, then we can start focusing on the other stuff."