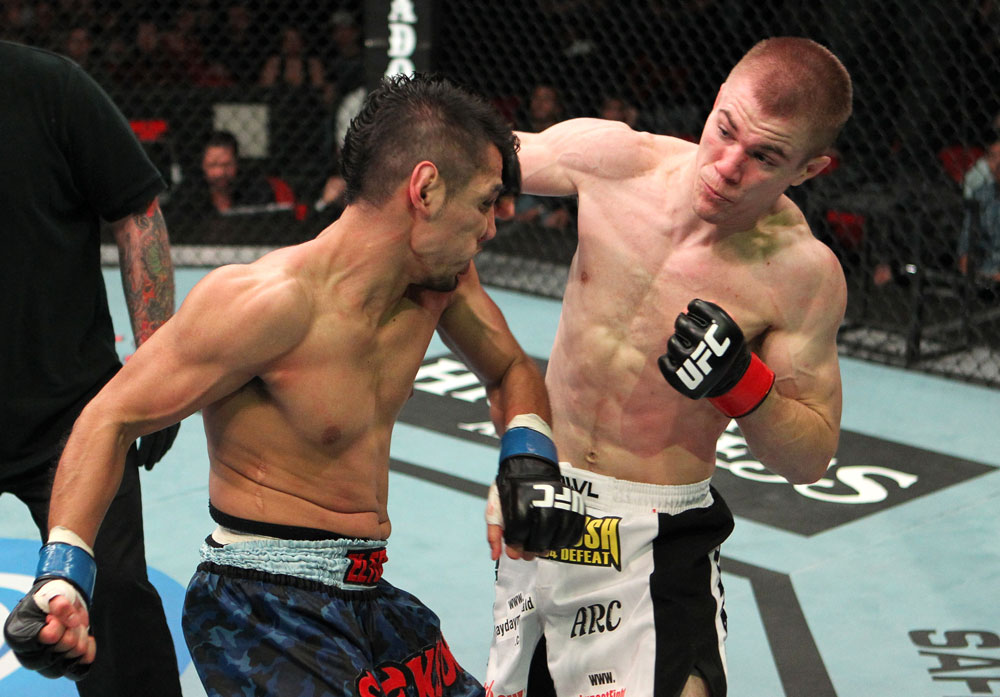 Michael McDonald
has been looking forward to fighting Miguel Torres for a couple of years now.
The 21-year-old bantamweight prospect, viewed by many as a future champion and one of the most talented young fighters in the sport today, recalls watching Torres during his ascent to the top of the 135-pound division in the WEC; the days when Torres was a champion, a fixture on pound-for-pound lists, and in the midst of an impressive winning streak.
Most young fighters look at a champion on the television and hope to one day emulate what they see. Let it be said that Michael McDonald isn't "most young fighters."
"I watched Miguel Torres when he fought Chase Beebe when he first burst onto the scene, and he won the title. I remember when he fought him, and when he fought
Manny Tapia
— when he was the best in the world in peoples' eyes — I remember watching him at that time and saying, `I think I can beat him.' I didn't say, `In two years I think I can beat him.' I said, `Right now, me being me, not compromising a single thing for his style — just me being me — I think I can beat him right now.'"
McDonald will get the chance to look across 32 feet of canvas at Torres Saturday night when the two 135-pound standouts go toe-to-toe to kick off the
UFC
145 pay-per-view broadcast.
"I've just wanted to fight this guy for such a long time. When he fought Manny Tapia, I made the decision that I wanted to fight both of them. I've fought Manny already; I got that one out of the way. Now this is my chance at the second notch."
McDonald dispatched Tapia on his way to becoming the youngest fighter in the WEC at the time, handing the former title contender a first round loss in February 2010. A little more than two years later, he's poised to complete the double, and take the next step towards becoming a challenger for the bantamweight title.
To the majority of observers, each of McDonald's trio of wins inside the Octagon has been impressive. He won Fight of the Night honors in his UFC debut against
Edwin Figueroa
, and then took a split decision from the durable
Chris Cariaso
at
UFC 130
last May. Back in November, McDonald delivered his most dynamic performance to date, stopping
Alex Soto
in just 56 seconds at UFC 139 in San Jose.
While fans and critics praise his performances, the ultra-competitive Modesto, California native has very different feelings about his first three appearances on the biggest stage in the sport.
"I'm not happy with my progression so far, and what I've shown people in the UFC about my skills," McDonald says, the disappointment in his voice clinging to his words.
"Those are the only two decisions that I've been to in my life," he says of the fights with Figueroa and Cariaso, "and I don't think that it's just because the competition is getting better. I really think that if I'm on my game, I can finish just about anyone on the planet in the first round. If I'm on my game.
"Someone might say I'm cocky, overconfident, whatever — who cares? That's what I think about myself, and I'm going to get the chance to prove it to myself whether I can or not, so we'll see. I want to be able to prove it to myself, but I'm not happy with how I've done so far. I'm happy that I've made some money. I'm happy that I've gotten to invest that money in some good things. I'm happy that I'm winning, but I'm not happy overall with my performance."
That might sound like a fighter being overly self-critical, perhaps even put-on to some people, but it's the sincere assessment of an athlete who gauges his performance not by the applause he receives from the audience or the praise he gets in print.
"I've always been a competition addict — anything that I could compete in, I would — and the reason why I fell in love with fighting was that I was good at it, and it was the most pure form of competition that I had found.
"Competition for me, and the fighting thing, it's all just what I feel I can do. I'm competitive with myself," explains McDonald, who speaks in a reflective, thoughtful cadence more customary of someone twice his age.
"I'll have a problem or feel like something is troubling me from training that needs to be fixed, and someone will come to me and say, `Your opponent's doing this. Look how much he's training. He's going to beat you up if you're not training. Who cares about this little problem? Go do this!' and that will piss me off because I don't care what they're doing.
"I don't care what they're like, what their fighting style is, or who it is — I have a problem right now, and I need help with that problem. It's not about what they're doing, it's about what I'm doing, and I'm going to do the best that I can do no matter what they're doing.
"If I can do better, than I should do better," McDonald continues, his conviction radiating through the phone. "I don't need to look at someone else, and see how good they're doing or how lazy I am just to motivate me to do better. If I can do better, than I'm going to do better, and do the best I possibly can.
"I feel like when I don't compare myself to other people, but just say that I'm going to do the best that I can, that's when I work harder. Not when I look at my opponent and say, `He's not working at all; I'm so far ahead of him.' It's just whatever I can do. It is strictly my competition with myself, and proving to myself that I can do what I think I can."
That's what frustrates him about the fights with Figueroa and Cariaso. Despite coming away from both outings victorious, McDonald knows he made mistakes in each contest, and as such, feels little satisfaction from the scorecards ending up in his favor.
"It's not about what other people think: it's about what I think about myself, and how I know I did. It's not about whether I won or not; it's about could I have done better. When I look at the Edwin Figueroa fight or the Chris Cariaso fight, I don't talk about the problems in those fights, but there were an incredible amount of problems, and I could have done much better."
McDonald was happy with his performance against Alex Soto, however, but not for the reasons you might think.
"My last fight was the first kind of glimpse of me feeling good. I felt great for that fight, and every time he came in, I touched him. That's what I like to do. It wasn't just that one punch that I hit either — every time he came in, I hit him, and didn't get hit, and that's what I like to do. That makes me happy, not the win or the knockout."
When the UFC flyweight division was introduced, the bantamweight ranks lost two of its elite contenders,
Demetrious Johnson
and
Joseph Benavidez
. With champion
Dominick Cruz
having already dispatched the majority of the remaining contenders, a victory over Torres could put McDonald in line for a shot at the bantamweight title against the winner of the Cruz-Faber trilogy fight that goes down later this summer.
Just like Tapia and Torres were, both Faber and Cruz are on McDonald's list of competitors he'd like to challenge himself against.
"It's not that I don't like the guys or anything like that — I want to fight them because I think that they're great, but I still think that I'm better," he says, clarifying the competitive motivation that drives him. "I still think that I can beat them, even though they are great; that's why I want to fight them.
"I want to fight a lot of good people. I want to fight Urijah (Faber). I wanted to fight Joseph Benavidez. I want to fight (Dominick) Cruz. I want to fight
Eddie Wineland
. I want to fight
Renan Barao
. There are a lot of people that I want to fight just for that simple reason that I think that I can beat them."
McDonald is cognizant that his career is only in its infancy, and that he has the luxury of being patient, rather than having to chase the biggest names at every turn. At the same time, the competitive side of him is itching to prove that despite being the most junior man in the bantamweight division, he just might be the best of the bunch as well.
"I don't want to be stupid because I do realize that I am 21-years old, and if everything goes perfectly, I've got another 15 years in this sport. That's almost as long as I've been alive. I have a long way to go, and there's still so much that I have to learn.
"I'm not going to run forward and say, `I want to fight all the time, and give me the best fighters ever.' I'm not going to sandbag and say, `Give me the easiest opponent' either. I'm ready for anyone that they throw at me.
"I'm real about knowing that I'm 21 — I'm young, and I've got a long way to go until I'm the best that I can be, but I feel that right now, I am able to compete with the top fighters in the world at 21-years old."
Even if the day comes that McDonald rests atop the bantamweight rankings, he still won't be done competing with himself, and that what makes it all the more likely that he'll get there, sooner rather than later.
"The competition with everyone else is secondary," McDonald reiterates. "It's not about saying, `I've got a long way to go until I'm the best in the world,' it's `I've got a long way to go until I'm the best that I can be.'"