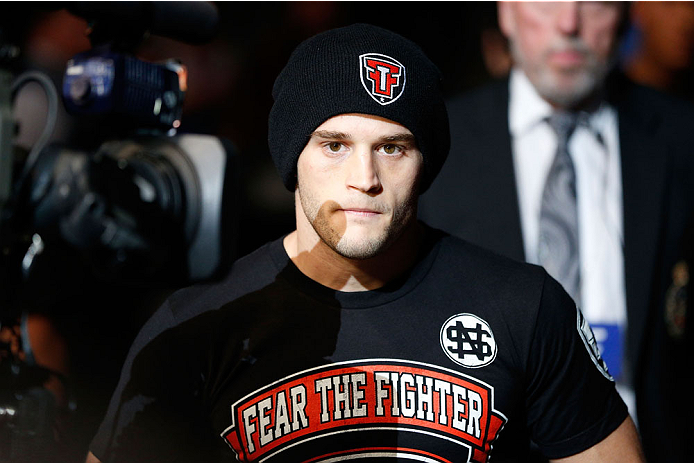 After dispatching
Roman Salazar
in a little over two minutes on October 4,
Mitch Gagnon
had four consecutive wins and said goodbye to the injury woes that kept him from building any momentum in the competitive bantamweight division.
Not surprisingly, the Ontario native saw bright days ahead and some big things coming, like a top 15 ranking. Yet while he got that ranking he deserved, he didn't expect that he would be getting another ranked opponent before the end of the year – one on the pound-for-pound list.
"It definitely surprised me, for a couple reasons," Gagnon said of the call for him to face former UFC bantamweight champion
Renan Barao
this Saturday in Barueri, Brazil. "I just got officially ranked as the 14th guy in the world, and I didn't think that I would be facing the number one guy anytime soon. I thought Barao was dealing with some issues. He just came back from a bad weight cut, he went to the hospital, and I thought he was going to take some time to refocus, but I guess he's good to go and I'm super excited. I couldn't ask for a better fight."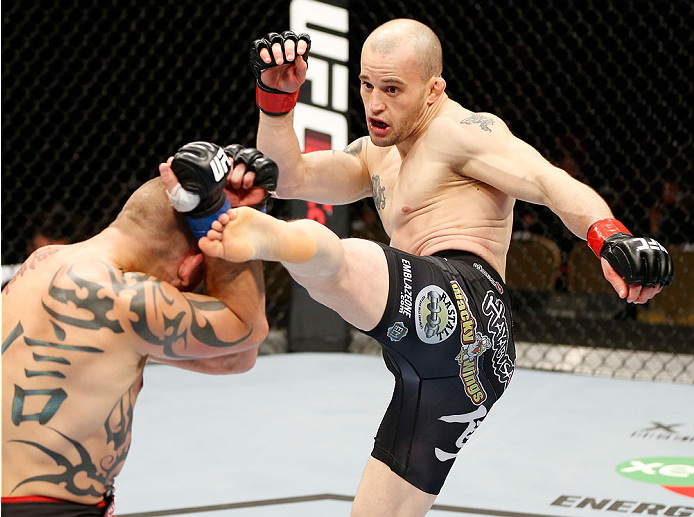 Gagnon's confidence is evident, but not in a loud and obnoxious sort of way. He knows what he brings to the Octagon skillwise, he's determined, and he is more than willing to take the biggest opportunity of his pro career and run with it. But maybe the most important thing the 30-year-old has is common sense. Barao is one of the best in the world, a proven winner who is hungry to win again after losing his title to
T.J. Dillashaw
in May and then falling ill during the weight cut for the August rematch and being scratched from the bout.
"I'm not delusional," Gagnon said. "You can't fight a tougher opponent than Barao. He's top of the food chain. So I know it's going to be a hard-fought fight, but I really believe in myself that I can pull it off."
Belief is good. Determination is good too. But you have to have the skills to back it up, and if anyone has proven that he's ready for a fight like this, it's Gagnon, a member of the UFC roster since 2012, Gagnon has won all but one of his five fights in the Octagon, with three submissions, one Submission of the Night bonus, and a Fight of the Night award in his lone loss to
Bryan Caraway
. That's a quality resume, but there are fighters who have gotten more attention from fans and the media with less of a track record than he has. He's not one to hold grudges though, mainly because he understands why that's been the case.
"The last couple years of my career, I had injuries, I had to pull out of fights, and I wasn't consistent, so if you're not a consistent fighter over the years – if you take six or eight months off – you're going to be under the radar," he said. "You have to be active, you have to fight every three to four months and I haven't been able to do that until the last year. But finally, I've been putting everything together, I'm doing the right things, I'm not getting injured, and I feel like I can do this for the next couple years and not be under the radar."

He beats Barao and those under the radar days will be gone forever. And he believes he can do it.

"Barao likes to dictate the fight," Gagnon said. "He does well in fighting his fight and I just can't get into that. I've got to fight my fight, and do what I've been drilling and going over in camp. I'm putting a lot of work in, I've studied him, my coaches have studied him and I feel confident I'm gonna come out on top."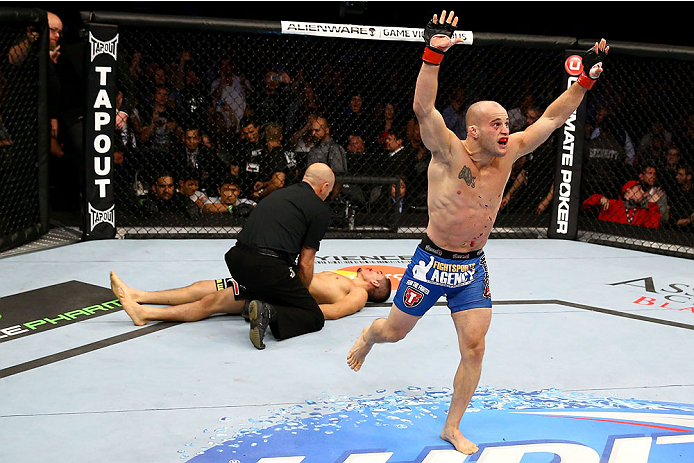 Even in Barao's backyard in Brazil?
"I really don't focus on that," Gagnon said of the reaction he's likely to get from the fans on Saturday night. "It's to be expected. I'm fighting someone who's probably their Wayne Gretzky. The sport is very, very popular there, so I'm expecting the boos and stuff like that, and I'm comfortable with it. It comes with the territory. I'm not always going to be the hometown favorite, and you just gotta adapt to that. I think that's all mental, and one of my biggest assets is my mental game and I don't think it's gonna bother me at all."
Gagnon sounds like a young man who's got it all together more than any fighter on the verge of the biggest fight of his life has any right to. He should have nerves, he should be worrying, he should be anything but what he is right now. And it may be that poker face that helps lead him to a win that may be an upset to the world, but not to him.
> Check out the full UFC Fight Night Barueri fight card
"It (the fight) came as a surprise to me, but I'm embracing it and I'm putting the work in," he said. "I think it's my time and I feel like everything is aligning perfectly for me. I think I'm going to be too much on December 20th."