There are a few distinct traits to a Nate Diaz fight.
The most obvious of course are the mean mugs, scowls and taunts he launches in the direction of his opposition before the Stockton native backs up his posturing with the other Diaz staples that include an all-out boxing assault and a ground game that has forced some of the current era's best lightweight fighters to tap out.
If you are the man standing across the Octagon from the younger half of the fighting Diaz brothers and winner of season 5 of The Ultimate Fighter, it's an accepted reality that he will be in your face from pillar to post. You know this because 20 fights in just north of eight years competing on the biggest stage in mixed martial arts has shown that the rangy 30-year-old lightweight simply does not back down. Fighting is in his blood, and make no mistake about it - it's a fight when Diaz is in the cage.

More on Fight Night Orlando: Fight card | Jury determined to walk own path | Samman right at home after battling grief | AKA helps Edwards fight right mix for success | Usman's golden dream | Watch: Road to the Octagon – Dos Anjos vs. Cerrone | Watch: Road to the Octagon – Dos Santos vs. Overeem | Watch: Road to the Octagon – Johnson vs. Diaz

Where the majority of competitors across the UFC roster give some credence to combat inside the Octagon as sport and leave the street mentality behind, Diaz isn't a member of that collective. When his opposition signs on the dotted line it becomes a personal grudge from Diaz's perspective, and the popular 155-pound former title challenger has been outspoken in the past about his lack of interest in becoming "friends" with any of the other fighters in his weight class.
Nevertheless, the widely recognized perception of who Diaz is in the MMA world isn't necessarily one he agrees with. Diaz believes there is more to the projected bad boy image he and his brother share, and he is firm on his stance that things get twisted up anytime there is a fight involved.
"I think I'm big time misunderstood," Diaz said. "People see me fighting and are seeing me at war, and that's how I'm looked at. I'm usually pretty good about having a sense of humor and joking around with everyone, but when fight time comes I'm cutting weight, I'm over-trained and over-worked, and then you have to go to sleep like that, knowing there is some guy across the United States training to knock me out in front of everyone I know. I'm over here like, 'F**k you!' and then people are like, 'That guy is an a**hole.' Step into my shoes for a second."
While that approach may seem a bit dated as MMA as a sport moves ever closer to mainstream status, Diaz is willing to hold his ground and represent the old school mentality of those who came before him. That bristled edge that has become Diaz's signature over his time in the UFC will certainly be on display when he makes his long-awaited return to action this Saturday night at UFC on FOX: Dos Anjos vs. Cerrone in Orlando.
It's been a year since Diaz was defeated by the man who would go on to become the lightweight champion in "RDA," and the Skrap Pack representative is coming back with something to prove. Although his performance was uninspired against dos Anjos last December, Diaz is certain he can beat anyone in the division on any given night no matter what outcomes the past has delivered
And while he's quick to admit his head may have not been in the right place in recent years due to the wear and tear more than a decade in the rigorous fight game can put on an individual, he'll be returning to form when the punches start flying in Florida.
"My last fight was against Rafael dos Anjos and I lost on a decision," Diaz explained. "I think I can beat that guy and I can't just sit back and watch these guys fighting in front of me. I think I'm better than all of these guys, so I figured it was time to get the ball rolling if I'm going to get the ball rolling again."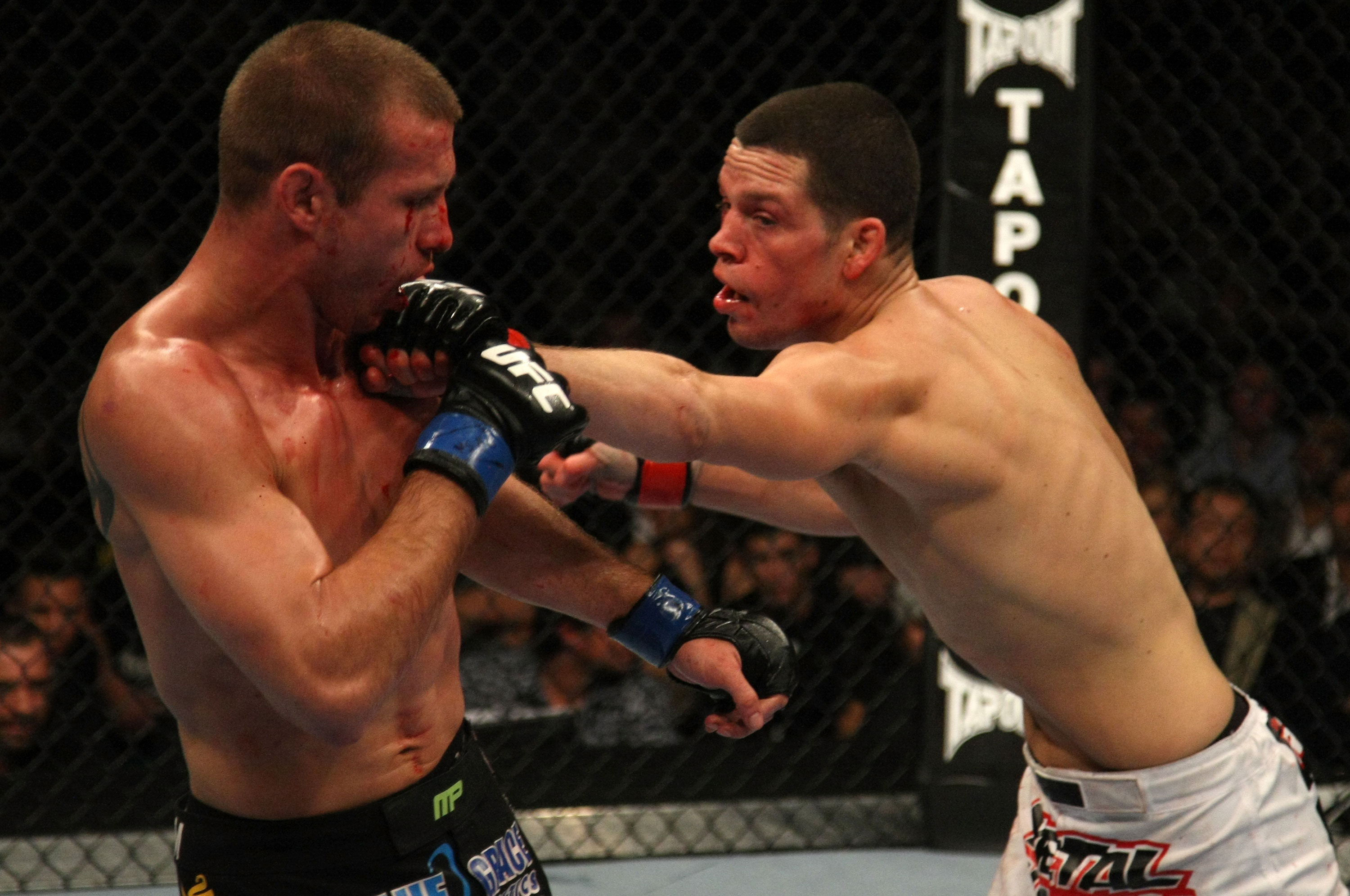 The perennial contender has been a fixture in the elite tier of a stacked lightweight division since returning to 155 back in 2011, and he has zero interest in passing the proverbial torch, which is exactly what his opponent Michael Johnson is interested in when the two collide this weekend in Orlando: receiving that torch. "The Menace" has won all but one of his past five showings in a run that has taken him to the doorstep of breaking through to the next level of the deeply talented collective, and he has done so by expanding an already solid wrestling game to include lightning quick hands that accentuate a striking assault that is growing more versatile with every fight.
And while Diaz has come up short in three of his last four appearances, he isn't buying into the hype that has started to build around Johnson. He's spent years derailing prospects and would-be title hopefuls alike, and it's all the same where he's concerned. Diaz didn't make the trip to Orlando to mess around and leave anything on the table, and he plans to prove to Johnson that the former TUF finalist has bitten off more than he can chew when the action gets underway in Orlando.
"I believe I'm the best fighter in the world, but I like to fight guys who are going to fight me back, and that's what I like about Michael Johnson," Diaz said. "He hits hard and throws good punches. I've been stagnant for the past three years and that's when he's made his move. It's time for me to get working and I'm coming to fight."