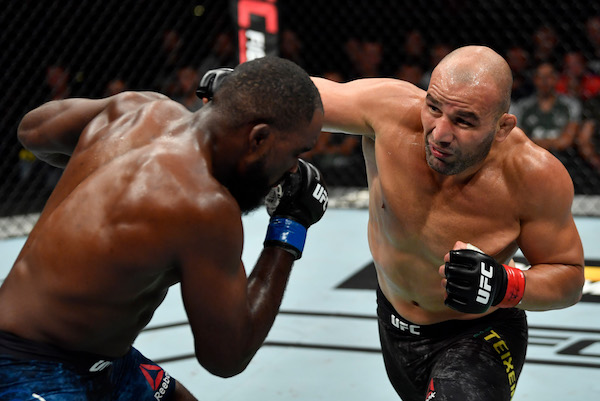 It's the age many dread, especially if that person is a professional prizefighter, but Glover Teixeira isn't blinking as the big 4-0 approaches this October.
"Yeah man, I'm ready for 40," he laughs. "I feel good. Training and the gym is going great and you just gotta be glad that we're healthy and we're alive. You just gotta keep doing what you love."
The Brazilian light heavyweight contender means it. One of the most honest fighters – in and out of the Octagon – that you will ever run into, Teixeira is looking forward to his 2019 campaign, one that begins this Saturday with a bout against Karl Roberson, and he isn't looking any further than this year when discussing his fighting future. But if he's still feeling the way he does now, it could just keep going and going. And that's not a bad thing.
"I'm hungry to fight," he said. "I'm going on 40 and I want to make the best of this year. I love the sport so much, but it depends on the body and how we're doing in the fights, and how we're doing with conditioning and injuries. I want to do the best that I can this year, and I don't even know if I'm fighting next year. It depends on what comes this year. I'm hungry, I'm excited and I'm very happy with everything that's going on. I think when you're happy and positive, it makes you do things better."
Teixeira has always been a glass half-full guy, even when those around him found it hard to stay optimistic. It wasn't too long ago that Teixeira was on the outside looking in when it came to the UFC due to visa issues. Everyone who saw him knew that he was one of the best 205-pounders on the planet, but he wasn't getting the chance to prove it. He admits that there were some difficult moments back then, but he still tried to put a positive spin on everything going on.
"You never know what's gonna happen in your life," he said. "There was a point, of course, that you get down, but I'm a very positive guy. There was a time where I said, 'Am I ever gonna fight in the UFC and reach my goal and get my dream to fight on the biggest stage?' At the same time, I said I've got to keep grinding and keep positive and keep doing my work and good things will happen. And I did it."
In 2012, he got his shot in the UFC, and he's been among the best in the sport ever since. Along the way, he's fought the likes of Jon Jones, "Rampage" Jackson, Ryan Bader, Phil Davis, Rashad Evans, Anthony Johnson and Alexander Gustafsson, and while he's won some and lost some, he has no regrets.
"I had the chance to fight with Jon Jones," said Teixeira, describing the light heavyweight champ as one of the best to put on the gloves. "I didn't get the victory, but I had my chance."
No bitterness. No what ifs. No calls for what might have been. It's why Teixeira is one of the most respected fighters in the sport. And that's the key. He's still a fighter, and one with an experience edge on practically everyone in his division. It's something Roberson – who is replacing the injured Ion Cutelaba – will find out soon enough.
"Experience is good," he agrees. "I've seen everything and I fight the best in the world. I fought Jones, Gustafsson, Rashad, all those guys. I'm gonna go in and show him what the real deal is."
And despite a 2-3 record in his last five, Teixeira isn't changing what got him to the show in the first place.
"I want to finish this fight," he said. "Either knockout or submission, but I'm going for the finish."
That's Saturday night. As for the big finish to his career, that's not on the cards right now.
"I'm 39 years old, I want to focus on my gym, I want to focus on fighting this year and do great things this year and keep living day by day," he said. "I don't need to fight for the money. I fight for the love. That's inside of me. Come 40, whatever comes after that, it's all fun."