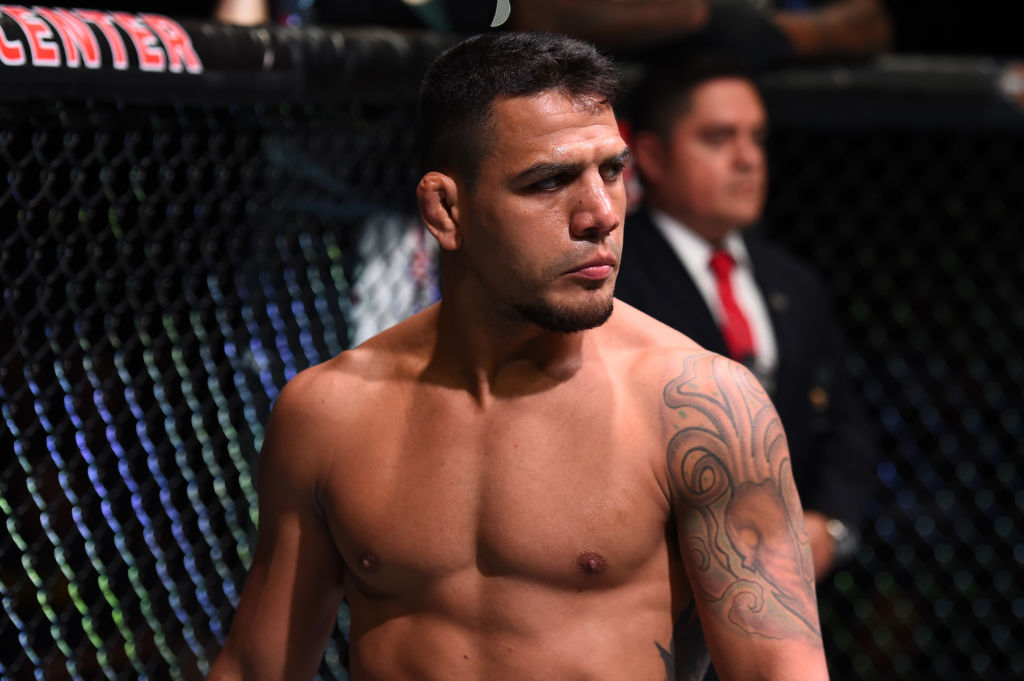 When fighters get ready to step into the cage and test their skills against another competitor, there are myriad variables and factors and scenarios they must prepare for and be equipped to face.
But feeling like your ear could detach from the side of your head at any moment isn't one of those situations, so when it happened to Rafael Dos Anjos just seconds into his interim welterweight title fight with Colby Covington at UFC 225, you can understand why the Brazilian veteran was thrown for a loop.
"I had that cut right before the Robbie Lawler fight, but it wasn't that big — it was two stitches," explained Dos Anjos, who dominated the former welterweight champion last December in Winnipeg, Manitoba. "It opened up (in that fight) as well, but that was more of a striking fight where we stood up the whole fight.
"Two weeks before the Colby fight, (it opened again) and it was three stitches and within 20 seconds of the fight starting, it was open again."
Concern over his ear cracked Dos Anjos' focus and Covington's constant forward pressure and relentless pursuit of the takedown prevented the former lightweight champion from being able to initiate much offense. Instead, he was repeatedly taken down and driven into the fence, stuck playing defense in a fight that slipped further and further out of reach with each passing minute.
"He was trying to wrestle me all the time, grapple me all the time and in that situation, I was trying to avoid that game," admitted Dos Anjos, who returns to the Octagon tonight against Kamaru Usman in the main event of The Ultimate Fighter 28 Finale in Las Vegas. "I was frustrated with that game — I wanted him to stand with me a little bit, to strike with me a little bit, but he just wanted to grab me.
"He did a great job," he added. "He's a great fighter, he did his game, but I know I have what it takes to beat him. Next time."
After arriving in Chicago on a three-fight winning streak and with the opportunity to grab a golden ticket for a future title shot, Dos Anjos exited UFC 225 needing to regroup, but it's a position the veteran has been in before.
The entirety of Dos Anjos' 25-fight UFC career has been about making the necessary adjustments required to get better and bring himself closer to capturing UFC gold.
He lost each of his first two fights under the UFC banner and went 4-4 in his first eight trips into the Octagon. The inconsistency and inability to beat some of the more established, accomplished opponents he'd faced led many to peg Dos Anjos as a middle-tier talent in the loaded lightweight division.
But then he rattled off eight wins in nine starts, the only setback coming against current lightweight titleholder Khabib Nurmagomedov, earning a shot at reigning champ Anthony Pettis at UFC 185 in the process. He stole the show against "Showtime" and followed it up with a 96-second win over Donald Cerrone in his first title defense.
When he dropped back-to-back fights to Eddie Alvarez and Tony Ferguson, Dos Anjos opted to stop making the torturous cut to the lightweight limit and relocated to welterweight, where he quickly disproved whispers of his decline by collecting a three wins in seven months to establish himself as a legitimate title threat in his new surroundings.
"I'm a very competitive guy — I don't like to lose — and every time I lose, I go back home and work twice as hard," said Dos Anjos, who carries a 28-10 record into his headlining clash with Usman on Friday. "I did a lot of sparring for this fight. I had a great camp. Everything went well and I made sure I got my strength and conditioning in. I got my ear fixed as well. Everything went smooth.
"My main focus is to win the belt. I'm not in the UFC just to be a UFC fighter and make a living — I have my dreams and I want to be a champion again one day. I got close to the interim belt and the good thing about the interim belt is that you know for sure you're fighting for the (real) belt next.
"That is the goal for me and my time will come. Everything happens for a reason and things happen in the right time of my life. I'm just waiting on God. I know my life is in his hands and I'm waiting for my time."
Just as he wanted to prove his critics wrong after arriving in the welterweight division on a two-fight slide, Dos Anjos now wants to show that his performance against Covington wasn't indicative of some kind of struggle against wrestlers, and when surveying the landscape in the 170-pound ranks, there was only one man he wanted to fight next — Usman.
"Looking at the rankings, I didn't see another guy other than Usman to put me back into the title picture," he said. "I want to prove to myself and to everyone that I can fight a wrestler. With Colby, I took him down and it wasn't a fight where he took me down and pounded me the whole time; I stood right back up.
"I want to fight a guy who is going to put me right back into the title picture," he added. "I think Usman, after being the back-up guy for the last title fight, he's the right guy to put me right back in the title picture."
Besting the Nigerian-born contender is no easy feat, as Usman has gone a perfect 8-0 to start his UFC tenure and has won 12 consecutive starts overall heading into his second straight main event assignment.
But Dos Anjos believes he is up to the task and is chomping at the bit to prove it.
"I just have to be me — be first, do my thing, do what I've been training," he said when asked what it will take to halt Usman's unbeaten run in the Octagon. "Don't be worried about his takedowns.
"I know he has great takedowns, but I've got jiu-jitsu as well and I know I have a full arsenal for this fight. I have everything — good striking, good takedown defense, good jiu-jitsu — and I think I'm a more complete fighter and I will show that on Friday night."