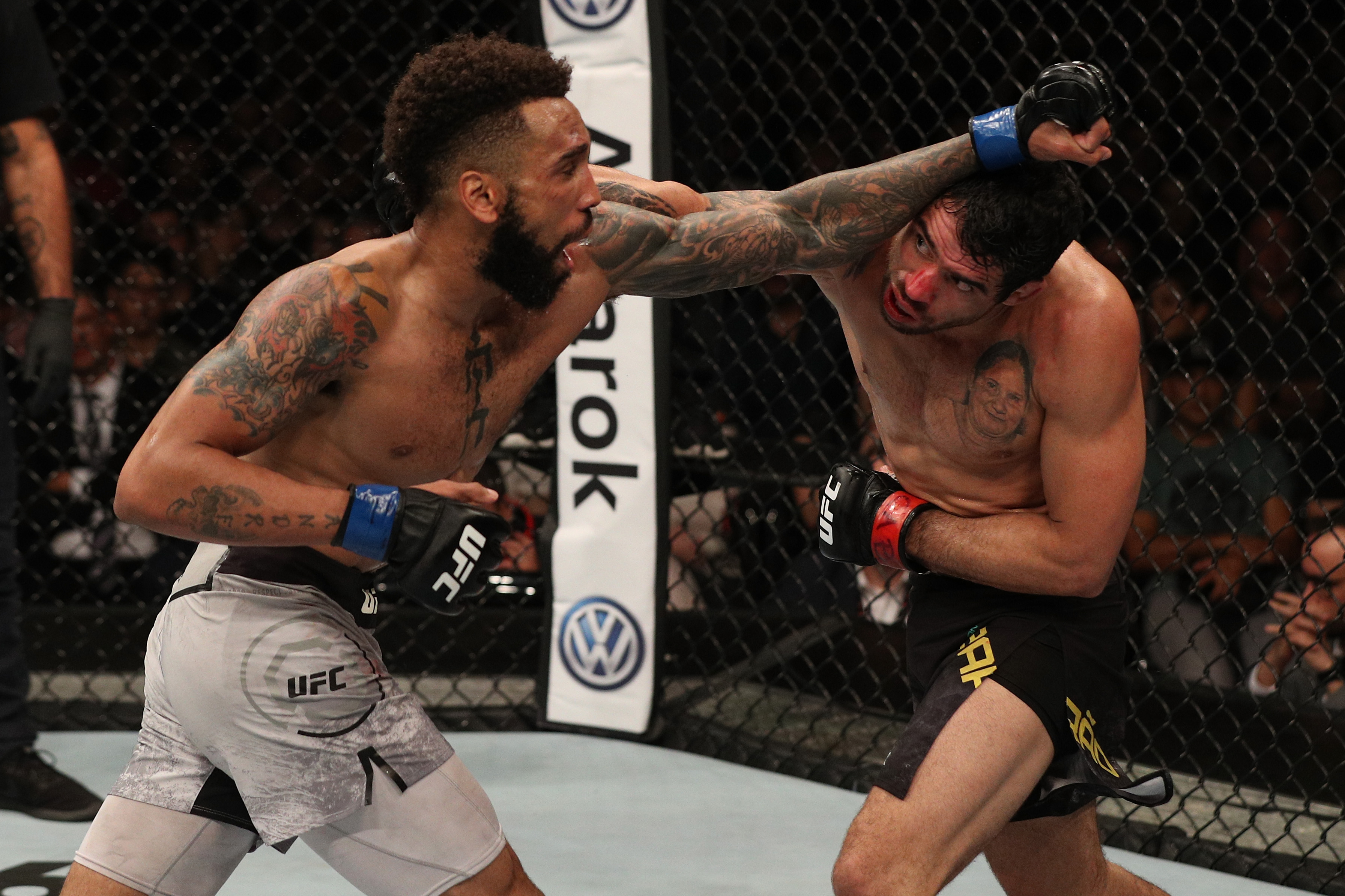 "Once more unto the breach, dear friends; once more."
While we're not attacking cities like Henry V, we are rolling out one final edition of On the Rise for the year as the UFC wraps up its 2018 campaign with a pay-per-view fight card this Saturday.
This year has seen countless newcomers venture into the Octagon and make an instant impression, many of whom have been profiled in this space during the year's first 38 events.
Although not every prospect finds immediate success, several, including
Israel Adesanya
,
Dominick Reyes
and
Aspen Ladd
, have gone from neophytes to noteworthy contenders in their respective divisions over the last 12 months, while others have cemented their place on the UFC roster and will look to build on their initial experiences under the bright lights in 2019 and beyond.
The collection of emerging talents competing this weekend at UFC 232 is amongst the strongest of the year — a triumvirate of fighters with championship upside who are just starting to take their first steps on the biggest stage in the sport.
None of them may experience the same kind of meteoric rise that carried Adesanya from UFC newcomer in February to middleweight contender with a bout against the legendary
Anderson Silva
on deck before the end of the year, but they all have the potential to be factors in their respective weight classes down the line.
So check them out on Saturday and remember their names.
Montel Jackson
The 26-year-old Jackson earned a third-round stoppage win over
Rico Disciullo
in the second bout of the second season of Dana White's Tuesday Night Contender Series this summer. While he failed to secure a contract, his performance resonated with the UFC brass and the unbeaten bantamweight found himself making his promotional debut less than two months later.
Stepping in for
Benito Lopez
, Jackson landed on the wrong side of a unanimous decision verdict against
Ricky Simon
at UFC 227, as the Pacific Northwest standout with twice as much experience was able to grind out a good win over the newcomer.
But where most people will focus on the setback and question whether Jackson was ready to compete at the highest level, the bigger takeaway is that not even 14 months after making his professional debut, "Quik" was fighting in the UFC cage and holding his own against a highly regarded upstart with more than twice as many fights under his belt.
Jackson jumped on another short notice opportunity heading into UFC 230, signing on to replace
Domingo Pilarte
opposite
Brian Kelleher
, but "Boom" couldn't make it to fight night due to health reasons and the bout was rescheduled for this weekend. It's another tough test for the Pura Vida BJJ/MMA product, but a tremendous opportunity as well, as Kelleher has nearly 30 fights under his belt and has spent the last 18 months amassing a 3-2 record inside the UFC cage.
While still in the formative stages of his career, Jackson improved by leaps and bounds during his time as an amateur and into the initial stages of his professional career.
If that pattern continues and he's made further strides in his development now that he's got his Octagon debut out of the way and more than a full camp to prepare for Kelleher in the rear view mirror, the Milwaukee-based bantamweight has the potential to close out the year by collecting the biggest win of his young career.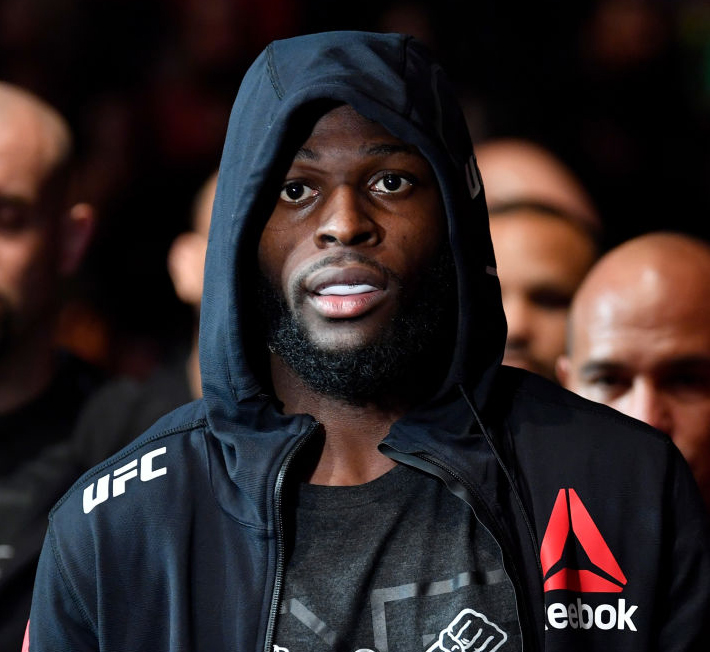 Andre Ewell
All Ewell did in his promotional debut earlier this year was venture to Sao Paulo, Brazil and rally from a sluggish, troublesome start to collect a split decision victory over a former UFC champion. Though topping his debut might be tough, the 30-year-old bantamweight will certainly give it a go.
Ewell showed tremendous poise and composure in edging out
Renan Barao
back in September. He spent large portions of the first round on the canvas, fending off submission attempts as the former titleholder looked to get things done quickly. But after escaping unscathed, Ewell started to find his rhythm in the second and by the time the third round got underway, he was in complete control.
This weekend, Ewell will step in against
Nathaniel Wood
in a battle of bantamweight sophomores coming off impressive debut wins. Wood, who was originally scheduled to face
Tom Duquesnoy
, collected a second-round knockout win over
Johnny Eduardo
in June to push his winning streak to six and announce himself as someone to watch in the 135-pound ranks.
Although it's stationed on the UFC FIGHT PASS prelims and there are plenty of major names set to do battle later in the night, this one has serious Fight of the Night potential, and with a second consecutive win on Saturday, Ewell would position himself as one of the top emerging talents in the division heading into next year.
Bevon Lewis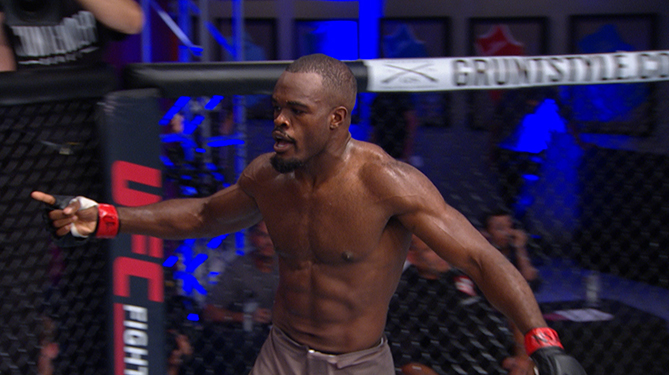 Let's address the obvious right off the bat: Lewis looks a lot like his teammate and training partner,
Jon Jones
, who headlines this weekend's fight card in a long-awaited rematch against
Alexander Gustafsson
.
Brandishing a similar look and reach as "Bones" does not mean Lewis is destined to follow in the former titleholder's footprints inside the cage; however, it's hard to see the physical similarities, coupled with Lewis' early success, and not get excited.
The 27-year-old middleweight impressed in his fight against
Elias Urbina
on Season 1 of the Contender Series, but as it was just his third professional appearance, Dana White & Co. opted to take a "wait and see" approach with the clearly talented newcomer. After collecting a victory in April under the LFA banner, Lewis was back in the TUF Gym this summer, where he torched
Alton Cunningham
and collected a UFC contract.
Saturday night, the Jackson-Wink MMA product get a chance to make an immediate impact in the middleweight division as he squares off with former TUF finalist
Uriah Hall
. Though he has struggled of late, the New Yorker is a dangerous striker with a wealth of experience and very capable of ruining the newcomer's night in a heartbeat.
It's a fight with almost no downside for Lewis, as a loss would simply signify that he needs more seasoning, but a win would catapult him into the middle of the pack in the 185-pound weight class after just a single Octagon appearance. Middleweight has undergone some major changes this year and sets up as one of the more interesting divisions to watch heading into 2019, and Lewis is one of several names that people should be paying attention to, both this weekend and in the future.