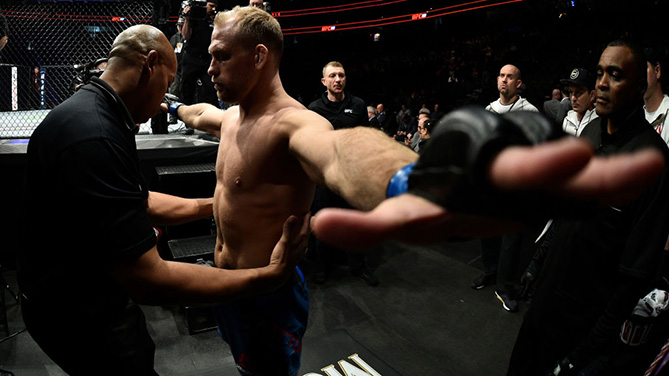 There's something to be said for following a muse, jumping into the deep end of the pool or any other cliché used to describe taking a risk to go after something most wouldn't or couldn't do. So as he awaits his co-main event meeting with
Sage Northcutt
in Boise this Saturday, don't expect Zak Ottow to be missing Wall Street too much.
"I don't," he laughs. "I left for a reason and I'm happy that I found my way into this. I couldn't be happier with the way things are going with my career. I always did well in school and saw myself being successful, but I didn't know what it was gonna quite be. I had some different career changes, and somehow it led me into this. I love being a professional athlete, but at the same time, being an entrepreneur and I couldn't be happier."
Leaving the financial world behind was a leap of faith in a lot of ways for the Milwaukee native, but this leap resulted in Ottow not just landing on his feet in the UFC, where he's won three of five bouts, but in life outside the Octagon, as he's the co-owner of the Pura Vida BJJ & MMA gym that is starting to earn a lot of buzz for producing Ottow, TUF 28 prospect Leah Letson and Dana White's Tuesday Night Contender Series participants
Montel Jackson
and
Alton Cunningham
.
"This is where I really wanted my career to get to, creating some steam in the UFC and we're getting all my training partners in there too," Ottow said. "All of a sudden, people are like, 'Wow, what gym is this?'"
In other words, they're not the "other" gym in Milwaukee next to the renowned Roufusport gym anymore.
"Back when Anthony (Pettis) won the title and they were putting some people in the UFC and really creating a lot of steam, we were just starting out," he said. "And when people would say, 'Oh, you're a fighter, right? You must train out of Roufusport, right?' (Laughs) Everybody just assumed that around Milwaukee. At first, you're so sick of hearing about that other gym, but it's a friendly rivalry and now we're at the point where we're getting more noticed."
The same goes for the 31-year-old Ottow, who broke past the .500 mark in his UFC career in March with an emphatic first-round knockout of Mike Pyle, who retired after the bout. It's not something the soft-spoken Ottow goes around bragging about, but in a sport where it's either you or the other guy, Ottow had to make sure it was him on that night in Las Vegas.
"I was a big fan of Mike Pyle before I fought him," he said. "When I was an amateur just starting out, I'd always tune in when he fought, so it was a really cool opportunity fighting another guy that I looked up to, probably the guy out of all my opponents I was the biggest fan of.
"It sucks that I kind of had to spoil the going away party, but he's had a lot of fights in the UFC, he's had a very successful career, so it was a passing of the torch," Ottow continues. "It was my time to get in there and get a win and I felt like I really needed to get a win, so it was really important at that point in my career to get that win, get a finish, the first one in the UFC, and I'm excited to keep it rolling."
Ottow's first three UFC bouts resulted in three split decisions, with him coming out on top against Josh Burkman and
Kiichi Kunimoto
while dropping the nod to
Sergio Moraes
. In fight four, he was stopped by
Li Jingliang
, but the Pyle fight put him back on the positive side of the ledger, and now he wants to keep that winning and finishing momentum going against Northcutt, who is returning to the welterweight division after two consecutive wins at 155 pounds. And though you might think it's a similar situation to the Pyle fight, going from fighting someone he was a fan of to fighting the nicest young man in the world, it's not quite that way for Ottow.
"It almost comes across so nice to the point where it's weird to me," Ottow laughs. "I know a lot of people really like this kid and want to see him do well. I was never one of those people. So I'm not gonna think twice about punching him in his teeth. Now I can't break apples with my bare hands or do three backflips in a row or anything like that. But as far as skillwise in the cage, I'm gonna totally expose him. I'm gonna show the world that I'm leaps and bounds better than this kid when it comes to fighting. I think he might be a little too nice for this game."
MORE BOISE:
If he is, Ottow has the style to find out, as he will be in Northcutt's face from start to finish, making it clear that while "Super Sage" has received the lion's share of the attention leading up to the bout, "The Barbarian" is not about to give up any ground on fight night.

"I feel like experience is on my side in this one," he said. "I've had a lot more MMA experience than he does, and a lot of the people I've been fighting in the UFC have been either tough, old veterans or guys in the UFC with winning records. So the fact that he's got a winning record doesn't really scare me at all or worry me. I feel that I have the more experience in this one and I'm definitely gonna play it to my advantage. I'm gonna mix all the different disciplines together and really beat him in the transitions. I feel that wherever the fight goes, I'm gonna be the better fighter, whether it's on the feet or on the ground. I really don't know where he can beat me. He can't beat me up for 15 minutes in this fight, it's just not gonna happen."