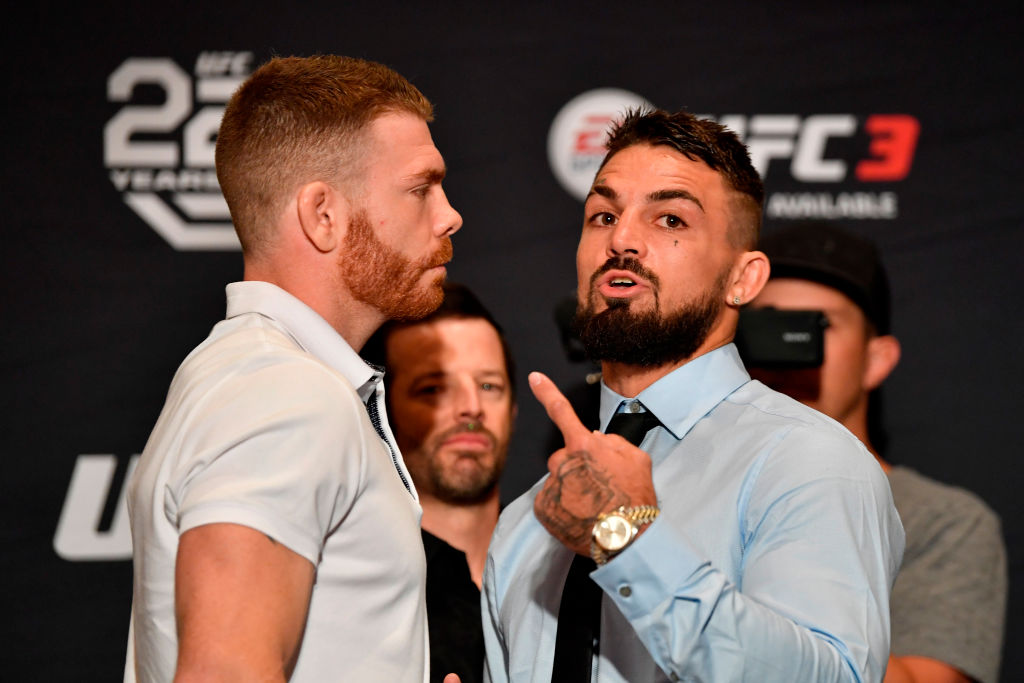 It has been a wild stretch for Paul Felder, going back to UFC 223 when he lost his fight with Al Iaquinta when Ragin' Al stepped in to fight Khabib in the main event. Then his Boise bout with James Vick was scrapped when Vick was shipped to Lincoln to meet Justin Gaethje. It's a run that would cause many to lose hope, but suddenly Felder finds himself on the biggest fight card of the year (and moving up to welterweight), replacing an injured Yancy Medeiros against Mike Perry at UFC 226. We caught up The Irish Dragon at media day to ask him how he's dealing with it all.
UFC: Tell us about the roller coaster ride of actually making it to UFC 226. How did it happen and how did you feel throughout the process?
PF: It's been crazy. I finally thought "Ok, I've got this big fight. An opponent I like," and then...this game is crazy. Things happen, and it's to be expected. I had a weird feeling the whole training camp, like "What if this happens again? What if Brooklyn happens all over again and I end up without a fight?" And for a second, I really thought that was going to happen. As soon as I saw Yancy Medeiros got hurt, I volunteered to step in and take this fight. People are calling it short notice, but it's not short notice, I was training to peak for a fight next week, which actually is keeping me from over-training, so it worked out. And then of course the crazy stuff happening with Max, unfortunately, bumps me up on the card too. So I'm just taking it in stride. It's wild."
UFC: When things when down in Brooklyn, did you have to take a step back and reevaluate how you prepare in your fight camps?
PF: Yeah, one of the things we did for this fight was not dwell too much on one specific opponent. Obviously you have to do certain things throughout the week and into camp to prepare for whatever your current opponent does. But at the end of the day, you should always just be focused on getting better, and becoming a better fighter all around. Because you never know; I could end up fighting Chiesa instead tonight or somebody else, you never know who it's gonna be and what style they bring. I did a lot of sparring for this fight – not with guys who are 6'3", not with guys who do what James Vick does. I fought a lot of guys who are about 5'10", my height, stocky, strong welterweights. So when I saw that it was Mike Perry, I thought "I've got quite a few training partners that I work with every day, that fight a lot like Mike."
"I think it shows a lack of confidence..." @felderpaul talks about his intense staredown with @PlatinumPerry at the #UFC226 Media Day. pic.twitter.com/4EaaF4yXIO

— UFC News (@UFCNews) July 6, 2018
UFC: When you got the call for the fight with Mike Perry, what weight were you walking around at?
PF: Probably 185 pounds.
UFC: So a completely different process cutting weight down to 170?
PF: Yeah, imagine 185 to 155 in two weeks.
UFC: If things go well for you on Saturday, would you thing about moving up to welterweight permanently?
PF: I get asked the question a lot, [especially from] my Mom. She's the biggest supporter of my move up to 170 pounds. She hates seeing what I have to go through to make 155. But I don't know, we'll see. I'll see how I feel. I feel great right now. I'm obviously not as sucked-out as I usually am. I feel lean and strong. I won't say weigh-ins are a breeze, there's still dieting to get to this point. It's not a walk in the park, but it's much easier than 155. So we'll see. Talk to me on Saturday night, and I'll have an answer.
Steve Latrell and Gavin Porter are digital producers and writers for UFC.com. Follow them on Twitter at @TheUFSteve and @PorterUFCnews