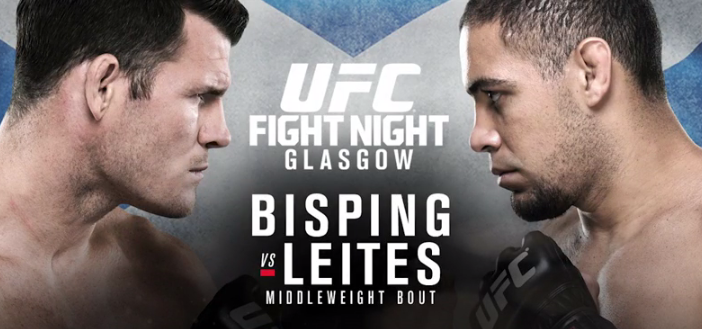 1. Can Michael Bisping prolong his UFC title dreams?
For a long time now Michael Bisping has been a lynchpin of the UFC's European plans. He's a high-level fighter and a marketing dream. He knows the essentials of selling a fight and he's happy to play the hero or the villain in order to build up some pre-fight hype.
On many occasions he's been within reach of a title shot, only to fall short at the last hurdle. Given the strength of the middleweight division, it's hard to really see a title run happening this late in his career and you therefore wonder where he is headed.
After his last fight, a win over C.B. Dolloway, he made a defiant speech in the Octagon to those who suggested he should contemplate retirement.
"I'm going nowhere!" he proclaimed to the UFC universe.
How he fares against a rejuvenated Leites, who is putting together a hell of a run himself (an eight-fight win streak that includes the likes of Herman, Carmont and Boetsch) will determine which interpretation of that statement is holding true.
2. How will Joanne Calderwood bounce back from her first pro defeat?
I wholeheartedly expect Joanne to get THE reception of the night here. This is, of course, her first fight back in Scotland since exploding onto the UFC scene as a top pick on The Ultimate Fighter: A Champion Will Be Crowned. But it's also her rebound fight after experiencing her first loss. As hard as that must have been, particularly knowing a likely title shot awaited her, I think she will be back stronger than ever here.
The strawweight division is on fire right now with a sprawl-and-brawl titleholder that looks as unbeatable as Chuck Liddell did in his heyday. That's got to be even more motivation for Calderwood. Her Muay Thai record gives her a better chance than anyone else in the 115lb ranks of dethroning the champ.
Jedrzejczyk-Calderwood could be a match made in heaven...via Glasgow.
3. What's the ceiling for Ross Pearson in the lightweight division?
Ross has had a tough time in his UFC run thus far. Starting off as an underdog he thrived on getting in there and stealing the show. But with each win the expectations rose and suddenly the wins weren't quite so forthcoming.
Whether it be a controversial loss to Diego Sanchez or the unfortunate no contest with Melvin Guillard, Ross seems to hit a roadblock just as he's starting to pick up some momentum.
Evan Dunham is no pushover. When he exploded on to the scene he looked dominant (even in a shaky split-decision loss to Sean Sherk) and despite experiencing some defeats recently, they've typically come against the best that this weight class has to offer.
Hopefully for Ross the support of the traveling northern fans will give him the backing and the inspiration he needs to start to get a consistent run together.
4. The Man Who Beat McGregor: can Joe Duffy escape Conor's shadow?
Being in Conor McGregor's shadow means you are within touching distance and right now, that's where every MMA fighter wants to be.
What Joe Duffy needs to do is keep winning and keep allowing people to mention he is one of only two men to hold a win over one of the biggest stars this sport has ever seen. Joe got off to a great start in Texas and showed some slick striking in his TKO win over Jake Lindsay.
Next up he faces Ivan Jorge and Joe will no doubt bring some very vocal Irish support with him to Glasgow. It's worth noting that the one blot on his own record was against another Ivan (Musardo). Nah, I'm kidding. That's totally not worth noting.
5. Can Leon Edwards clock off early again?
In Krakow, Leon 'Rocky' Edwards won himself a Performance of the Night bonus, picking up a tidy fifty grand for a full eight seconds of work. Now, whilst the speed of the finish was a shock to everyone, the manner of the win came as no surprise.
Leon is a finisher, plain and simple. He's only asked the judges to sharpen their pencils on two occasions in his eleven pro contests to date. He's got a very useful habit of ending fights early. When he wins, he wins in style.
Leon's opponent in Glasgow, Pawel Pawlak, had a similar reputation before joining the UFC. However, his two Octagon showings so far have both gone to the scorecards.
If Pawlak decides to stand and trade with Leon, 'Rocky' might well clock off early again and pocket another bonus in the process.
Scroobius Pip is a UK rapper, spoken word poet and founder of Speech Development Records. He's also a lifelong MMA aficionado and a regular pundit on UFC programming. Follow him on Twitter @ScroobiusPipyo