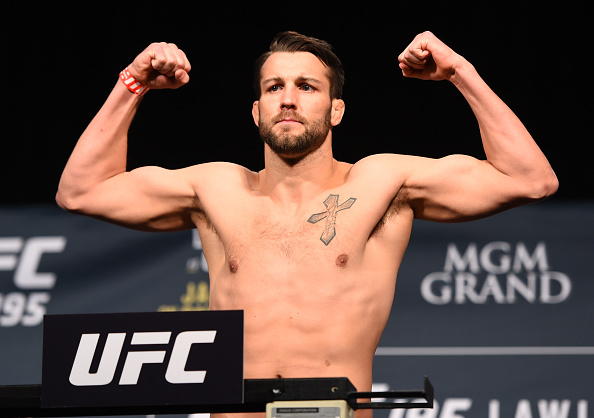 Fighting is a game of opportunity, and that reality is one Tony Sims has come to appreciate.
And while the timing of such things is never on a fixed course or comes with a bulletproof guarantee attached, the Iowa-born lightweight has discovered that hard work invested on a consistent basis always takes him where he's looking to go.
Sims' belief in this mindset was the driving force behind the run that eventually led to a call from the UFC in 2015. He'd been steamrolling his competition for the better part of a decade before finally getting the call, and it was time he used wisely. Rather than get frustrated when his lengthy winning streak didn't produce the invite from the big leagues, he made sure his personal progression was in perpetual motion because when Bruce Buffer did finally call out his name under the UFC banner, he was determined to make that moment count.
"The thing about opportunity is that you have to take them when they are there. You have to put yourself out there and go after what you want. In order to be successful you have to take risks. Not a lot of people know who I am in this sport and have no idea how much work I've put in to make it this far. I've been able to do that by being willing to recognize opportunities when they arise and capitalize on them."
And that's precisely what he did when the Team Elevation representative knocked out Steve Montgomery in the first round of their tilt at Fight Night: Machida vs. Romero back in June. The win was undoubtedly the biggest of his career, and he was so eager to keep the momentum rolling he jumped on another opportunity in short fashion as he agreed to step in against Olivier Aubin-Mercier less than a month later in Saskatoon, Saskatchewan.
More on UFC 195: Ageless Lawler enjoying career resurgence | Title shot decade in making for Condit | Watch Countdown: Lawler vs. Condit | Inside the numbers for Lawler vs. Condit | UFC's heavyweight division is big again | Arlovski making most of 2nd run | Watch Countdown: Miocic vs. Arlovski | UFC 195 fight card | Reasons to watch UFC 195 | Stage bigger, but Irish Joe stays humble | 'Hot sauce' living the dream | Moment arrives for Larkin | Kish brings experience into her UFC debut | Pre-order UFC 195 digitally | Buy tickets for UFC 195 | Watch UFC 195 Embedded: Episode 1, Episode 2, Episode 3, Episode 4
While it was certainly an ambitious move for a fighter looking to quickly establish himself in one of the UFC's most talent-rich collectives, it ultimately proved costly, as "The Quebec Kid" was able to secure the victory via unanimous decision on the judges' scorecards. Nevertheless, Sims kept a positive mentality about the situation at hand, and locked on to the fact that even though he did not walk away with the victory that night in Canada, he proved to the UFC he was ready and willing to step up and fight anyone at any time and any place.
He was grateful for the chance to fight the talented young up-and-coming grappler, and now Sims has turned that gratitude in another direction. He will square off with South Florida-based knockout artist Abel Trujillo when the UFC kicks off their 2016 campaign this weekend in Las Vegas for UFC 195. The Blackzilians fighter is an established name in the 155-pound fold and Sims knows there is plenty to gain from emerging victorious in their upcoming fight.
"Abel is a dangerous and explosive fighter, but he's also someone who fights a much more confident fight if he believes he's intimidated you," Sims said. "That's not going to be the case in this fight because I'm going to be right in his face from the opening bell and I think that's going to make him crack until he eventually breaks.
"I think I'm going to be superior to him in all aspects. People look at the [Tony] Ferguson fight and they can see the perfect example of what I'm talking about. Tony weathered the storm and came firing back and that caused Abel to wilt. Abel saw that Ferguson was still in the fight and was tougher than he was. I believe I'm also mentally tougher than he is and I'm going to stay the course, weather the storm and fire back until he breaks."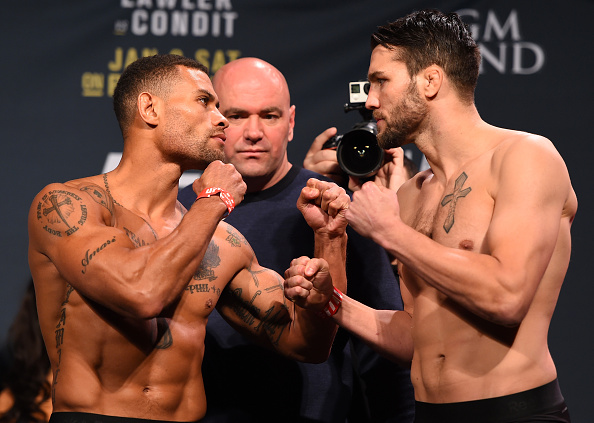 After ending 2015 on a loss, Sims feared he would get tossed to the back of the line in the shark tank of a weight class, but landing a fighter who has garnered the amount of buzz Trujillo has created is nothing short of a blessing in his opinion. Granted, it's a dangerous one due to the power and aggression the "Killa" possesses, but Sims believes he has what it takes to exploit the scrappy slugger where he's at his weakest.

"I think the biggest advantage I have going into this fight is that no one really knows my style and what I bring to the table," Sims said. "I didn't have a great performance in my last fight and I think people see me as a one-dimensional fighter. I'm happy if that's the case because I have a lot of weapons in my skill set. I'm a pretty strong wrestler and I know that didn't come across in my last fight either.

"People talk about Abel's explosiveness and power but it's not something people ever give me credit for. I've had 15 professional fights and in only one of them I wasn't able to knock my opponent down."

While getting a high-profile fight is one reason for Sims to be excited, certain twists of fate also have him amped up. Not only has Sims dreamed of fighting on one of the promotion's flagship events for as long as he can remember, but an unfortunate injury suffered to one of the main card fighters served to bump his scrap with Trujillo up to the Pay-Per-View portion of the card.

These things are all positives where Sims is concerned, and further motivation to make the most of the moment that will come front and center on Saturday night.

"It's a pretty surreal feeling to be fighting on the UFC's New Year's card," Sims said. "One year ago my girlfriend and I were out in Las Vegas on a trip, and then to be fighting at that event now is a special feeling. It's a huge card and a big platform to make a statement. I don't get any recognition, but that is all going to change at UFC 195. I'm going to make this opportunity count."