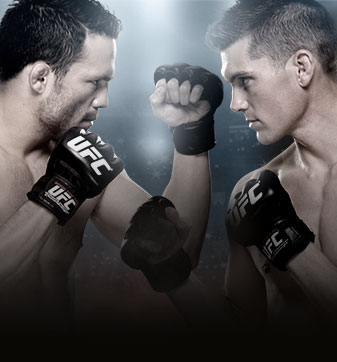 Following a season filled with bad blood and hot tempers, The Ultimate Fighter will come to an end on Sunday night, July 12, with one final matchup declaring the winner between American Top Team and the Blackzilians.
It was a competition the Blackzilians ruled all season until American Top Team mounted a miraculous comeback, and they hope to cap it off when Hayder Hassan looks to go 4-0 while facing Kamaru Usman in a bout worth $300,000 and The Ultimate Fighter trophy.
The main event for The Ultimate Fighter Finale is also a showdown in the welterweight division, as Jake Ellenberger looks to stop the recent run of striker extraordinaire Stephen "Wonderboy" Thompson. Both fighters are trying to climb into the top 10 of the division, so a win on Sunday night is crucial for that to happen.
In today's fantasy preview, we're going to examine some of the key fights on The Ultimate Fighter Finale to see who has a leg up on the competition, which fights might be tough to choose from, and if there's an upset brewing in any of the fights happening Sunday night.
SPLIT DECISION
These are the fights that are just too close to call, but a few minor differences between favorite and underdog could lead one fighter to victory and the other to defeat.
Stephen "Wonderboy" Thompson (-220 favorite) vs. Jake Ellenberger (+180 underdog)
Following a tough stretch of three losses in a row, Jake Ellenberger turned things around in his last fight against Josh Koscheck, but now he takes a decided step up in competition as he faces one of the most lethal strikers in the division in Stephen "Wonderboy" Thompson.
Thompson's growth from karate-styled kickboxer to pure mixed martial artist has happened virtually during his stint with the UFC. Thompson is a dynamo on the feet, where he lands more than four significant strikes per minute with 50-percent accuracy. He's worked tirelessly to improve his wrestling and wrestling defense while training a lot of the time with UFC middleweight champion Chris Weidman. Thompson isn't going to wow anybody with his wrestling, but his improvements have definitely made him a dangerous matchup for anybody at 170 pounds.
Ellenberger is a phenomenal wrestler when he chooses to grapple, but over the last few years he's fallen in love more and more with his boxing. He's still averaging over two takedowns per 15 minutes in the cage with over 57-percent accuracy, but unless he starts shooting in on Thompson's legs right away he could be in for a long night.
Thompson is long and rangy from the distance with devastating power in his hands and feet. He's especially deadly with his kicks and the best way for Ellenberger to negate that is to get a takedown early in the first round to set the tone. If Ellenberger can't find a way to drag Thompson to the mat early, "Wonderboy" is going to start feeling more and more comfortable throwing kicks late and eventually something is going to slip through.
Ellenberger has plenty of punching power to counter, but playing the striking game with Thompson is like lighting a match in a gasoline warehouse. Given Ellenberger's tendencies in his last few fights, chances are he's going to test himself against Thompson just long enough before it's too late.
Prediction: Stephen "Wonderboy" Thompson by TKO, Round 3
Hayder Hassan vs. Kamaru Usman
This season on The Ultimate Fighter, Hayder Hassan and Kamaru Usman definitely shined the brightest of the 16 competitors on the show, so it makes sense that they will meet in the finals with everything on the line.
Hassan proved to be a clutch performer, pulling out big win after big win when American Top Team needed him. Hassan is a powerful puncher who can throw a haymaker as well as he can step forward and toss out a jab. He's technical when he needs to be and deadly with power when he drives an opponent backwards.
Usman, on the other hand, showcased much better hands in his second fight against Steve Carl, but his bread and butter will always be wrestling. He's a former college wrestling standout and chances are he'll avoid striking too much with Hassan and look to plant him on the mat time after time after time if the American Top Team fighter can't stop him.
Hassan gave up a few takedowns during his three fights on the show, but he adapted well and jumped right back to his feet each time. If Usman can't hold Hassan down, this fight could shift directions in a hurry.
Hassan hits like a truck and there's little doubt he's spent the last few months working with wrestlers at American Top Team to prepare for Usman's offensive attacks. If Hassan can keep Usman at range and start to back the wrestler up, he'll eventually put together the kind of combination that could finish the fight. Usman just needs to stick to the basics, which for him means wrestling all day, every day.
Usman can absolutely grind out a decision, especially in a three-round fight, but if Hassan gives him trouble getting this fight to the mat he's going to get frustrated and worried in a hurry because he's just not as good on the feet. Hassan has the arsenal in his hands to crack Usman with a few hard shots to back him up and then it all goes south from there.
Prediction: Hayder Hassan by TKO, Round 3
Mike Graves vs. Vicente Luque
Vicente Luque ended the season of The Ultimate Fighter as one of the breakout stars from the Blackzilians and he was actually the choice of the coaches to represent them in the final fight, but team owner Glenn Robinson opted to go with Usman instead. Meanwhile, Mike Graves suffered a lackluster loss in his first fight to Usman while picking up one of the craziest comeback wins in history after taking a low blow early that didn't get called and still finding a way to choke out Jason Jackson in the first round.
When it comes to potential from this season of the show, the two fighters in this matchup might represent the best and brightest from American Top Team and the Blackzilians.
Luque is a big welterweight with good range, a stiff jab and better than average wrestling. His Brazilian Jiu-Jitsu game is top notch. The same could be said for Graves, who showed off a fantastic ground game in his last fight, although he struggled to get much offense going when he faced Usman in the first bout of the season.
Luque definitely had some ups and downs before doing the reality show, so his performances could be a matter of improvement or just a matter of circumstance. The short time the fighters spend together during filming, along with cutting weight multiple times, makes it hard to gauge if they are the real deal or just better at dealing with a difficult situation.
Graves seems like he's the former because American Top Team has been raving about this Ohio native for some time. He's undefeated as a pro while also putting together a perfect 4-0 amateur record. Graves has spent time in the last few months working with fellow American Top Team welterweights like Robbie Lawler, Hector Lombard and Thiago Alves and that should be the exact kind of medicine he needs to prove his big comeback win was no fluke.
Luque will definitely be a threat during every minute of every round and Graves has to make sure to execute when he commits to his takedowns or his submissions, but if he stays active for all 15 minutes he should pull out a close victory. This matchup could end up stealing the Fight of the Night bonus when it's all over as well.
Prediction: Mike Graves by split decision.
KNOCKOUT PICKS
These are the fights that appear to be a little more one-sided, but remember that this is MMA, where anything can - and usually does - happen.
Jorge Masvidal (-260 favorite) vs. Cezar Ferreira (+220 underdog)
Jorge Masvidal will travel up to welterweight for this fight while his opponent Cezar Ferreira will actually move down from middleweight for this featured fight on The Ultimate Fighter Finale.
Masvidal continues to be one of the most underrated fighters on the roster, but this move to 170 pounds could prove interesting considering how much weight he cuts to get down to the lightweight division. Masvidal is a very active striker, landing over four significant shots per minute with nearly 47-percent accuracy. His wrestling is top notch as well, and he mixes things well to combine his striking with his grappling.
Ferreira has been a very inconsistent performer of late, losing two out of his last three fights by knockout, and you have to wonder if draining another 15 pounds of weight out of his body is really the way to cut down on hard shots to the head hurting him - especially with a volume striker like Masvidal targeting him.
So long as Masvidal doesn't look bloated or out of shape by going up to 170, he should be the much faster fighter on the feet, and if he puts together his combinations, Ferreira is going to have a headache by the end of the night.
Prediction: Jorge Masvidal by unanimous decision.
Michelle Waterson (-600 favorite) vs. Angela Magana (+450 underdog)
Michelle Waterson enjoys the largest odds of anybody on the card this weekend as she makes her UFC debut against former Ultimate Fighter competitor Angela Magana.
Waterson is a great addition to the division as she moves up from 105 pounds to compete in the strawweight class, but she won't be giving up much size at all come fight night. Waterson is a flexible striker with a good arsenal at her disposal, but she's especially dangerous on the ground, where she can seemingly twist and turn into any direction to get a finish. She already holds a win over former title contender Jessica Penne and has faced a laundry list of top fighters throughout her career.
Magana has done well to begin training full-time in San Diego at Alliance Training Center alongside her TUF teammate Bec Rawlings, as well as lightweight contender Myles Jury, Jeremy Stephens and Johnny Case. Magana actually has a very solid ground game, but she's fallen in love with striking over the last few years and that may be her undoing this time around.
Waterson is well-versed in her striking, enough to do damage to Magana on the feet, and then once she drags this to the mat it probably won't take her long to start fishing for submissions. Waterson has put away seven past opponents by submission, and if she can work out the typical UFC jitters she might just add number eight this weekend.
Prediction: Michelle Waterson by submission, Round 2
Russell Doane (-380 favorite) vs. Jerrod Sanders (+315 underdog)
Russel Doane also enjoys big-time odds in his favor this weekend going against Jerrod Sanders.
Doane is a tough Hawaiian kid with good striking and a very dangerous submission game on the mat. Doane likes to strike, but he's even better on the mat, where he's wrapped up five career submissions with a variety of techniques. Doane will probably have a chance to showcase those skills while facing a wrestler in Sanders, who just hasn't been able to find his footing in the UFC through his first two fights.
Sanders is a former All-American wrestler from Oklahoma State, so there's little doubt where he's going to want this fight to take place, but with Doane's ability to scramble and lock up submissions, things are probably only going to go from bad to worse for him in this fight if it hits the mat.
Look for Doane to set the pace early with his strikes until it forces Sanders to shoot for a takedown. Once it's on the mat, Doane will start wrapping up Sanders' limbs until he either grabs a submission or reverses positions and finishes from the top.
Prediction: Russell Doane by submission, Round 1
UPSET SPECIAL
Josh Samman (+125 underdog against Caio Magalhaes)
If you're looking for one potential upset on this card, keep an eye on the middleweight matchup between Josh Samman and Caio Magalhaes.
Magalhaes is only a slight favorite going into the matchup, probably because both fighters are known for standing and trading with opponents and that could spell disaster for one of them. Magalhaes is very aggressive with his striking and he likes to control the pace of the fight with his constant movement and heavy volume of shots landed.
Samman is superb athlete with plenty of weapons to throw at the Brazilian, however, and don't doubt his ability to land one shot and change the course of this fight forever. Samman is fresh of a Knockout of the Year candidate in his last fight, and that was after a very lengthy layoff. Assuming he's stayed in shape and ready since then, Samman is going to be a fun fighter to watch as he develops in the UFC middleweight division over the next year.
Magalhaes will definitely give him everything he can handle, so Samman is definitely not a lock, but his ability to go toe-to-toe with the Brazilian with a more technical kickboxing game plan could be the difference in this one.
Prediction: Josh Samman by unanimous decision