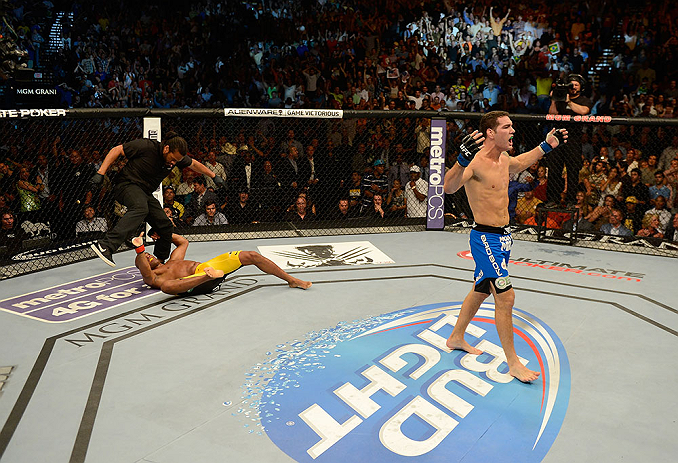 Always the toughest category to whittle down to ten entries, the highly unofficial Knockout of the Year list also produces the most heated debates. Read on for the most memorable knockouts of 2013, and see if you agree with this year's selections.
10 - Demetrious Johnson-Joseph Benavidez – UFC on FOX 9
The knock on the flyweight division from some fans has been that they can't knock anybody out. In 2013,
John Dodson
and
John Lineker
continued to prove that impression wrong, but it took the champion of the 125-pounders, Demetrious Johnson, to make the biggest statement, and he did just that with a crushing right hand that dropped Joseph Benavidez in their December rematch.
Watch on UFC Fight Pass (where available)
9 - Lyoto Machida-Mark Munoz – UFC Fight Night
As calculated and precise as Lyoto Machida can be with his striking game, the scariest part of his karate-based attack is that with any given strike, he can end an opponent's night. In October, Machida made his middleweight debut against good friend Mark Munoz, and with a single kick to the head, he finished Munoz, picking up Knockout of the Night honors in the process.
Watch on UFC Fight Pass
8 - Wanderlei Silva-Brian Stann - UFC on FUEL TV 8
It was only fitting that in Wanderlei Silva's first bout in Japan since 2006 that he would once again show off the berserker style that earned him the nickname "The Axe Murderer" and made him the hero of PRIDE fans around the globe. And against Brian Stann in March, he wasn't going to be in with someone looking to engage in a grappling match or point kickboxing affair. This was going to be a fight, and what a fight it turned out to be, with the 36-year-old Silva delivering a vintage knockout win at 4:08 of the second round.
Watch on UFC Fight Pass
7 - Antonio Silva-Alistair Overeem - UFC 156
If you were getting odds on who was going to score a knockout in the heavyweight clash between Antonio "Bigfoot" Silva and Alistair Overeem, "The Reem" would have been a clear, almost prohibitive, favorite. But when you put big heavyweights in the Octagon with four ounce gloves and something to prove, anything can happen, and after some heated verbal exchanges leading up to their UFC 156 bout, it was Silva who got the last word, stunning the fight world and Overeem with a third round knockout that put the Brazilian in a title fight rematch with
Cain Velasquez
.
Watch on UFC Fight Pass

6 - Vitor Belfort-Luke Rockhold - UFC on FX 8
For years, the mantra for anyone fighting Vitor Belfort was to watch out for his fast hands. Well, in 2013 opponents got a new problem to deal with: his feet. First, Belfort finished
Michael Bisping
in January with a flurry that began with a kick to the head. But then "The Phenom" upped the ante in May with a spinning heel kick that ruined the UFC debut of the last
Strikeforce
middleweight champion, Luke Rockhold. Now that's what you call a fighting evolution. But there was even more to come.
5 - Junior dos Santos-Mark Hunt - UFC 160
Belfort's spinning finish of Rockhold was undoubtedly impressive. But not to be undone, Belfort's Brazilian countryman Junior dos Santos delivered the same kick and the same finish a week later, taking out Mark Hunt in the third round. But what made this knockout the best of the year thus far wasn't just that it was a heavyweight pulling off a move with a high degree of difficulty; it was that dos Santos could have taken his foot off the gas in the final round and coasted to a decision win, but instead he upped the ante against a dangerous foe and went for the knockout.
Watch on UFC Fight Pass

4 - Renan Barao-Eddie Wineland – UFC 165
Eddie Wineland was comfortable in the early going against interim bantamweight champion Renan Barao at UFC 165 in September – almost too comfortable – and as he bobbed and weaved early in the second round, Barao timed his foe's dip perfectly with a spinning back kick that landed right on the button. Seconds later, the fight was over.
Watch on UFC Fight Pass
3 - Mauricio Rua-James Te Huna – UFC Fight Night
After two straight losses, many wondered what Mauricio "Shogun" Rua had left in the tank heading into his UFC Fight Night bout against James Te Huna in December. The answer? Plenty, at least in the left hook that dropped Te Huna as if he were shot, ending the light heavyweight bout in just 63 seconds.
Watch on UFC Fight Pass
2 - Vitor Belfort-Dan Henderson II – UFC Fight Night
Vitor Belfort could have had a home here for any of his three of his 2013 knockout wins, but if you had to choose, none was bigger than the Brazilian's rematch win over Dan Henderson. First taken off his feet by a left uppercut, Henderson rose, only to get finished by a head kick, the first time in Hendo's storied career that he had ever been knocked out.
Watch on UFC Fight Pass
1 - Chris Weidman-Anderson Silva I – UFC 162
Seeing Anderson Silva lose for the first time in the UFC was shocking enough; to see it happen by knockout doubled the shock, but that's just what Chris Weidman did against the future Hall of Famer, staying aggressive and not getting reckless as Silva showboated, and when he dropped his hands once too many times, Weidman made him pay with a left hook that put Silva on the deck and began the finishing sequence of strikes that kicked off a new era in the middleweight division.
Watch on UFC Fight Pass
HONORABLE MENTION - Mark Hunt-Stefan Struve, Anthony Pettis-Donald Cerrone, John Dodson-Darrell Montague, Tim Kennedy-Rafael Natal, Tyron Woodley-Josh Koscheck