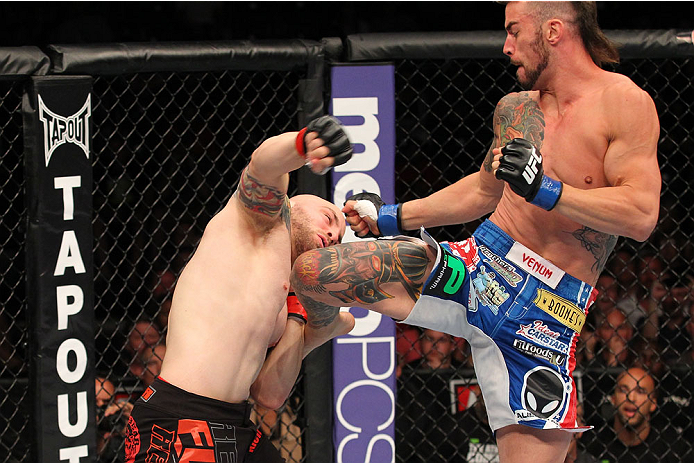 It was a good year for newcomers in the
UFC,
so which 2013 rookies made the highly unofficial top ten list? Read on to find out.
10 –
Jessica Eye
Despite Jessica Eye's status as one of the best flyweight fighters in the world, some wondered whether the Ohio native could continue her run of success in the UFC's bantamweight division. She could, winning a hard-fought split decision over former
Strikeforce
champion
Sarah Kaufman
that marked her as a charismatic and exciting force in the UFC's newest weight class.
Watch on UFC Fight Pass (where available)
9 –
Ali Bagautinov
The Russian contingent in the UFC is growing by leaps and bounds, with more and more top-quality fighters making their way to the Octagon on what seems to be a monthly basis. Dagestan's Ali Bagautinov made his first UFC start in September with a third round TKO of
Marcos Vinicius
, and in November he made it two straight with a decision win over
Tim Elliott
. Next up, a UFC 169 bout with
John Lineker
that could shoot him straight into the title picture. Not bad for a few months' work.
Watch on UFC Fight Pass
8 –
Chris Holdsworth
While Chris Holdsworth's association with Sacramento's Team Alpha Male marked him as a fighter to watch before season 18 of
The Ultimate Fighter,
the unbeaten submission ace put himself in the world's living room each week on TUF 18, building his profile while he just kept winning and showing his talent. In November, he wrapped up the season title with a second round finish of Davey Grant, proving that he's ready for prime time at 135 pounds.
Watch on UFC Fight Pass
7 –
Cat Zingano
This could have been the greatest year of Cat Zingano's career, yet even though she wasn't able to coach on TUF 18 and then fight
Ronda Rousey
for the UFC women's bantamweight title due to a knee injury, it was still a pretty damn good 2013 for Colorado's "Alpha Cat," as she introduced herself to the Octagon faithful with a third round Fight of the Night TKO of
Miesha Tate
in April. Expected back in action in 2014, she will be eagerly awaiting a shot at the 135-pound crown.
Watch on UFC Fight Pass
6 -
Sara McMann
What kind of impression did Sara McMann make in her lone UFC bout of 2013 against
Sheila Gaff
in April? Enough that the first round TKO win earned the unbeaten former U.S. Olympic Silver medal winner a recently announced shot at Ronda Rousey's bantamweight title in February. Now that's a debut to remember.
Watch on UFC Fight Pass
5 –
Hyun Gyu Lim
Headlining this Saturday's UFC Fight Night event in Singapore against
Tarec Saffiedine
, South Korea's Hyun Gyu Lim was long considered one of the diamonds in the rough on the Asian MMA scene. Well, after knockouts of
Marcelo Guimaraes
and
Pascal Krauss
in his first two UFC bouts in 2013, the secret is out: Lim is one tough customer in the Octagon, something Saffiedine will find out on Saturday.
Watch on UFC Fight Pass

4 -
Ryan LaFlare
Plagued by injuries throughout his career, welterweight prospect Ryan LaFlare got a good run of good health in 2013 and he ran with it, fighting and winning three times in the Octagon against
Benny Alloway
,
Santiago Ponzinibbio
, and
Court McGee
. Will LaFlare be the next UFC champ to emerge from Long Island? He's off to a damn good start.
Watch on UFC Fight Pass
3 -
Kelvin Gastelum
Just 22 years old, The Ultimate Fighter season 17 winner Kelvin Gastelum has seemingly been an underdog forever, but after upsetting the field night in and night out on TUF 17 – including
Uriah Hall
– en route to a UFC contract, he proved to be the real deal, something evidenced by his quick finish of
Brian Melancon
in August.
Watch on UFC Fight Pass

2 -
Conor McGregor
In and out of the Octagon, Conor McGregor made headlines, and while having the opportunity to one day be named the best MMA fighter to emerge from Ireland is enough to make his name in the sport, his charisma could propel him into the rarefied air occupied by the superstars of the game. Of course it's early, but 2013 wins over
Marcus Brimage
and
Max Holloway
have him on the right path so far.
Watch on UFC Fight Pass
1 –
Brandon Thatch
Everyone heard the stories about Brandon Thatch's striking long before "Rukus" entered the Octagon for the first time in 2013, but you probably just assumed that he wouldn't be able to continue on such an impressive streak of finishes once matched up with UFC-level competition. Well, you were wrong, as Thatch picked up Knockout of the Night honors for his 83 second finish of
Justin Edwards
in August, and less than three months later, he forced veteran
Paulo Thiago
to tap out due to strikes, again in the first round. So what makes him the 2013 Newcomer of the Year? You just can't wait to see him fight again.
Watch on UFC Fight Pass
HONORABLE MENTION – Andre Fili, Luke Barnatt, Clint Hester, Julianna Pena, Sergio Pettis, Justin Scoggins