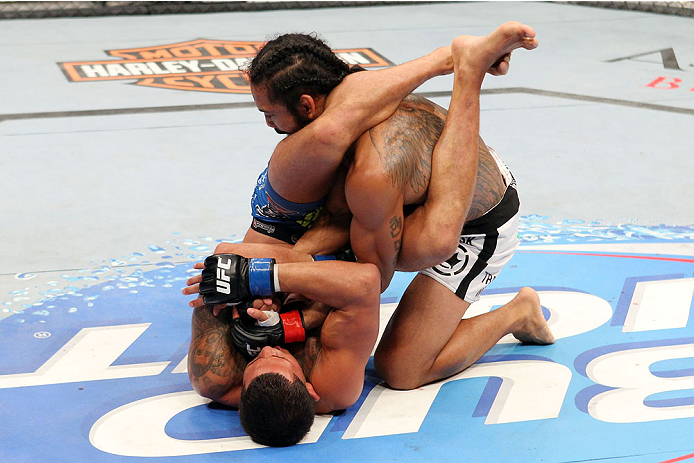 Another year is in the books, and it was a good one for those practiced in the art of the
tap out. But which finishes stood out from the rest? Read on to find out.

10 -
Brendan Schaub-Matt Mitrione – UFC 165
If you follow Brendan Schaub anywhere on social media, you will notice that there are plenty of pictures with him wearing Gracie gear and training with the first family of MMA in California. Well, that's not just for show, and the hard-hitting "Hybrid" showed off what he had been learning on the mat in his UFC 165 clash with
Ultimate
Fighter 10 teammate Matt Mitrione, putting the former NFL lineman to sleep with a perfectly placed D'Arce choke in the first round.
Watch on UFC Fight Pass (where available)
9 - Piotr Hallmann-Francisco Trinaldo – UFC Fight Night
Things weren't going too well for Piotr Hallmann in his UFC debut against Francisco Trinaldo in September, and it seemed like just a matter of time before the Brazilian veteran finished matters in their bout and extended his winning streak to three. But Hallmann wasn't about to go away that easy, and the beauty of jiu-jitsu is the ability to turn things around in a split second. And that's just what Hallmann did, submitting Trinaldo via kimura in the second round.
Watch on UFC Fight Pass
8 - Sergio Moraes-Neil Magny – UFC 163
When you watch a high-level jiu-jitsu black belt in action, it's a thing of beauty, and Sergio Moraes' mounted triangle choke finish of Neil Magny was just that. Seeing every opportunity, adjusting accordingly, and then sinking in the finisher, Moraes always seems to be the happiest guy in the Octagon on fight night, and maybe it's because he knows that with one false move, he's got you.
Watch on UFC Fight Pass

7 - The Faber Trifecta
For years, former WEC featherweight champion
Urijah Faber
was so closely associated with the guillotine choke that his Team Alpha Male squad in Sacramento was often dubbed Team Guillotine. In 2013, "The California Kid" fought four times, won four times, and finished three of those victories, defeating ultra-tough vets
Ivan Menjivar
and
Scott Jorgensen
, as well as young gun
Michael McDonald
. In the three aforementioned bouts, all were finished via tap out (two by rear naked choke and one by guillotine) showing that wherever he gets your neck, it's usually going to be lights out seconds later.
Watch on UFC Fight Pass

6 - Fabricio Werdum-Minotauro Nogueira 2 – UFC on FUEL TV 10
In his storied 14-year career, the legendary Minotauro Nogueira has only been submitted twice – once by
Frank Mir
in 2011, and once in 2013 by Fabricio Werdum. That is an accomplishment you can't dismiss, and for Werdum to not only catch the high-level jiu-jitsu black belt in an armbar but to finish him with it is a feather in the cap of Werdum that he will carry with him as he moves closer to a world heavyweight title shot.
Watch on UFC Fight Pass

5 - Antonio Braga Neto-Anthony Smith - UFC on FUEL TV 10
Antonio Braga Neto didn't make his UFC debut in June without more than a few grappling accolades preceding him. In fact, for jiu-jitsu aficionados, his first Octagon bout was a big deal. And while
Strikeforce
vet Anthony Smith respected Neto's game, he figured he had already faced the best jiu-jitsu practitioner in the game in
Roger Gracie
, so what could possibly go wrong? Well, just watch the end sequence of their fight again and try not to wince when Neto locks on the fight ending kneebar. As beautiful as jiu-jitsu can be, it can also be devastatingly effective. This fight proved it.

4 - Ronda Rousey-Liz Carmouche - UFC 157
Ever since Ronda Rousey turned pro, every opponent she faced knew that they were going to have to deal with an armbar attempt sooner or later, usually sooner. Liz Carmouche was no different, and part of her preparation for the UFC 157 bout against the women's bantamweight champ involved defending random armbar attempts by her teammates at every possible moment. Yet when Rousey made her move on Carmouche after surviving a rear naked choke attempt moments earlier, the Marine Corps veteran got caught and finished by the armbar. If there's a better finishing move in all of combat sports, I'd like to know about it.
Watch on UFC Fight Pass
3 - Ronaldo "Jacare" Souza-Chris Camozzi - UFC on FUEL TV 10
Outside of perhaps the aforementioned Roger Gracie and welterweight contender
Demian Maia
, few have garnered the respect former Strikeforce champion Ronaldo "Jacare" Souza has for his world-class ground game. And though he's shown marked improvement in his standup attack in recent fights, it was that jiu-jitsu that ended his first UFC bout, namely an arm triangle choke that put Chris Camozzi to sleep almost as soon as it was locked in. That's technique, that's power, and that's scary if you're a middleweight who has to fight him.
Watch on UFC Fight Pass

2 - Kenny Robertson-Brock Jardine - UFC 157
The move Kenny Robertson used to get his first UFC win in February didn't even have a name. Joe Rogan called it a form of leglock, it's listed as a kneebar on the online fight databases, and while both are correct, it was a move never pulled off in the UFC the way the former Eastern Illinois University wrestler did on Brock Jardine. Suffice to say that it was one of the most painful looking submissions ever, and as far as descriptions go, let's stick with Robertson's own name for it: The Kickstand.
Watch on UFC Fight Pass

1 - Anthony Pettis-Benson Henderson 2 – UFC 164
Anthony Pettis is the guy who kicks off the cage, right? He's not supposed to have a submission game too. But in his rematch with Benson Henderson for the UFC lightweight title, the Milwaukee native used his kicks to set up his ground attack, and once he pounced with an armbar, he forced Henderson to tap out and surrender his belt. That alone is impressive, but considering that Henderson has notoriously been one of the toughest fighters to submit, even going back to his WEC days, it's an even more notable accomplishment for "Showtime."
Watch on UFC Fight Pass
Honorable Mention – James Krause-Sam Stout, Demetrious Johnson-John Moraga Chael Sonnen-Mauricio Rua, Jimy Hettes-Rob Whiteford, Ronda Rousey-Miesha Tate