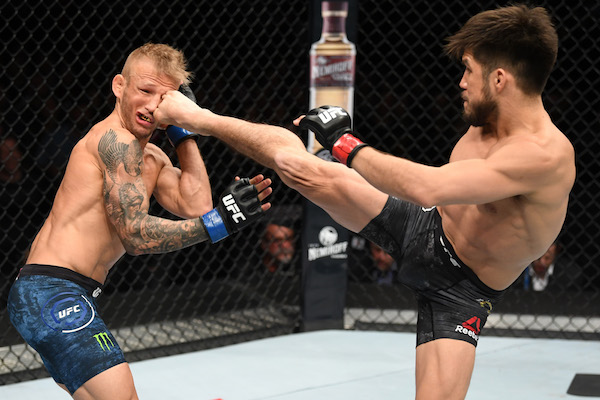 Saturday's UFC Brooklyn event is in the books, and now that the dust has settled in New York, it's time to go to the scorecard to see who the big winners were at Barclays Center.
1 – Henry Cejudo
Olympic gold medalist. UFC flyweight champion. Winner of bouts over Demetrious Johnson and TJ Dillashaw. That's quite a resume for Henry Cejudo, the man who ended Saturday's SuperFight in 32 seconds, and it makes his future even more intriguing. Will Cejudo stay at flyweight? Will he go back to the bantamweight division? Whatever happens, it's clear that "The Messenger" is firmly established among the elite of the sport, and with his striking now equally as dangerous as his wrestling, he may stay among the best of the best for a long time.
2 – Donald Cerrone
Donald Cerrone has always been a popular fighter, and rightfully so, as his anyone, anytime, anywhere attitude makes it impossible to dislike him. But if anything, the last two wins by "Cowboy" over Mike Perry and Alexander Hernandez have taken him to a new popularity level. A McGregor-esque level? Hmmmm. See what I did there? If you weren't on social media the last couple days, "The Notorious" one tweeted, "For a fight like that Donald, I'll fight you. Congratulations." I don't think any fight fan would turn their nose up at that bout, and with Cerrone and McGregor seemingly on board, I'm all-in too.
3 – Joanne Calderwood
Ariane Lipski came into the UFC with a lot of hype last weekend, and her debut against Joanne Calderwood was expected to be Armageddon in short pants, a striking battle to end all striking battles. It wasn't, but that's only because Calderwood fought like a seasoned pro and took Lipski completely out of her game with an evolving ground game that threw a wrench into the works and led "JoJo" to her second consecutive win. Now a fighter once seen as one-dimensional is a threat everywhere, and in the flyweight title picture.
4 – Gregor Gillespie
It was not the most spectacular victory of Gregor Gillespie's unbeaten UFC run, but it might have been the most dominant, and he completely controlled his bout against Yancy Medeiros until finishing off the ultra-tough Hawaiian in the second round. I don't know about you, but after Gillespie has gone 6-0 with five finishes in the shark tank that is the UFC lightweight division, I'm ready to see him in with the elite at 155. It's time.
5 – Joseph Benavidez
Like Cejudo, Joseph Benavidez has made no secret of his desire to keep the UFC's flyweight division intact, and it's no surprise why he feels that way, because he's the last man to defeat the champion and a fighter who has gone 8-1 since his last 125-pound title fight against Demetrious Johnson in 2013. And while his striking told the tale in his November win over Alex Perez, it was his wrestling that proved to be the deciding factor against Dustin Ortiz in Brooklyn. A wrestler with impressive hands? Wow, sounds like a guy named Cejudo. And didn't Benavidez and Cejudo engage in an exciting battle back in 2016? Yeah, I know Cejudo wants to chase after Dillashaw's 135-pound title, but there's still business to be taken care of at 125.