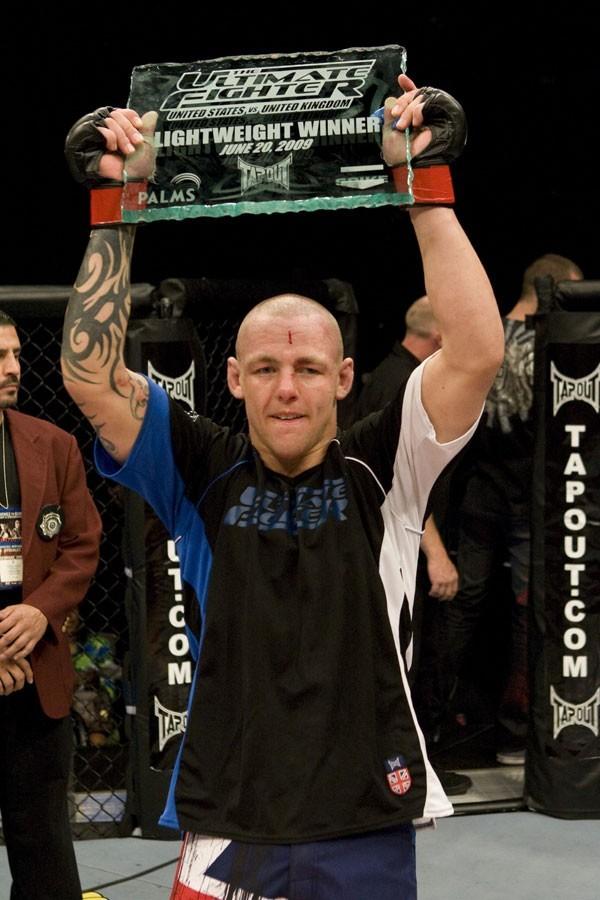 On Wednesday, September 9,
The Ultimate Fighter
kicks off a new season on FOX Sports 1 with coaches
Conor McGregor
and
Urijah Faber
leading a group of hopefuls through the toughest tournament in sports. When it's over, the fighters who go on to compete in the Octagon will try to follow in the footsteps of those who have become champions and contenders in the Octagon, and if they do they may earn a place on the TUF 30, which celebrates the best fighters to come off the reality series.
30 – Keith Jardine
Some will look at the five knockout losses suffered by Jardine after he left season two of The Ultimate Fighter and dismiss him, despite the fact that those defeats came at the hands of
Wanderlei Silva
,
Thiago Silva
,
Houston Alexander
,
Ryan Bader
and
Luke Rockhold
. Yet we can't forget that Jardine holds wins over a pretty impressive group that includes the names
Chuck Liddell
,
Forrest Griffin
,
Wilson Gouveia
, and
Brandon Vera
, and in 2009 he ate bombs from Quinton Jackson for 15 minutes before losing a hard-fought decision. So you can rightfully say that "The Dean of Mean" may not have been the best, but on any given night, he could beat the best. Just ask the men he's beaten.
DEFINING FIGHT
– TKO1 Forrest Griffin
TUF TALK
- "Fighting is the apex of all competition, and there's nothing harder than getting in the ring to fight. Actually, that makes it easier for everything else you do in life. Anything hard in life I might be doing, it's just like, 'this is nothing compared to fighting.' I've conquered the demons from going into the ring and fighting, so everything else is easy after that."
29 - Brendan Schaub
A former fullback for the University of Colorado, Brendan Schaub clearly had the athleticism and the power to compete in the heavyweight division in MMA, but after he was knocked out in the TUF10 finale by
Roy Nelson
, there were question marks. He quickly dismissed them for the most part, as he dispatched
Chase Gormley
and
Chris Tuchscherer
in rapid-fire fashion before putting together back-to-back wins over veteran contenders
Gabriel Gonzaga
and
Mirko Cro Cop
, the latter win at
UFC 128
earning him Knockout of the Night honors. Losses to "Minotauro" Nogueira,
Ben Rothwell
,
Travis Browne
and
Andrei Arlovski
(via controversial decision) were costly setbacks, but wins over
Lavar Johnson
and
Matt Mitrione
showed an evolving ground game, even if he is non-committal about his MMA future as 2015 heads into the home stretch.
DEFINING FIGHT
– KO3 Mirko Cro Cop
TUF TALK
–"It's kind of like the game's changed. Now you've got to be athletic and you've got to have it all. You gotta be able to wrestle, you gotta be able to strike, so the game's changing. You see guys like
Cain Velasquez
and
Junior Dos Santos
, guys around my size who are really athletic heavyweights, making a name for themselves and doing well. I think the day of the big, experienced guy who just gets by on his toughness, that's not gonna fly anymore."
28 – Al Iaquinta
A standout from the Serra-Longo fight team in Long Island, New York, Iaquinta earned his stripes in the respected Ring of Combat promotion on the east coast, and while he made the finals of The Ultimate Fighter 15 before losing to
Michael Chiesa
, it was his post-TUF bouts that truly put him on the map. Winner of seven of his last eight, "Raging Al" started blitzing the top 20 in late-2014, stopping
Ross Pearson
and
Joe Lauzon
and decisioning
Jorge Masvidal
. And it only gets bigger from here.
DEFINING FIGHT
– TKO2 Joe Lauzon
TUF TALK
– "They (
Matt Serra
and
Pete Sell
) did give me a little warning about what I was getting myself into, but living through it and having to do it myself has been a great experience. Even dealing with all the things that I was sacrificing while I was there makes it so much more worth it when I walk into a room with the top prospects in the world and I'm training with them every day. For me to get experience like this, I would have to travel and spend so much money to get around, but here, everyone's coming right to me, and there's nowhere in the world that you can do this but right here, and I'm just so grateful that I've had the opportunity."
27 - Joe Stevenson
Joe Stevenson, a pro from the age of 16, was about to walk away from the game when he got the call to compete on season two of The Ultimate Fighter. Stevenson went on to defeat
Jason Von Flue
and
Marcus Davis
on the show before winning that season's welterweight title in a three round war with
Luke Cummo
. Following his stint on TUF, Stevenson was upset by
Josh Neer
, a defeat that prompted a drop to 155 pounds. At lightweight, "Joe Daddy" found his home, winning four in a row before getting submitted by
BJ Penn
in a 2008 challenge for the vacant 155-pound crown. Stevenson hit a rough patch after that, losing seven of his next 10, including a decision loss to
Javier Vazquez
in 2011 got him his walking papers from the Octagon.
DEFINING FIGHT
– Wsub1
Melvin Guillard
TUF TALK
– "I probably wouldn't have continued if it weren't for the show. The show is such a springboard for the fight game, and for the athlete himself, that it was an opportunity I couldn't pass up. There are things in your life you just don't say no to."
26 – Neil Magny
Part of a TUF 16 cast that only saw the finalists –
Colton Smith
and
Mike Ricci
– compete on the season finale card, Neil Magny was ultimately one of two fighters, along with
Jon Manley
, who was brought back fairly quickly to make an Octagon debut. It was a high-pressure gig at
UFC 157
in February of 2013, because if Magny lost to Manley, he would likely be heading back to the regional circuit. The Coloradan beat Manley that night, but lost his next two to
Sergio Moraes
and
Seth Baczynski
. With his UFC run on the line, Magny finally showed off a taste of his enormous potential, winning seven in a row, including a record-tying five in 2014.
Demian Maia
snapped that streak in August, but later that same month Magny returned and decisioned
Erick Silva
.
DEFINING FIGHT
– TKO2
Hyun Gyu Lim
TUF TALK
– "Compared to the military, a fight is definitely a little bit easier. When I would go out on a mission in the military it's pretty much life or death and there's the option of not coming home that day. For a fight, I can always work my way back up if it doesn't work out the way I want it to. I always have tomorrow to pick myself up and do it all over again. Whereas in the military, if you miss that opportunity, that could be it. There's no second chance, no reset button, no way to work your way back up."
25 - Myles Jury
One of the rare fighters to appear on two seasons of TUF, Myles Jury didn't strike gold on TUF 13 or 15, but once he brought his unbeaten record into the Octagon in 2012, he quickly became a fighter to watch in the 155-pound shark tank, winning his first six UFC bouts, including victories over
Michael Johnson
,
Ramsey Nijem
,
Diego Sanchez
and
Takanori Gomi
. In January, Jury lost for the first time via decision to
Donald Cerrone
, but with a new team and plenty of determination to get back in the title picture – this time at 145 pounds, he's confident of a positive return.
DEFINING FIGHT
– TKO1 Takanori Gomi
TUF TALK
– "I talked to my coach, and I was like 'man, I feel like I've been doing this my whole life, and I know that this is just another fight. I've been through this process so many times, I was on The Ultimate Fighter, I've been in the worst case scenario with the cameras in your face 24/7, but I still feel like a little kid that's nervous.' He said that never goes away until you get into the Octagon and you start getting hit and hitting the guy and then you get right into the zone. So I'm definitely always nervous, but it's a good nervous. It keeps me on point."
24 - Kelvin Gastelum
An underdog throughout season 17 of The Ultimate Fighter, Kelvin Gastelum disregarded the odds every time the Octagon gate closed, and by the time the smoke cleared, he had defeated
Uriah Hall
for the season crown. Five more wins and just a single loss to
Tyron Woodley
have followed, and while the scale has been his toughest foe to date, he expects to be on top of his game in his return to welterweight this November against Matt "The Immortal" Brown.
DEFINING FIGHT –
Wsub1
Jake Ellenberger
TUF TALK
– "I think people counted me out in every fight, and I didn't have an easy fight. I didn't have an easy road to the finale at all and I had to fight some of the best guys in the tournament. But I proved to myself and to the world that I belong in the finale."
23 – Matt Wiman
With an exciting fight style, ten UFC wins, and an engaging personality, you have to wonder why Matt Wiman isn't a bona fide star yet. But injuries and long layoffs have kept the TUF 5 competitor from capitalizing on his signature wins over
Mac Danzig
and
Paul Sass
.
DEFINING FIGHT
– Wsub1 Paul Sass
TUF TALK
– "I don't feel comfortable backing up and running around. I don't feel comfortable if I'm not working hard for something, and if I'm playing it safe, I feel like the other guy is plotting and planning, so I want to put him on the defensive and I want to push the pace and bring the fight to him. I've tried fighting other ways and tried to be overly technical, and it just doesn't work for me. I obviously practice technique and I have good technique, but that isn't the most significant thing to me – I like going hard and pushing the pace and taking care of business, not in a reckless way, but in a smart way.
22 – Matt Hamill
The raw talent of Matt Hamill was evident on season three of The Ultimate Fighter, but it wasn't until he bounced back from a TKO loss to
Rich Franklin
two years after his Octagon debut that he began fulfilling his promise. After the Franklin fight, Hamill won five in a row, with only his DQ victory over
Jon Jones
being a less than stellar performance. And when
Mark Munoz
, Tito Ortiz, and Keith Jardine are the guys you're beating, you're a legit contender. In 2011, Hamill retired after defeats to "Rampage" Jackson and
Alexander Gustafsson
, but "The Hammer" returned in 2012, defeating
Roger Hollett
and losing to Thiago Silva, the latter bout prompting his release from the UFC.
DEFINING FIGHT
– W3 Tito Ortiz
TUF TALK
–"In wrestling, success came easy. It came so naturally, and the mat was my home. Joining this sport has been a challenge. I learn new things every day and others can knock me down, which they never could in wrestling. But I'm getting better and I'm still striving to be at the top in MMA also."
21 – Mike Swick
A rising star who had won five of six fights before appearing on season one of TUF, Mike Swick solidified his place as one of the game's top prospects during the show, losing a tough bout to
Stephan Bonnar
, and he then tore through his opposition in the middleweight division, winning four straight in the first round and then decisioning former title challenger
David Loiseau
. But after losing a three rounder to
Yushin Okami
, Swick resurfaced in the welterweight division. He looked to be settling in with decision wins over
Josh Burkman
and Marcus Davis, but it was in his next two bouts that he finally looked to be acclimated to 170 as he stopped
Jonathan Goulet
and
Ben Saunders
. Swick struggled in losses to
Dan Hardy
and
Paulo Thiago
, and after taking some time off to deal with an esophageal condition that had been plaguing him over the last few years and a knee injury, he returned in August of 2012 with a spectacular finish of
DaMarques Johnson
before getting upset by
Matt Brown
in December of that year. In July of 2015, Swick gave it one more go, losing a decision to
Alex Garcia
at UFC 189, before retiring after the bout.
DEFINING FIGHT
– TKO2 Ben Saunders
TUF TALK
- "This is my job. I'm very passionate about it and I want to move up and be the best in the world. I've given up a huge portion of my life for this, and I didn't do it for nothing. I'm taking it to the top, one way or another."
20 – Ross Pearson
Almost universally seen as one of the lightweight division's top up and comers, aggressive battler Ross Pearson had only two hiccups at 155 after winning season nine of TUF, a second round submission loss to
Cole Miller
and a close split decision defeat against
Edson Barboza
. Otherwise, he looked outstanding in beating veteran competition like
Aaron Riley
,
Dennis Siver
, and
Spencer Fisher
. Yet despite this, he decided a change of scenery was in order, and he moved to featherweight, where he debuted at UFC 141 with a win over
Junior Assuncao
and was stopped by
Cub Swanson
in June of 2012. In response to the Swanson defeat, Pearson moved back to 155, coached the first season of TUF: The Smashes, then smashed opposing coach
George Sotiropoulos
in their December 2012 bout. "The Real Deal" has had his ups and downs in his subsequent right bouts, but a win last weekend over
Paul Felder
has the Brit headed in the right direction.
DEFINING FIGHT –
KO2
Sam Stout
TUF TALK
–"Obviously I was very confident in my own skills and confident that I was going to go in there, do my best, and get to the finals, but no one ever really said to me, 'oh, you're the favorite to win' or anything like that," he said. "It was basically my own self-belief that I would do well."
19 – Gray Maynard
A three-time All-American wrestler for Michigan State University, Maynard entered The Ultimate Fighter's fifth season with just a few fights, yet he quickly made his presence known among the talented cast with wins over Wayne Weems and
Brandon Melendez
. And though he lost his next bout to
Nate Diaz
, he didn't miss a beat after the show ended, rapidly rising up the lightweight ranks thanks to big wins over the likes of
Frankie Edgar
,
Rich Clementi
,
Jim Miller
,
Roger Huerta
, Diaz, and
Kenny Florian
. In January of 2011, he got his long-awaited shot at the title against previous victim Edgar, and though he was seconds away from finishing the champ in the first round, he had to settle for a five round draw. "The Bully" got another shot at Edgar in October of last year, but after another near knockout win in the first round, he got stopped himself in the fourth, putting his title dreams on hold for the moment. A comeback win over
Clay Guida
in June of 2012 was a positive step, but four consecutive losses has Maynard looking at an uncertain future.
DEFINING FIGHT
– DRAW 5 Frankie Edgar
TUF TALK –
"To tell you the truth, I thought I looked like crap on the show. The one fight against Brandon (Melendez), I don't know what happened there, and I just couldn't wait to get back in the gym and train. I was back in the gym a couple days after the show ended, and it just felt good to be back training right, and I can't wait to get back in there and prove that I'm a lot better than I was on the TV show."
18 – Chris Leben
Whether you loved him or hated him, Chris Leben always provoked strong feelings from MMA fans while being the poster boy for bad behavior on the first season of TUF. His post-TUF career matched his persona, thanks to an up and down journey that has always been compelling, regardless of the final result. And though Leben only went 4-5 in his final nine bouts before retiring in 2014, you can't forget the 5-0 run that began his UFC career, and the back-to-back 2010 wins over
Aaron Simpson
and
Yoshihiro Akiyama
that came only two weeks apart, all moments that will forever keep "The Crippler" on fight fans' minds.
DEFINING FIGHT
- Wsub3 Yoshihiro Akiyama
TUF TALK
- "I'm one of those guys that always thought they were gonna be famous. I thought I was somebody important before I was somebody important, I guess. In my mind, people should have always been pointing to me and saying, 'hey, there goes Chris Leben.'"
17 – Chris Lytle
If you told me that there's someone out there who dislikes Chris Lytle, I'd say you're lying. Even the guys who threw hands with "Lights Out" for three rounds couldn't say anything bad about him, and it's why you wanted to see him go out with a Lytle-esque performance in his final bout against Dan Hardy in August of 2011. And that's just what he did, showing off his striking, toughness, and finally, his submission game, as he finished "The Outlaw" in the third round. It was everything Lytle represented in 14 minutes and 16 seconds, and a fitting end to a career well fought.
DEFINING FIGHT
– Wsub3 Dan Hardy
TUF TALK
– "I don't know if the word is that I'm addicted to it, but I just love to compete, and there's nothing I've ever found to equal the overall feeling you get after you've struggled so much and put so much into something and then come out on top and achieve something. Most of the goals you have in your life never become tangible at one point, but this does. You put everything into this one fight that you're training for, and when you win it, it's like everything you worked for in your whole life has been successful. It's a great feeling. So I'm kind of addicted to that feeling."
16 – Patrick Cote
A pioneer of Canadian MMA, Patrick Cote showed who he was in his UFC debut in 2004 when he agreed to move up the card on short notice to face former light heavyweight champion Tito Ortiz in the main event of
UFC 50.
He lost that bout, but his willingness to fight all comers was established right then and there. After some rocky moments in those early years, Cote got a second chance to establish himself through The Ultimate Fighter's "Comeback" season, and while he didn't earn a middleweight title shot then, he did in 2008, losing via injury to
Anderson Silva
. Seven years after that bout, Cote is a contender again, this time at 170 pounds, where he has won five of his last six, most recently a Fight of the Night TKO of Josh Burkman last month.
DEFINING FIGHT
– TKO3 Josh Burkman
TUF TALK
– "The first day I came into the house, I said that I will be the most dangerous guy there because I'm better than my UFC record. It's 0-3, but everybody knows that I'm better than that. My fight against Doerksen was the worst night of my life because it was a very, very bad loss, and my fight against Leben, I still think I won it, but I can't do anything right now. So I just refocused myself and the UFC called me back and wanted me in the show."