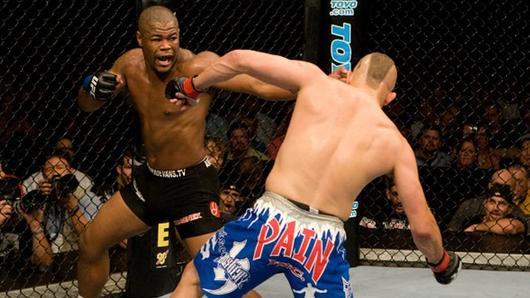 Tonight, a new season of The Ultimate Fighter begins on FOX Sports 1, with 32 fighters battling it out for a UFC contract. It's the same road once traveled by some of the Octagon elite, and today, we finish our countdown of the 30 best fighters to emerge from the reality series with the top 15.
Miss Part I? Check out The Ultimate Fighter best fighters 30-16
15 – Tony Ferguson
Hailing from the Matt Wiman school of "Why isn't this guy a star already?" Tony Ferguson has paid his dues, and on December 11, he will get that big fight he's wanted against unbeaten Khabib Nurmagomedov. If the TUF 13 winner emerges victorious, it will be hard to keep him from the world title discussion, especially since his current six-fight winning streak includes finishes of Abel Trujillo and Gleison Tibau and a Performance of the Night decision win over Josh Thomson.
DEFINING FIGHT
– W3 Josh Thomson
TUF TALK
– "I was a wrestler since I was like six years old, so when I got into high school and I got into college, you were never saving yourself," he said. "We always wrestled all the way up until the weigh-ins, and sometimes you would have up to eight matches in a week. Wrestlers are used to that; we're used to grinding it out and going after it. Fighting is a little bit different. You get some bumps and bruises and scrapes and black eyes, and this is real, so you try to prepare as much as you can and not BS it. But I don't hold anything back or try to reserve myself for the fight that's next. Worry about right now and other things would follow."
14 – Nate Diaz
With the attitude of a true fighter and good bloodlines (brother Nick is a UFC vet), Nate Diaz was going to make it to the UFC with or without The Ultimate Fighter. But the reality series jump-started the Stockton, California native's career, and he defeated Rob Emerson, Corey Hill, Gray Maynard, and Manny Gamburyan to win the season five title. He continued his run of success with 11 more Octagon victories, including ultra-impressive wins over Takanori Gomi, Donald Cerrone, Maynard and Jim Miller in his return to 155 pounds after a brief stint at welterweight. In December of 2012, he challenged Benson Henderson for the UFC lightweight crown but fell short via unanimous decision.
DEFINING FIGHT
– Wsub1 Takanori Gomi
TUF TALK
- "I talked to my brother and my manager, Cesar, and they were telling me that it would probably be the best thing for me. I was definitely not too excited about going. I wanted to, but at the same time I didn't. I didn't feel like I was too good on camera, and I'm not great at interviews, but I'm glad I did it the way it turned out. I thought I was gonna be one of the least experienced guys in the house fightwise, to be honest with you. "Once I was there, I realized there were people there with less fights than me, but there wasn't any pressure. I thought I had a good chance, that's for sure."
13 – Stephan Bonnar
Stephan Bonnar could have fought for another 10 years and won multiple titles, yet to most fans, he will always be remembered for the fight he lost to Forrest Griffin at the TUF1 finale in 2005. It was the war that put the UFC on the map and made Bonnar a household name to MMA fans and, ultimately, a Hall of Famer. Following that bout, "The American Psycho" had his share of ups and downs, but midway through 2010, he bounced back with three consecutive wins over Krzysztof Soszynski, Igor Pokrajac, and Kyle Kingsbury. He lost to Anderson Silva in the main event of UFC 153, and announced his retirement shortly after the bout.
DEFINING FIGHT
– L3 Forrest Griffin I
TUF TALK
–"I knew it (Griffin I) was a good fight when the final bell rang and the crowd was going nuts and yelling for another round. Just looking into the crowd and at everyone's face, the energy level was so high, I said, 'it must have been a good one.'"
12 - Matt Serra
How does Matt Serra, a guy with a .500 record from the time of his win on The Ultimate Fighter 4 get to this point on this list? Well, first, one of those three wins saw him take the UFC welterweight crown with a knockout of Georges St-Pierre, a man many believe will one day be seen as the greatest welterweight of all-time, and two, one of the losses (a close three round decision) came to the man who currently holds the title of greatest welterweight ever – Matt Hughes. Add in Serra's TUF4 finale win over Chris Lytle (a loss Lytle avenged in 2010), his wins on the show over Shonie Carter and Pete Spratt, his UFC victories over Frank Trigg, Yves Edwards and Jeff Curran, and his memorable battles with Carter, BJ Penn, Din Thomas, and Karo Parisyan, and you've got a body of work that certainly warrants his place among the best fighters ever to appear on The Ultimate Fighter.
DEFINING FIGHT
– TKO1 Georges St-Pierre
TUF TALK
– "I was actually in Manhattan the other day and I got stopped like six times by people wishing me good luck and stuff like that. Then I was in 7-11 and this guy stops me and goes, 'man, you look just like Matt Serra.' It's kinda surreal. But listen, that could be gone tomorrow, so I keep everything grounded. I'm not gonna let anything get to my head. I went in there thinking that if I put on a good performance and get to show some skill, it can really help out my schools. Of course I wanted to win the whole thing, but I knew there would be a bunch of tough guys in there and I didn't want to get ahead of myself. I just said, 'man, this could really do wonders for my school.' This is how I make my living, teaching Brazilian Jiu-Jitsu, and that's what I'm sticking to. My school enrollments picked up a lot, it's been a blessing, and I'm just keeping grounded with that. I'm not going Hollywood."
11 – Roy Nelson
The most experienced fighter on TUF 10, former IFL heavyweight champion Roy Nelson showed himself to be a cut above his fellow competitors as he defeated Kimbo Slice, Justin Wren, James McSweeney and Brendan Schaub to win the season title. He didn't skip a beat with an impressive 39-second TKO of Stefan Struve in his proper Octagon debut, and while "Big Country" lost decisions to Junior dos Santos, Frank Mir, and Fabricio Werdum, knockouts of Mirko Cro Cop, Dave Herman, and Matt Mitrione put him smack dab in the title picture in 2013. From there, it's been another cold streak for the Las Vegan, but the knockout artist can get back on track later this month if he can beat Josh Barnett in Japan.
DEFINING FIGHT
– KO1 Brendan Schaub
TUF TALK
– "I've never been in jail, but I could imagine jail actually being a little bit easier. And the way I always say it is that I can't wait to do my Visa commercial – Gloves: $50, Tapout T-shirt: $28, Living in The Ultimate Fighter house: priceless."
10 - Josh Koscheck
A no-nonsense competitor whose "tell it like it is" attitude made him a polarizing figure from the time he was on the first season of TUF, Josh Koscheck basically grew up in the UFC, with practically all of his pro fights taking place in the Octagon. Along the way, "Kos" battled the best in the game, from Georges St-Pierre and Diego Sanchez, to Thiago Alves and Matt Hughes, all the while adding new wrinkles to his world-class wrestling attack. Most potent of his new weapons was a devastating right hand, one he used to great effect over the years. And though he's no longer in the promotion following a five-fight losing streak from 2012 to 2015, fans won't soon forget watching him when he was in his prime.
DEFINING FIGHT
– W3 Diego Sanchez
TUF TALK
- "I get thousands and thousands of e-mails every day and it's amazing what it's done for my life. Most of the time, if you're calling my phone in the last six months, it's been 'voice mail filled'. So it was overwhelming at one point. Now things are starting to slow down a little bit, but you really don't picture yourself in that position - because I grew up in a blue collar, hard working family - getting to the point to where 'okay, now you're on a reality show.' So I get on TV, and after the show it's like 'Oh my God, it's crazy.' I go into the UFC and they have to move my seat because fans are coming down to get autographs and pictures. So it is a bit overwhelming, but in another sense it's good. It's good for our sport and the fighters."
9 - Diego Sanchez
It's been a crazy career thus far for season one TUF winner Diego Sanchez. From his early days at welterweight, where he went 4-0 before back-to-back losses to Jon Fitch and Josh Koscheck, to a stint at lightweight where he challenged then-champion BJ Penn for the UFC crown, and then to his resurrection at 170, a return to 155, and now, in November, a move to featherweight, the man known as "Nightmare," then "The Dream," has always been exciting in the Octagon and nearly as compelling outside the cage. Needless to say, win or lose, odds are that we'll be talking about him for a long time.
DEFINING FIGHT
– W3 Karo Parisyan
TUF TALK
– "In my mind all the TUF guys are gonna lose and I'm gonna be the only undefeated fighter and I'm still gonna be the only guy that went through the show, finished everybody, and I'm gonna be 'The Ultimate Fighter.' They're gonna say, 'that guy Diego Sanchez, he was 'The Ultimate Fighter' through all the seasons.' They're gonna say that he was the only guy that dominated it, came out after it, stayed undefeated, won the belt, and got out of his contract undefeated." (Before his bout with Karo Parisyan)
8 - Matt Brown
Once on the verge of being cut from the UFC roster after an 0-3 run in 2010, TUF 7's Matt Brown went on to win eight of his next nine, with seven straight from 2012-14 being part of that run. It's been a display of the talent, determination, and heart shown during his stay on TUF, where he made a name for himself with a head kick knockout of Jeremy May before being eliminated in the quarterfinals by eventual winner Amir Sadollah.
DEFINING FIGHT
– KO2 Mike Swick
TUF TALK
- "There's no question that I don't have the best record. If I looked at my record I'd probably think I wasn't the best fighter. I don't blame anybody for thinking whatever they think, but the only way for them to find out is to get in the cage with me."
7 –Joe Lauzon
After debuting in the UFC in September of 2006 with a stirring 48-second knockout of Jens Pulver, Joe Lauzon didn't need The Ultimate Fighter as a springboard into the organization, but he took the opportunity to compete with one of the series' most talent-rich casts anyway. And though he didn't take the season five title, his post-TUF stint in the UFC has been quite impressive in its own right, as he's won 11 bouts (all but one by KO or submission) while becoming one of the sport's premier action heroes and the all-time UFC leader in post-fight performance bonuses.
DEFINING FIGHT
– Wsub1 Melvin Guillard
TUF TALK
- "I got to train with such world-class guys like BJ Penn, Regan (Penn), and Tony (DeSouza), and even the other guys on our team. It was a great measuring stick. You think 'I can do okay against this guy or that guy', but until you actually get to do it, you really have no idea. I think being put up against the best was awesome for me because I know where I am and where I have to get and how I measure up against other people. It's weird because when you train with 'your' guys, you really don't have as much of a measuring stick to other people. When you get to go up against the best, it's a much more accurate read."
6 - Ryan Bader
This may be a little overdramatic, but Ryan Bader was about to become a cautionary tale of "too much, too soon" heading into his UFC 144 bout with Quinton "Rampage" Jackson last month. Sure, Bader was talented, but after using his raw skills to pound his way to a 5-0 Octagon record after winning season eight of TUF, back-to-back losses to Jon Jones and Tito Ortiz in 2011 could have crippled him psychologically. Not "Darth" Bader though, and when the pressure was at its highest, he delivered with a shutout win over the former light heavyweight boss that resurrected the Arizonan as a light heavyweight contender. After beating Jackson, Bader has gone 5-2, with an October bout against Rashad Evans a pivotal one for his title hopes.
DEFINING FIGHT
– W3 Quinton "Rampage" Jackson
TUF TALK
– "2011 was an interesting year, but I'm glad it happened because I wouldn't have changed some things if those losses didn't happen. That was the catalyst for great things this year. I'm gonna go out there and beat a legend of the sport and I'm gonna be a new fighter. Each fight I'm gonna get progressively better and I want to get up there in the upper echelon of the 205-pound division and stay there."
5 - TJ Dillashaw
Team Alpha Male's TJ Dillashaw had a rough start to his UFC career when he was knocked out in the TUF 14 bantamweight final by John Dodson. But after shaking off the first loss of his career, Dillashaw took the long road to the top of his division, winning five of six bouts before scoring the biggest upset since Matt Serra beat Georges St-Pierre, knocking out the seemingly unstoppable Renan Barao at UFC 173 in May of 2014 to win the 135-pound world title. After halting Joe Soto in his first title defense, Dillashaw proved that the Barao win wasn't a fluke, as he made it look easy in halting the Brazilian in four rounds in July.
DEFINING FIGHT
– TKO5 Renan Barao
TUF TALK
– "Being a competitor, you gotta have a short-term memory. If you dwell on it (a loss) for too long, it's gonna affect the way you train, affect your confidence, and you gotta draw it up for what it is and forget about it as soon as possible. I can't really put a time frame on it, but you can't dwell on it for too long."
4 - Kenny Florian
A fighter who actually caught the eye of UFC President Dana White in a losing effort against Drew Fickett in 2004, Kenny Florian entered the TUF1 house with little fanfare, but he defeated Chris Leben to make it to the middleweight final against Diego Sanchez. Sanchez pounded out a decisive victory over Florian in the finals, and many wondered where KenFlo fit in the great scheme of things. We found out soon enough as he dropped to welterweight and then lightweight, where, after a title fight loss to Sean Sherk in 2006, Florian put together a six-fight winning streak with victories over Din Thomas, Joe Lauzon, Roger Huerta, and Joe Stevenson that earned him a second title shot. And though Florian was submitted in the fourth round by Penn and lost a 2010 bout to Gray Maynard, the New Englander earned a title shot at 145 pounds with a win over Diego Nunes in June of 2011. That title shot against Jose Aldo ended in a decision defeat, and after retiring in May of 2012, Florian is doing excellent work as a studio host and Octagonside analyst for UFC telecasts on FOX Sports 1.
DEFINING FIGHT
– Wsub3 Takanori Gomi
TUF TALK
– "After experiencing the last Ultimate Fighter finale, I feel like I can really go through anything now. Just experiencing the craziness of everything that happens backstage prior to the fight, the interviews leading up to the fight, I've matured in a way that I'm gonna stay focused on the fight itself. Having gone through that before, I feel like I've definitely grown."
3 - Michael Bisping
The man who put MMA on the map in the UK, Michael Bisping had little difficulty winning on the British circuit, and he continued his winning ways on TUF3 as he took out Ross Pointon, Kristian Rothaermel, and Josh Haynes to win the season's light heavyweight title. His good fortunes continued in finishes of Eric Schafer and Elvis Sinosic, but his rep took a hit after a controversial decision win over Matt Hamill at UFC 75. Bisping would lose for the first time in his next bout at UFC 78 against Rashad Evans, but his gutsy performance in the razor-thin decision defeat won back some of the fans he lost after the Hamill bout. Losing to Evans prompted Bisping to drop to 185, and three straight wins (Charles McCarthy, Jason Day, and Chris Leben) followed before a devastating knockout loss to Dan Henderson at UFC 100 in July of 2009. Eager to get back in the race, Bisping has won 10 of his last 15, including bonus-earning efforts over Denis Kang, Yoshihiro Akiyama and Cung Le.
DEFINING FIGHT
– TKO2 Denis Kang
TUF TALK
- "You're not gonna see me in any factories for quite some time." (In the locker room after winning TUF3)
2 - Forrest Griffin
There's probably no one in the game who would want to avoid the spotlight more than Forrest Griffin, but that became an impossibility when the former police officer won season one of The Ultimate Fighter with a stirring three round win over Stephan Bonnar that kicked off the MMA explosion in 2005. After that, it was a constant stream of interviews, appearances, and photo shoots for Griffin, who still found time to engage in a memorable war with Tito Ortiz, get upset by Keith Jardine, and rebound to shock Mauricio Rua and Quinton Jackson, the latter bout earning him the UFC light heavyweight crown in 2008. Griffin went on to lose the belt to Rashad Evans and get stopped in a single round by Anderson Silva, but consecutive wins over Ortiz and Rich Franklin put the ever-popular Griffin back on track before Rua got even with a first round TKO victory at UFC 134. Griffin bounced back in July of 2012, decisioning Ortiz in their rubber match. He retired after the bout and was inducted into the UFC Hall of Fame in 2013.
DEFINING FIGHT
– W3 Stephan Bonnar I
TUF TALK
– "I didn't get here through all that hard work and winning fights nonsense; I got here through a TV game show, and I'm comfortable with that."
1 - Rashad Evans
An undersized heavyweight with little reputation to precede him, former Michigan State wrestler Rashad Evans wasn't expected to do much with the giants on TUF2, but four wins later (Keith Jardine, Mike Whitehead, Tom Murphy, and Brad Imes), the New York native had won the show's title. Evans continued to surprise in his post-TUF career, and though he received a reputation for putting on less than compelling fights early on, by the time he was blasting out Jason Lambert and Sean Salmon, that rep changed. Evans would then engage in two close battles with Tito Ortiz and Michael Bisping, decisioning Bisping and fighting to a draw with Ortiz. Those fights were preludes to a spectacular knockout of Chuck Liddell and a decisive finish of Forrest Griffin that put the UFC light heavyweight championship belt around his waist. Evans lost the title to Lyoto Machida in his first defense, but rebound wins over Thiago Silva, Rampage Jackson, Ortiz (in a UFC 133 rematch), and Phil Davis earned him a shot at the title belt held by former teammate Jonny "Bones" Jones in April of 2012. Evans lost that bout via decision, but he's far from done as a top-flight fighter, as wins over Dan Henderson and Chael Sonnen have put him in line for an October bout with Ryan Bader that could determine a future challenger for the title once owned by "Suga."
DEFINING FIGHT
– KO2 Chuck Liddell
TUF TALK –
"I surprised a lot of people, including (UFC President) Dana White. A lot of people thought that I didn't have any talent at all. See, I always had confidence in myself, but the better I did, people would say 'wow' and they just couldn't believe it. I knew my own potential, but they didn't know, so it was a big surprise to them."