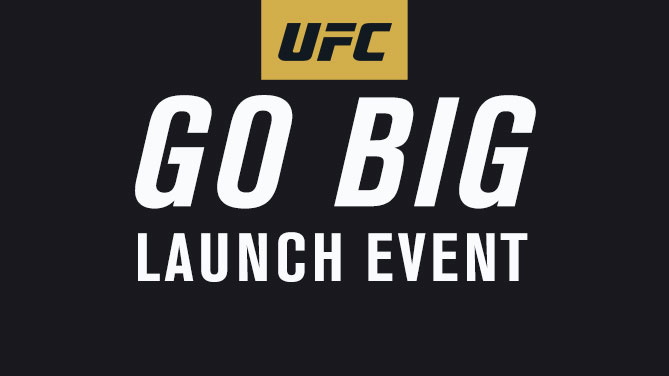 Following two previous campaigns to promote the slate of upcoming events, the UFC already had enough ammo for the latest to live up to the "Go Big" title.
But Friday in Las Vegas, the promotion decided to add one more event to the previously announced ten shows running from September 26 through December 19, with a UFC FIGHT PASS card to take place at The Chelsea at The Cosmopolitan of Las Vegas on Thursday, December 10.
If you're keeping score at the home, that will mark the first time in UFC history that events are scheduled for three consecutive days, with the December 10 event followed by
the Ultimate Fighter Finale
card at the same venue on December 11, and UFC 194 at the MGM Grand on December 12.
"We have all these great fights happening in December, and we started looking at the end of the year, and a lot of other people needed fights, so we said 'let's do three in a row,'" UFC President Dana White said. "It's a killer weekend in Vegas right before Christmas, and we're gonna do it."
A main event for the December 10 card was not announced Friday, but a co-main event for UFC 193 in Melbourne, Australia on November 14 was, as women's strawweight champion
Joanna Jedrzejczyk
will make the second defense of her crown against Canadian contender
Valerie Letourneau
.
"This whole women's thing is so crazy right now; it's on fire," White said. "Joanna is our little rockstar too, so we decided to do Ronda and Joanna together, defending their titles in Melbourne."
Several of the headliners for the other shows were also in attendance at the press conference held at the MGM before the weigh-ins for UFC 191, which takes place in the same building on Saturday.
Among the stalwarts on the dais were Jedrzejczyk, UFC women's bantamweight champion
Ronda Rousey
, light heavyweight boss
Daniel Cormier
, lightweight titleholder
Rafael Dos Anjos
, featherweight champ
Jose Aldo
and the man he will meet in a battle for the undisputed title at UFC 194 - interim featherweight titleholder
Conor McGregor
.
Not surprisingly, McGregor made plenty of noise and probably a few enemies in a different weight class as he jawed with lightweight standouts Dos Anjos and
Donald Cerrone
, as well as former opponent
Chad Mendes
.
"I'm the money fight in all weight divisions," McGregor blurted as he went back and forth with the fighters competing for the 155-pound title on December 19.
Aldo sat stone-faced through the proceedings, clearly eager for his long-awaited clash with the Irishman, which is the crown jewel of a full slate of exciting bouts.
"I think he's a clown," the featherweight champ said of McGregor just before the two had to be separated after clashing heads during a staredown. "I'm really sorry that I couldn't fight him the last time, and when and when it comes time to fight him now, I'll kick his ass."
White also confirmed the date for the historic UFC 200 event, as the 2016 edition of International Fight Week will culminate with the card at the new Las Vegas Arena on Saturday, July 9.
THE FULL "GO BIG" LINEUP
September 26 – UFC Fight Night – FOX Sports 1
Josh Barnett
vs.
Roy Nelson
October 3 – UFC 192 – Pay-Per-View
UFC light heavyweight championship
Daniel Cormier vs.
Alexander Gustafsson
October 24 – UFC Fight Night – UFC FIGHT PASS
Dustin Poirier
vs.
Joseph Duffy
November 7 – UFC Fight Night – FOX Sports 1
Vitor Belfort
vs.
Dan Henderson
III
November 14 – UFC 193 – Pay-Per-View
UFC women's bantamweight championship
Ronda Rousey vs.
Holly Holm
UFC women's strawweight championship
Joanna Jedrezjczyk vs. Valerie Letourneau
November 21 – UFC Fight Night – FOX Sports 1
Matt Brown
vs.
Kelvin Gastelum
November 28 – UFC Fight Night – UFC FIGHT PASS
Benson Henderson
vs.
Thiago Alves
December 10 – UFC Fight Night – UFC FIGHT PASS
TBA vs. TBA
December 11 – UFC Fight Night – FOX Sports 1
Frankie Edgar
vs. Chad Mendes
December 12 – UFC 194 – Pay-Per-View
UFC featherweight championship
Jose Aldo vs. Conor McGregor
UFC middleweight championship
Chris Weidman
vs.
Luke Rockhold
December 19 - UFC Fight Night – FOX
UFC lightweight championship
Rafael dos Anjos vs. Donald Cerrone