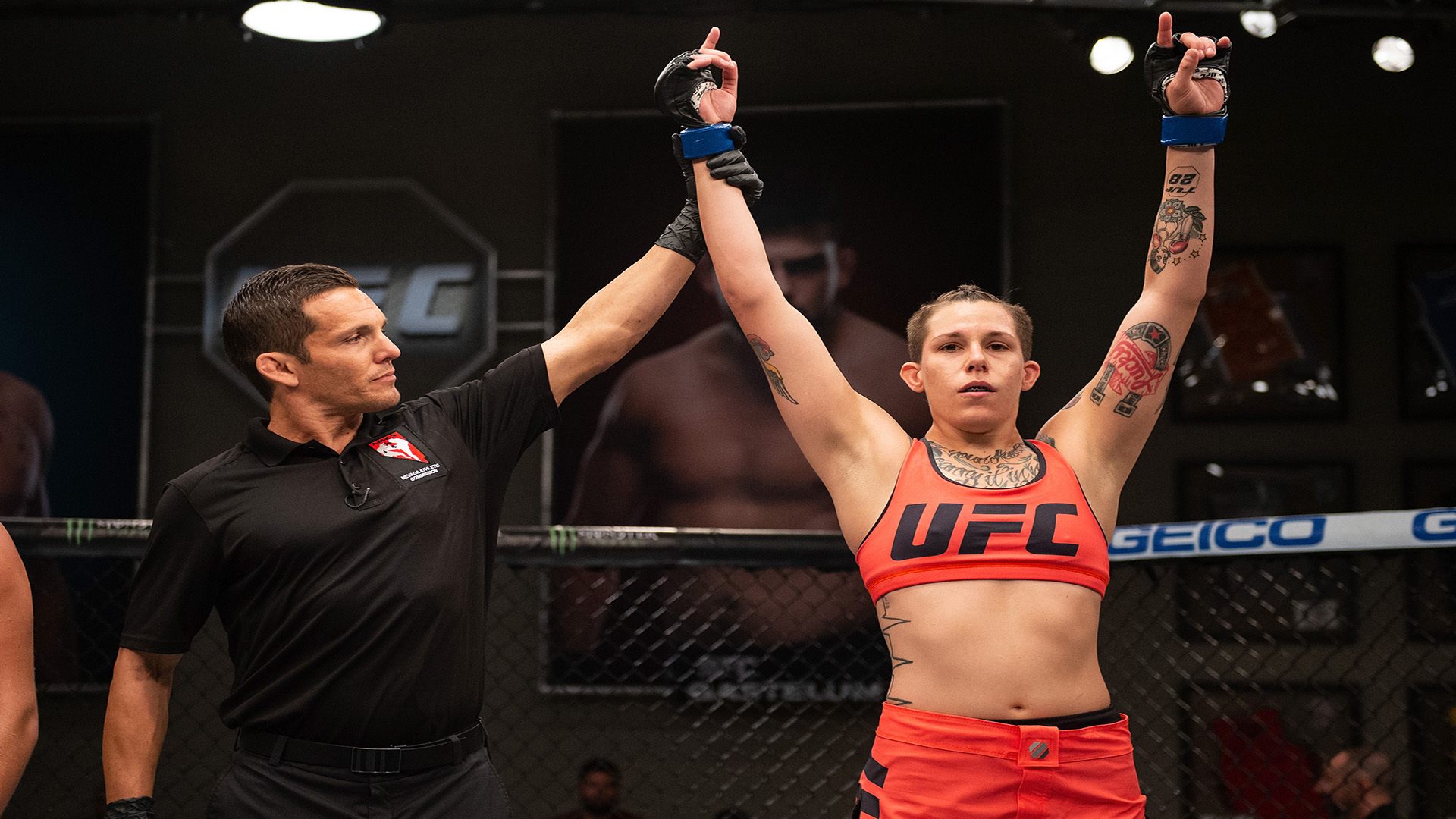 The final fight is now in the books and The Ultimate Fighter: Heavy Hitters has wrapped up with one last epic finish to close out the season.
This week saw the second women's featherweight semifinal take place between Team Gastelum's Macy Chiasson and Team Whittaker's Leah Letson for a spot in the live finale on Friday night in Las Vegas, where the winner face Pannie Kianzad.
Ahead of the fight this week, both coaches took time to do some video work with the fighters to put together the perfect game plan to lead them to victory. Letson and her coaching staff believe that Chiasson gave up the center of the Octagon almost immediately in her last fight and that a pressure-heavy style could be the key to break her.
As for Chiasson, the 5-foot-11 striker wants to keep the fight standing, where she's strongest, but she also knows when Letson faced a similar opponent to her stature in the opening round, she ended up taking her down repeatedly to win on the ground. Obviously, Chiasson is getting ready for every scenario so there are no surprises left when Letson steps into the Octagon with her.
Coach Kelvin Gastelum doesn't believe that Letson is particularly strong anywhere, but she is well-rounded and will definitely look to turn up the pressure in this fight.
To help with the final days of preparation, Gastelum brings in light heavyweight contender Ilir Latifi to help his team, but the move nearly backfires with Chiasson. She ends up leaving the practice and breaking down outside while complaining to one of the assistant coaches that she should be fine tuning her skills right now, not trying to add new pieces to the puzzle with Latifi teaching a session on chain wrestling.
Gastelum ultimately chalks it up to the frustration of the end of the season coming and the pressure of the fight starting to mount as Chiasson prepares for her battle with Letson.
Before stepping into the cage, Chiasson first had to make weight and that was an entirely different battle this week.
Chiasson is a legitimate featherweight, so getting down to the 146-pound limit twice over just a few weeks' time was going to be tough on her no matter what. Chiasson gets support from her team this week, although she did have to suffer through a strange encounter with Letson, who stepped into the room to look on while she was cutting weight.
Letson later admitted that it was a bad move on her part but insists she wasn't trying to get an edge on her opponent — she just didn't think before she acted when she stepped into the room where Chiasson was cutting weight.
Once it was time to step on to the scales, Letson hit the mark with no problem but Chiasson was actually over by a quarter pound. Thankfully, Chiasson was able to take off her clothes and she made the 146-pound limit to make her fight against Letson official for the next day.
Before they faced off for that spot in the finals, Kelvin Gastelum decided to take his team out for one last dinner before the season was over and everybody went their separate ways. In addition to the dinner, Gastelum also brought in flyweight champion Henry Cejudo, who joined the team to pass along some words of wisdom.
Cejudo told them to never let losing discourage them because that should only serve as motivation. He went through a similar situation after losing to Demetrious Johnson early in his UFC career but then he came back better than ever and defeated him in their rematch to become champion. Cejudo says he never got down about his losses — he only used them as motivation and a learning experience to get better the next time out.
"You either win or you learn, that's it," Cejudo said.
From there, it was time for the fight as Letson squared off with Chiasson in the last bout of the season.
MACY CHIASSON VS. LEAH LETSON ROUND 1
Chiasson and Letson both open with high kicks trying to establish distance from the center of the Octagon. Letson is posturing a lot, trying to find an opening to get inside, and she lands a good body kick. Chiasson ends up engaging with the clinch and she looks for a couple inside knees to the body before they separate again. The fighters end up engaged in the clinch against the cage, with Letson pressuring Chiasson on the fence trying to jockey for position. Chiasson eventually gets the upper hand and she quickly reverses position and lands a nice throw to the ground. Chiasson moves into a dominant spot for a moment and starts to rain down some heavy punches from the top. Letson is able to scramble free and get back to her feet but now she's locked in the clinch with Chiasson against the fence. Once Chiasson has Letson trapped, she starts unleashing a ton of bombs while latching on to the Muay Thai plum to begin throwing knees. Letson drops to her knee a one point and the referee looks like he's going to stop it as Chiasson is hammering away with punches. Letson works her way back to the feet and Chiasson begins blasting away again with knees on the inside. The assault with the knees continues until Chiasson crushes Letson with a huge shot to the body and she crumbles to the mat. The referee rushes into stop the contest before Letson takes any more damage.
Official result: Macy Chiasson def. Leah Letson by TKO (strikes), Round 1
"Game plan was to stay active and keep moving. She tends to like to bully and come in and get the clinch. I had a really hard weight cut and wasn't feeling myself today, but I was able to adapt and get a quick finish against her and I'm super excited," Chiasson said after the victory.
"This is one of the toughest but best experiences I have ever had and the best team and coaching I could have asked for. I was the underdog coming in but they did nothing but build me up and make me feel great.
"Pannie and I looked at each other day one and said we'd be seeing each other in the finale. I wouldn't want to be fighting anyone else. I love her, she was my best friend in this whole thing and there is no one else I would rather be fighting for the win against."
Chiasson's win sets up an all-Team Gastelum final as she faces Pannie Kianzad for that UFC contract on Friday in Las Vegas. Meanwhile, Justin Frazier will face off with Juan Espino to determine the heavyweight winner.
It all goes down Friday night at The Ultimate Fighter: Heavy Hitters finale in Las Vegas.